Drug developer BioSante (BPAX) recently announced favorable results from a Phase Ib clinical study, demonstrating an increase in one-year survival from 7% to 27% among patients receiving the company's GVAX pancreas cancer vaccine. The news was warmly received by investors, moving the stock off historic lows. It was probably a great relief to BioSante management after the very dismal clinical trial results announced in December 2011, revealing that BioSante's Libi-gel transdermal testosterone treatment for female sexual dysfunction performed very little better than placebo.
Libi-gel's future is uncertain, but BioSante apparently plans to go full speed ahead with GVAX through a new multi-center clinical study. BioSante management says the study is planned to begin yet this year.
The news set me to wondering if BioSante's balance sheet can support such bullish intentions.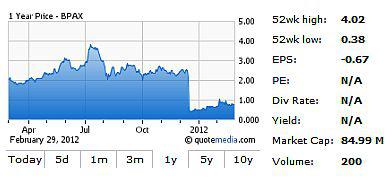 BioSante reported $69.6 million in cash on its balance sheet at the end of September 2011, the last time the company reported financial results. Since then the company paid off $1.2 million in convertible notes due in November 2012. The big drain on resources, of course, is BioSante's R&D-heavy effort, which used $51.2 million in cash over the twelve months ending September 2011. I estimate that BioSante operations vacuumed up another $16.0 million to $18.0 million in cash over the five months since then. If my math on BioSante's recent cash burn is on target, this suggests cash on the balance sheet today could be near $52.4 million and $50.4 million.
Is $50.0 million in cash resources enough to complete development work on GVAX and bring it market?
Let's do some more math. BioSante management already counseled investors that cash usage would be lower in 2012 compared to rates observed in the first nine months of 2011. The company apparently expects R&D spending to decline to $2.0 million to $3.0 per month in the year 2012. This compares to $3.0 million to $4.0 million per month in 2011 largely due to heavy spending required to support work on Libi-gel. If management trims the R&D budget to that extent, I estimate cash usage could be reduced to $38 million to $40 million in the year 2012.
Together, my estimates for current cash on the balance sheet and cash burn rates in 2012, suggest BioSante has a good one-year runway extending into the first quarter 2013 before management has to worry about the lights being turned off. Some investors and possibly management might find that cash cushion inadequate.
Where could BioSante pick up some spare change to support work on GVAX?
The sale of common stock has been BioSante's preferred vehicle to fund development projects. The company has been to the U.S. capital markets four times over the last 20 months, raising a total of $106.0 million from the sale of 45.9 million shares at an average cost of $2.21 per share. Unfortunately, that string of successful, even if dilutive capital raises was made in large part on the promise of Libi-Gel, which now has a very large, dark cloud hanging over it. Furthermore, with the stock price under a buck these days, an equity raise now would represent a "down round," a circumstance not likely well received by participants in the last four offerings.
| | | | | | |
| --- | --- | --- | --- | --- | --- |
| Date | Type | Gross Proceeds | Net Proceeds | Shares Sold | Price /Share |
| June 2010 | Private | $15.0 mln. | $14.2 mln. | 7.1 mln. | $2.1025 |
| Dec. 2010 | Private | $18.0 mln. | $16.9 mln. | 10.6 mln. | $1.70 |
| Mar. 2011 | Private | $25.1 mln. | $23.8 mln. | 12.2 mln. | $2.0613 |
| Aug. 2011 | Public | $48.0 mln. | $45.0 mln. | 16.0 mln. | $3.00 |
| | Total/Ave. | $106.0 mln. | $99.9 mln. | 45.9 mln. | $2.21 |
The stock price was apparently no problem for the company's note holders. In recent months holders of $9.0 million in BioSante's convertible notes elected to convert to common stock, for which BioSante issued 11.6 million shares in the conversion. We estimate the company now has $11.8 million in convertible notes on the balance sheet and 120.8 million shares outstanding. I estimate the notes were converted at prices in a range of $0.74 to $0.89 - effectively down rounds compared to the four equity offerings.
Even if the current stock price makes an equity raise unattractive, using debt does not seem to be a clear path either. BioSante came by the convertible notes it has now by way of its merger with Cell Genesys in 2009. It seems unlikely that the company would build up capital resources by taking on more debt when cash flows from its "commercial ready" drugs are at nascent stages.
The company has only two FDA approved drugs. Bio-T-Gel is a testosterone treatment that has been licensed to Teva Pharmaceuticals (NYSE:TEVA). While that market is valued at $1.6 billion, Bio-T-Gel faces tough competition from the handful of similar treatments already on the market. The FDA has also approved Elestrin, an estradiol gel used for treatment of hot flashes in menopausal women that was licensed to Azur Pharmaceuticals. Alas, in 2009 BioSante gave up royalty payments for a $3.2 million in upfront payment from Azur. BioSante still has the right to revenue sharing up to $140 million, but management admits it is not likely the triggering milestones can be achieved. With such skimpy chances for revenue, a lender might not show much interest in BioSante anyway.
A thin budget has not been troublesome for BioSante management before. Yet, anyone holding BPAX shares today has to wonder what is at the end of that one-year cash runway.
Disclosure: Neither the author of the Small Cap Strategist web log, Crystal Equity Research nor its affiliates have a beneficial interest in the companies mentioned herein.