In this article we will start with a roundup of what is happening in terms of gold exploration and M&A activity in Burkina Faso, before moving to the analysis of two gold explorers operating there: Sarama Resources (OTC:SRMMF) and Savary Gold (OTC:SVVYF). These are, in my opinion, still underappreciated for what they achieved in the last years in terms of exploration and geological understanding.
Burkina Faso
Burkina Faso is the fourth-biggest gold producer in Africa and a very reliable mining jurisdiction in my view. Although Burkina Faso had some political strife recently - former president Blaise Compaore was deposed in 2014 and there were some problems with the temporary military junta in 2015 - this unrest did not result in any major political change and only the faces and names of the people at the helm of the country changed.
I personally like Burkina Faso and the fact is that political issues have never affected gold mining or stopped the local government from awarding mining licenses. On top of this stability, Burkina Faso offers attractive terms: it has a low corporate tax rate of 20% for mining companies, the government is entitled to a 10% free carried interest in mining operations and a 3-5% sliding royalty on gold production is in place. All in all, taxation and government support appear to be very reasonable compared to global standards. Moreover, we find that the country scores relatively well in the 2015 Fraser Survey of mining companies: it is in the first quartile of this survey, which is made using answers from real industry professionals operating around the world.
As a further proof of the good business climate in Burkina Faso, we have the simple fact that the government approved more than 10 gold mines in the last few years, with three major deals in 2013, when 3 majors, B2Gold (NYSEMKT:BTG), Centamin (OTCPK:CELTF) and Teck (NYSE:TECK) all shopped for gold in Burkina
A year later, in 2014, we had the Acacia Mining (OTCPK:ABGLF)/Sarama JV, while in 2015 we saw the Orbis/SEMAFO (OTCPK:SEMFF) merger, Endeavour´s Mining (OTCQX:EDVMF) acquisition of True Gold and
Gryphon´s acquisition by Teranga (OTCPK:TGCDF), which was one amongst many other small deals.
Burkina Faso geological map and major deposits (Savary Gold November 2016 Presentation).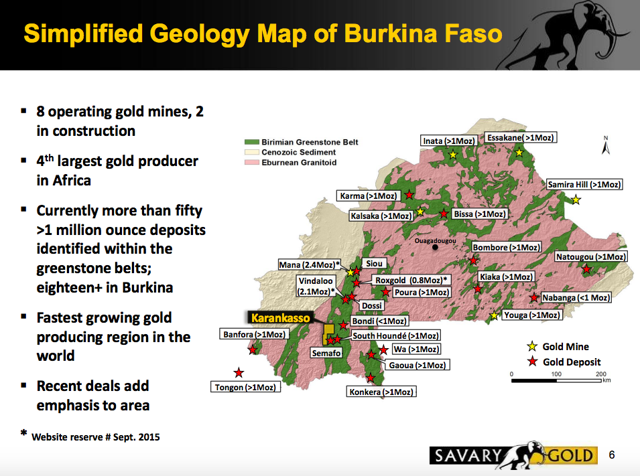 Burkina Faso gold sector is heating up in 2017 and the first merger of the year could very well be between Endeavour and Acacia Mining as per recent rumors. Barrick Gold (NYSE:ABX) holds a 63.9% equity (worth around 1.2 billion British pounds as the time of writing) interest in Acacia and wants to deleverage its $8 billions debt. Barrick´s President Kelvin Dushnisky has said that Acacia is not a core business for the company and could be sold.
Acacia has operations in Tanzania, Kenya and in Western Africa, including exploration on the 2700 square km of land on the Hounde Belt in Burkina Faso through its South Hounde JV project. The company is planning on earning up to 75% on this project through its JV with Sarama Resources , and it is looking to continue forward as it has completed four earn-in agreements on this belt since 2014. At the end of 2016, Acacia earned in to 50% and elected to exercise its right to act as manager of the JV starting 2017.
Acacia will allocate $9m for exploration in Burkina Faso (Acacia Mining November 2016 Presentation).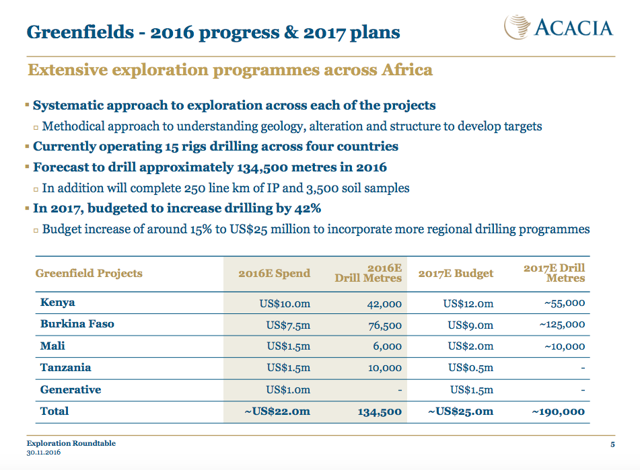 South Hounde is a 2.6m Oz deposit at 1.5 gpt. A merger of the two companies would create clear synergies and economy of scale. We could also see a takeover of Sarama at one point to further consolidate the district.
Let´s now look deeper into these two juniors, Sarama and Savary and why both could become take-over targets for bigger gold producers.
Sarama Resources
Sarama Resources is a an intriguing company. It started as a project generator in Western Africa and has properties in Burkina Faso and 110km2 of prospective landholding in Mali, the Kandiolé Sud permit.
The company has a strong management and insider ownership. Management owns around 20% of the company with Andrew Dinning, the President & CEO, owning around 7%, while Kinross (NYSE:KGC) holds another 6%. This is a good exploration team. They discovered and developed the 22m Oz Moto deposit (now Kibali Gold, owned by Randgold (NASDAQ:GOLD), which is one of the largest in the world), from 4m Oz of gold to more than 22m Oz. They also have plenty of cash for exploration and several large properties to explore, and with a small market cap of $16.5 million, there is upside potential with this stock.
Sarama´s ownership and capital structure (Corporate Presentation February 2017).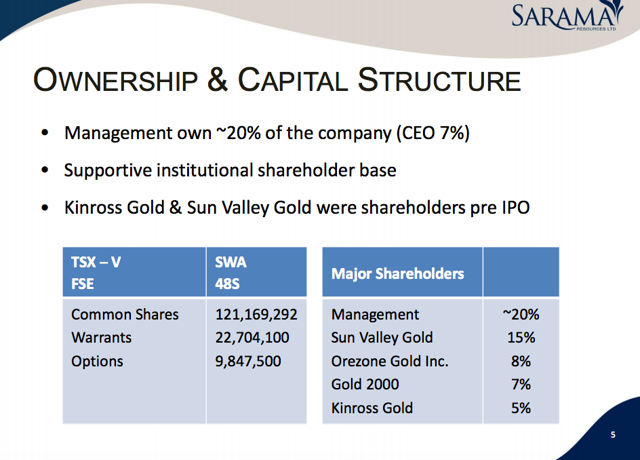 Sarama has three projects in Burkina Faso: South Hounde, Bondi, and Karankasso, which make up a total resource of 3.2Moz:
2.10Moz inferred resources at the South Houndé Project (75%)
0.28Moz measured and indicated resources + 0.15Moz of inferred at Bondi deposit (100%)
0.67Moz inferred resources at the Karankasso Project (31%)
This includes around 0.7m of oxide resource at South Hounde and Bondi. Not bad for a company with such a tiny market cap and no debt.
A map of the Sarama´s three properties in Burkina Faso (Sarama November 2016 Presentation).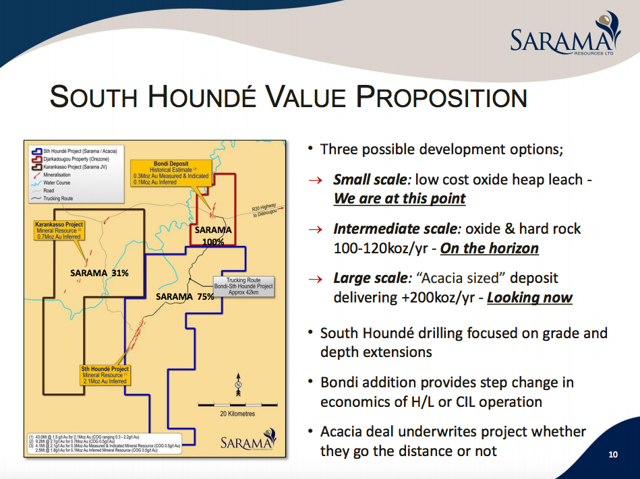 The South Houndé will dilute to only 25% of ownership imputable to Sarama, it is Acacia however that will pay for exploration and engineering studies. The earn-in structure is as follows:
Following its acquisition of a 50% interest in the Project, Acacia may increase its interest in the Project to 70% by making two additional stages payments of USD 3.5 million in years three and four of the Earn-In Period. In addition, following its acquisition of 70% of the Project Acacia will be entitled to increase its interest to 75% following the production of a feasibility study by an independent third party in accordance with the requirements of Canadian National Instrument 43-101 that confirms a mineral reserve equal to 1.6 million troy ounces of gold within the Project licence area. An amount equal to 5% of total Project contributions is payable to Sarama in the event that Acacia elects to take its interest to 75% to reflect joint contributions made in any interim period.
What is important for Sarama shareholders is that the project will be funded solely by Acacia throughout the earn-in period via the earn-in contributions outlined above. In other words, Sarama will get a Fesibility Study and more exploration upside without spending a dime.
The South Hounde project is only one of three projects in Samara´s portfolio. The Bondi deposit is interesting and has excellent metallurgy with free milling and recoveries of 97% in oxides and 91% in fresh ore. The deposit was recently acquired from Orezone (OTCPK:ORZCF) for an acquisition cost of less than $4 per Oz. Ground reconnaissance and drilling are planned for H1 2017.
What I really like about the Bondi project is that it lies at trucking distance from the South Houndé and the Karankasso projects, meaning that there could be a central plant feeding from different deposits, with probably big gains in efficiency and economy of scale compared to a stand-alone operation.
Just west of the South Hounde project lies the Karankasso project JV; a JV between Sarama 31% and Savary Gold 69% with 0.67m in the inferred category at 2.3g/t Au in a potential 20 mile mineralization length to explore. We will analyse the Karankasso project in the next section, which is dedicated to Savary Gold.
The Karankasso Project is a JV between Savary and Sarama (Sarama November 2016 PResentation).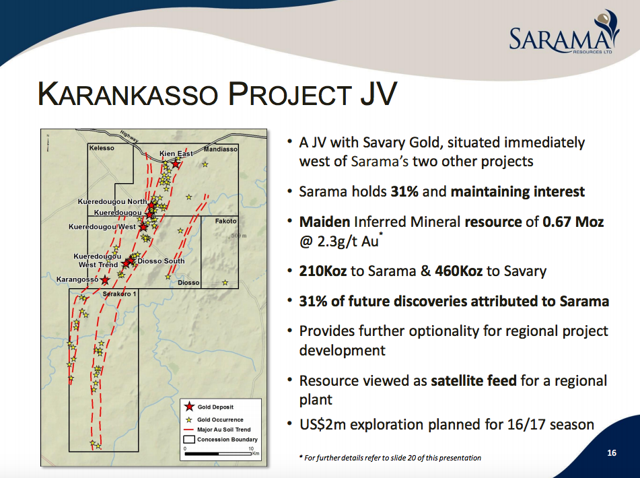 Savary Gold
Savary Gold is an exploration company in Western Africa (Burkina Faso). They own 69.5% of the Karankasso property, which is quickly turning into a large deposit. They already have 700,000 Oz at 2g/t Au as well as 29 miles of mineralisation to explore. They plan to drill for the next 2 years and expand the deposit. This is why the two companies have initiated the largest ever exploration program in the project yet, with a budget of up to approximately $2.6m. The exploration program consists of up to 21´000m of drilling, including 1´000m of diamond drilling, targeting the extension of the pit-constrained inferred mineral resources and to test new targets, and 10´000m of auger drilling to develop new targets. A gradient IP geophysical surveys of an approximate 275 line km and a collection of up to 3,000 soil samples is also planned in the 2017 exploration program.
Serially successfull mining entrepreneur Ross Beaty owns 19.50% while Endeavour Mining owns 7.84% and management and insiders own 6.9%. This is a huge endorsement.
As a speculation stock, it has a lot of potential with a market cap of only $11m. I like their drill results; it seems like all they do is hit high grade gold at surface. The problem is that there are a large amount of warrants coming soon, at around market price (CAD 0.09 at the time of writing).
Savary Gold's capital structure (Savary Gold November 2016 Presentation).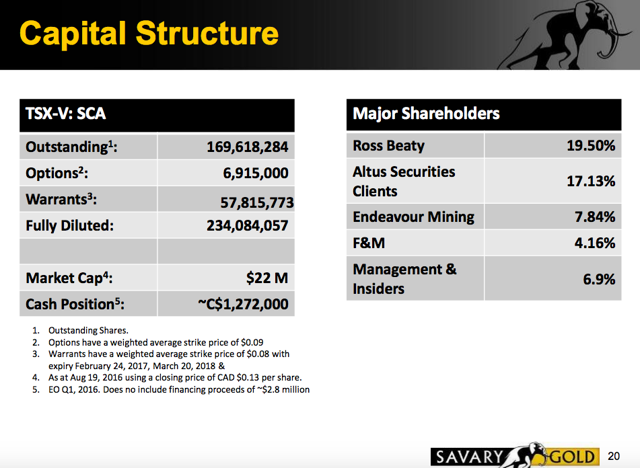 Savary's future value greatly depends firstly on how much more gold will be found at Karankasso and secondly on how well the management will be able to monetize this asset. Savary has a cash burn of $1-2.5m a year and does not expect to have to come back to the market for additional financings in 2017.
Conclusion and cautionary statement
I think Savary and Sarama are worth a second look, as I believe these two have the most upside between all the companies fighting to get the best deposits in the Hounde belt. Both of them are partially owned by majors and famous investors in this space, meaning others applied the necessary due diligence and decided to be parts of the venture. This however does not mean that investing in these two companies it is the right thing for all investors.
Firstly, the companies plans, exploration and economic and feasibility studies will span the next 24 months, meaning that there is uncertainty about when or even if, these projects are to be developed.
Secondly, these are micro caps and the volatility is very high, with major price moves every day. Moreover, a very thin liquidity means that it would not be possible to sell at a reasonable price if you need your invested money rapidly.
Thirdly, another important risk to underline is the bid-ask price spread risk that can be substantial, up to 5% of the price in the case of Savary. To mitigate this risk, investors should use only limit orders and never market orders.
Finally, I have to point out the fact that these companies regularly need to raise money for their operations, which means that new financing are coming in 2017. This could be an opportunity for qualified investors to invest in a financing and get free warrants with the shares, a better option than just buying the shares on the open market.
I hope that you liked this article and I am planning to publish more about junior gold explorers in Africa and elsewhere in the near future. I wish you good luck in your investments!
Disclosure: I am/we are long SRMMF, SVVYF, ROGFF.
I wrote this article myself, and it expresses my own opinions. I am not receiving compensation for it (other than from Seeking Alpha). I have no business relationship with any company whose stock is mentioned in this article.
Editor's Note: This article covers one or more stocks trading at less than $1 per share and/or with less than a $100 million market cap. Please be aware of the risks associated with these stocks.