Every week after the EIA releases their Weekly Petroleum Status Report I download the updated files, consolidate them, and ultimately link them to a simple excel dashboard file which you can download for free at Excel-Data-Junkies.com. Open it up to follow along below, then let's discuss it in the comments section below. For a methodology review take a look the intro " Data Download."
Headline: Total Petroleum Stocks Up 5.3 Million Barrels
Last week I wrote:
"Without a doubt this was a bearish report all around but the big question for me is, can the bears string a few more of these together, or will this week's 8.9M build just be followed by a 9M draw next week?"
Well, the answer is in, and it turns out that yes, the bears can string a couple of big builds together.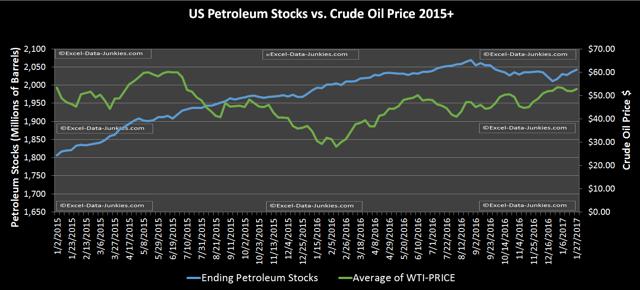 Last week's 5.3M build pushes total US petroleum stocks to 2.043 billion barrels, just 26M bbls under the all time high set at the end of August and up 32M bbls from the recent low set right before Christmas. Inventories are 41M bbls higher than they were 1 year ago when oil prices were around $30.
Imports:
We are now 4 weeks into the OPEC/NOPEC production cut that is reportedly being about 75% honored. In 2016 the US received about 3M bbls a day from OPEC with about 75% of that coming from Saudi Arabia, Venezuela, and Iraq. Venezuela isn't cutting, and shipping from Saudi Arabia and Iraq take about six weeks by sea, plus probably a few weeks to get from the wellhead to an export terminal. The bottom line is that it could be March before any of OPEC's cuts are clearly visible in the US weekly data and likely April before any clear trend is established. Two more months of uncertainty, just what the market needs.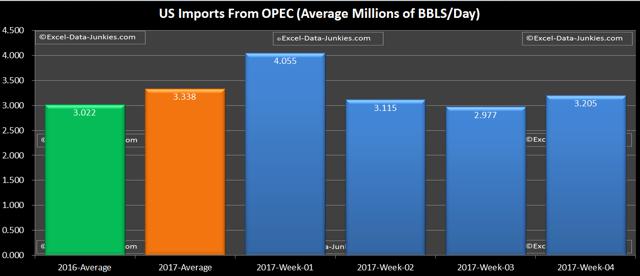 The chart above shows US imports from OPEC with the 2016 average, the 2017 average through 4 weeks, and the weekly 2017 actuals. Through 4 weeks imports are up about 300k a day, though as discussed above due to transit times it could be another month or more before the January production cuts find their way to US shores. If/when they do, weekly averages of around 2.6M bbl/d would be clear evidence to me that in fact OPEC cuts were real and material.
Propane Draws, Primary Builds
I generally don't think too hard about the composition of total stocks, but in the last month we have seen fairly large increases in crude and transportation fuels be at least partially offset by large draws on propane. That got me wondering if propane was masking something else. I know I've said in the past that it doesn't matter which tank the HC molecules are stored in, but propane is a bit of a misfit in our weekly inventory report. First and foremost, most of our propane is actually a by-product of natural gas not oil, and second, the energy density of propane is much lower than crude. On a BTU basis, a 1BBL increase in crude isn't actually offset by a 1BBL decrease in propane, but rather 1.5 bbls of propane.
What I ended up doing was creating a new category I am calling "Primary Oils" which is Crude + Gasoline + Jet Fuel + Distillate. It excludes Propane, Residual Fuel, Ethanol, and "Other Oils". Obviously you could slice and dice these any way you wanted but this is what made sense to me for this line of thought. At the end of the day what we really want is insight into the future price of crude, and it occurs to me that these are the most critical components affecting crude even if they aren't the whole picture. By pulling out some of the less important components, perhaps the big picture will come into focus.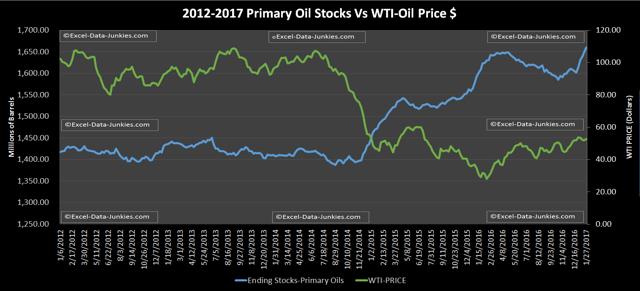 Put it all together and the chart above is what I came up with. Here we can clearly see from 2012 to the end of 2014 "Primary" oil stocks bounced along around 1.425B bbls while the price of oil bounced around about $100. Curiously, it looks like the price collapse got about a 4 month jump on the stock build, which is something we should all keep in the back of our mind as we try to sift through inventory data to forecast future prices. Perhaps the lesson is that historical data can explain how we got to where we are, but doesn't necessarily tell us where we are going.
The second thing that this chart shows is that despite being remarkably stable from 2012 to 2014, we have clear seasonal patterns emerge with large winter builds from ~December through ~March of each year. When we had everything together, all you really saw for the last 2 years was a consistent build with no apparent seasonality. This makes some sense, as propane has the opposite seasonality as gasoline.
This new chart may not be a crystal ball but it does give us a few new data points we may want to keep an eye on going forward. First, despite the draw downs we saw in the fall, "Primary" oil stocks are back at record highs, where total petroleum stocks are still below the records set at the end of last summer. That's not good for the bulls, but they might take some consolation in the now apparent seasonal pattern that suggests maybe the inventory builds will be over in March, just in time for the bears to witness OPEC proving to the world that they are still relevant.
For The Bulls:
Despite a month of bearish data the bulls seem to be winning with prices approaching $54 as Iran sanctions are back in the news cycle. "Inventories are rising, but it is likely seasonal". "OPEC/NOPEC cuts are coming, but it will take a few more months". All of this is true, and you can't argue with price, but even the bulls have to admit that starting 2017 with a 25M bbl inventory build in January is not the hand they expected to start the year with. The fact that despite all of this oil is closer to $55 than $50 makes me wonder if the deep pockets know something the rest of us don't.
For The Bears:
A year ago, oil was at $30, petroleum inventories were at a record (at the time) 2.001B bbls, production was headed down and consumption was headed up. Today, inventories are higher, production is heading up, consumption is heading down, yet the price of oil is over $50. To the average observer, it would seem that the fundamentals are in line for another epic collapse in the price of oil. The biggest headwind to this scenario is of course OPEC. The fundamentals may stink, but the market is at least giving OPEC a chance to prove itself, which means we all get to sit back and wait for another month or two.
Gut Feeling:
This was another bearish report not just on the headline of a 5.3M bbl build, but also on the internals of the report. What jumped out at me was that we continue to see weakness in gasoline consumption, down 5.7% in the trailing 4 weeks, and also in total product supplied where the trailing 4 week average is down 1.9% compared to last year. And this isn't just a 4 week trend…it really goes back about 3 months now, and it looks like overall about 1-2% decline. That doesn't sound big, but if you were expecting 2%+ increases, the full year effect is that we would burn around 300M bbls less. While this is evidently more than a fluke I still find it hard to believe gasoline doesn't bounce back a bit as a 5%+ decline just doesn't make sense with employment increasing and big infrastructure plans and tax cuts floating around D.C.
It wasn't so long ago I was looking for an excuse to jump over to the bulls party, but this report puts me solidly back with the bears for now. Tweets and OPEC promises may be keeping oil over $50 in the short run but keeping it there is going to require material inventory draw downs. We all know anything can happen in this market, but it looks to me like the case for $60+ oil is slipping away and the $40's are headed our way.
Disclosure: I/we have no positions in any stocks mentioned, and no plans to initiate any positions within the next 72 hours.
I wrote this article myself, and it expresses my own opinions. I am not receiving compensation for it (other than from Seeking Alpha). I have no business relationship with any company whose stock is mentioned in this article.