After the close, Chipotle Mexican Grill (NYSE:CMG) reported another quarterly miss. The stock recently rallied on preliminary numbers, suggesting the comp sales trend was finally turning positive while earnings remain under pressure.
The stock is trading volatile in after hours. Despite the excitement in the stock, do investors really want to chase the restaurant company higher with plenty of resistance around $440?
The company reportedly missed both EPS and revenue estimates by a slight amount though the original target prior to the preliminary numbers release was close to double the actual reported amount at nearly $1. AlphaStreet provides this detailed graphic summarizing the quarterly and yearly numbers.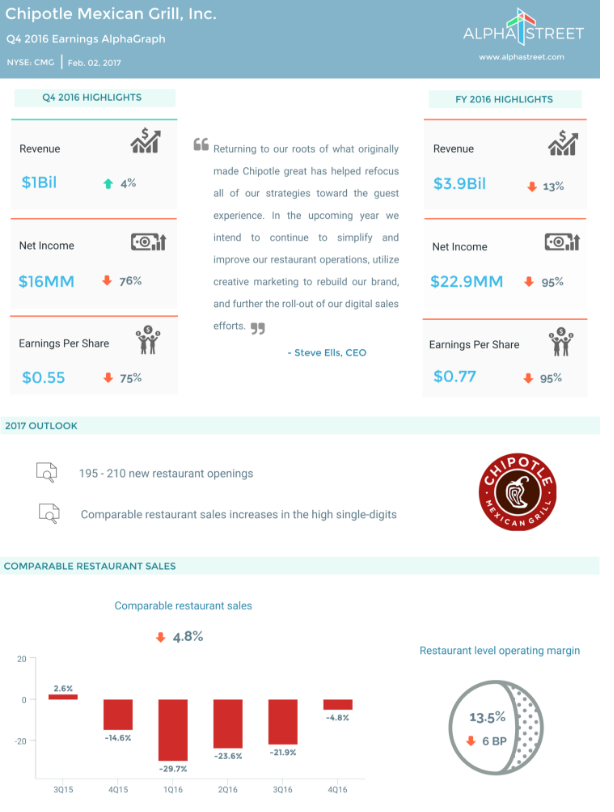 People are rushing back into the stock on the mindset that improved comp sales sets Chipotle back on positive trends. The company though is vastly different than the one in the past that warranted premium valuation multiples.
Higher costs are set to absorb improved revenue numbers in the future. G&A expenses during Q4 nearly doubled from last year levels while food costs were up 150 basis points due primarily to food safety costs such as pre-diced tomatoes. At the same time, Chipotle increased its marketing and promotional spend to get comps back into a position for positive numbers. The hiring of a new ad agency suggested a further ramp in marketing spend.
A better way to view the company is the average unit volumes over the last five quarters. Chipotle went from producing over $2.42 million in annual unit volumes in the prior Q4 to $1.87 million now.

Source: Chipotle Q416 earnings release
2017 comp sales of 8% (high-single-digit forecast) will bring unit volumes up to only $2.0 million. So Chipotle could end the year with sales still down 20% from the peak levels while facing higher costs.
The key investor takeaway is that none of these numbers support an increase in the EPS estimates. The stock already trades at nearly 50x the estimates for 2017.
Absolutely no reason exists to chase Chipotle higher.
Disclosure: I/we have no positions in any stocks mentioned, and no plans to initiate any positions within the next 72 hours.
I wrote this article myself, and it expresses my own opinions. I am not receiving compensation for it (other than from Seeking Alpha). I have no business relationship with any company whose stock is mentioned in this article.
Additional disclosure: The information contained herein is for informational purposes only. Nothing in this article should be taken as a solicitation to purchase or sell securities. Before buying or selling any stock you should do your own research and reach your own conclusion or consult a financial advisor. Investing includes risks, including loss of principal.