Crude oil prices more than doubled over the last 12 months. Riding the coattails of oil price, all oil majors and the vast majority of independent U.S. oil companies have seen their share prices substantially appreciated, with valuations shifting from the extreme oversold-ness in January 2016 to fair value or even overvaluation in recent months.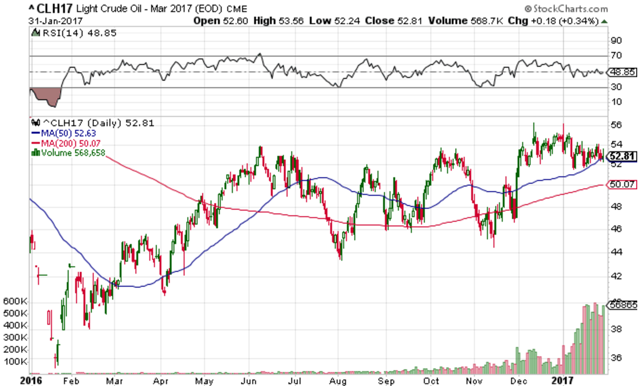 Source: stockcharts.com
Those of us who still hope to find deep values in the oil patch may have to look beyond the U.S. borders and examine the cohort of small-capitalization oil firms that operate internationally.
In this article, we briefly review the assets, operation and growth potential of one company from the group - Gran Tierra (NYSEMKT:GTE). Our research is primarily based on information drawn from the company financial reports and presentations; however it was scuttlebutt, in the sense of Philip Fisher, in the oil circle that initially led us to this interesting prospect. With this analysis, we hope to demonstrate that oil deep values that can deliver significant return over the next few years can still be found overseas.
On the surface, Gran Tierra appears to be just another uninspiring small-cap stock, with a market value of around $1 billion. Its assets are situated in a few Latin America countries that seem to have been chronically stigmatized for political and economic instabilities. To make matters worse, the previous management of the firm, having caught the over-investment fervor sweeping through much of industry in the late 2000s, launched an ill-timed shopping spree that overstretched its operational capacity and nearly ruined its financial book. The fallen crude oil prices over the last two years have certainly not help its fortune either. All these factors conspired to cast the company into obscurity in Wall Street.
Gran Tierra, trading under the ticker symbols of GTE both on the NYSE and Toronto Stock Exchange, changed hands at the NYSE at approximately $2.50, as of the end of January.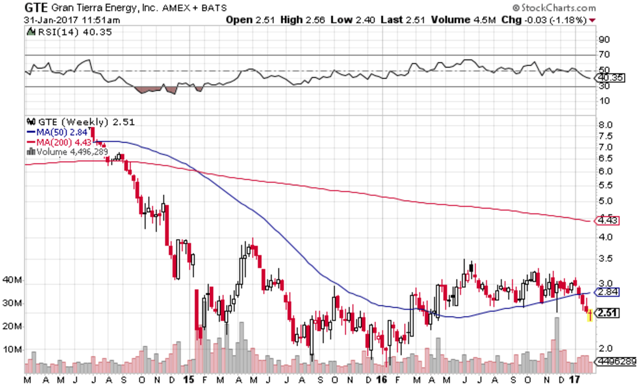 Source: stockcharts.com
Assets: Reserves
The Calgary-based independent operates principally in Colombia, but it owns minor assets in Peru and Brazil as well.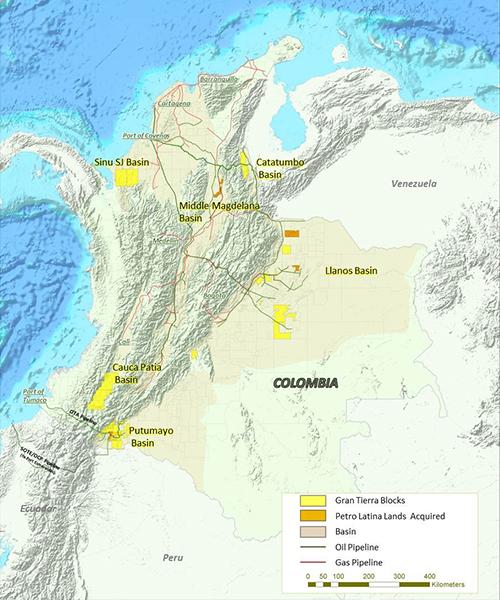 Source: GTE presentation
In onshore Colombia, Gran Tierra operates three large conventional oil fields - i.e., Acordionero, Costayaco and Moqueta -- and a total of 23 exploration blocks in the Upper Magdalena Valley, Middle Magdalena, Llanos, Putumayo-Cagua, Catatumbo basins in the Cordillera intermontane zone and foreland fold and thrust belt.

Source: GTE presentation
As of the end of 2016, Gran Tierra's working-interest (WI), pre-loyalties proven, probable and possible reserves stand at 72.8 MMboe, 126.1 MMboe and 199.2 MMboe, respectively, according to McDaniel Reserves Report as released by the company. Around 62% of the 2P reserves are classified as light to medium grade crude oil, and 74% of the 2P reserves are in the three aforementioned oil fields.
The 2P field life is approximately 11 years. In spite of a 42% improvement over one year earlier, the field life still does not compare favorably with the industry average. Nonetheless, this is compensated by the upside potential as offered by the company's extensive exploration acreage and aggressive exploration program.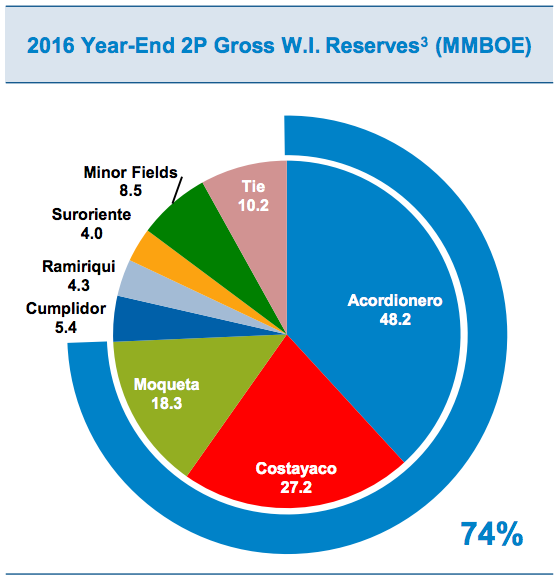 Source: GTE presentation
Finding and Development (F&D) costs, including future development costs, averaged $13.75/boe for 1P reserves, $9.10/boe for 2P reserves and $6.95/boe for 3P reserves, highlighting the excellent petroleum geological conditions of the Columbian basins where main Gran Tierra assets are situated.
We will not go into details of the Peruvian and Brazilian assets, except to say that they are insignificant relative to the Colombian assets. The management is reportedly evaluating strategic options, including a farm-out or spin-off, for the Peruvian assets. This continues an ongoing strategic pivot towards refocusing on the Colombian assets.
Gran Tierra has $390 million of long-term liabilities as of end-September 2016. The company raised $130 million through a secondary offering in November 2016, partly to pay down the debts resultant from the acquisition of PetroLatina. It is remarkable that, prior to this acquisition, when oil prices had been at decade lows, the company actually carried essentially no debts.
Using currently prevailing unit reserve deal price of $11-$16/boe, the WI 2P reserves is worth $1.4-$2.0 billion, or $3.12-$4.54 per share. According to the company, at the end of 2016, WI, pre-tax net present values discounted at 10% are at $2,035 million for 2P reserves and $3,231 million for 3P reserves -- i.e., $4.58-$7.28 per share.
Shares of GTE changed hands at ~$2.50 as of the end of January 2017, some 20%-45% below the estimated PV-10 value. This discount should be considered a minimum estimate; the actual markdown might be significantly larger. This is because, to err on the conservative side, we chose to assign a zero value to the possible reserves (199.2 MMboe) and to the prospective resources hidden in the 33 exploration blocks (683 MMboe), which carry an upside potential of $1,196 and $4,100 millions, respectively, according to materials released by Gran Tierra.
Assets: Reserve Replacement
Over the past year, the company managed to increase its WI, pre-loyalties 1P, 2P and 3P reserves by 51%, 91% and 146%, respectively. This spectacular growth is a result of a well-executed exploration program and, particularly, the acquisition of assets of companies Petroamerica, PetroGranada and PetroLatina all in 2016.
Source: GTE presentation
Gran Tierra looks to grow its per-share net asset value by 300%-500% within five years, mainly by pursuing an aggressive exploration program:
In Colombia, the company plans to drill 30-35 exploratory wells over the next three years, to tap into its resource base. The WI mean unrisked prospective of this resource base is estimated at 683 MMboe. Drilling is expected to be funded by cash generated from the company's oil production.
Beyond Colombia, in longer term, Gran Tierra has been preparing to pursue enhanced oil recovery (EOR) and low-risk exploration opportunities in onshore Mexico.
Gran Tierra may also opt for purchase of additional local oil concerns following the 2016 acquisitions of Petroamerica, PetroGranada and PetroLatina.
Production Growth
Gran Tierra had been producing at an average of WI 27,200 boe/d in 2016, a 38% increase over the previous year. In 2017, the company expects to produce WI 34,000-38,000 boe/d before royalties, which would represent an increase of 25%-40% year over year.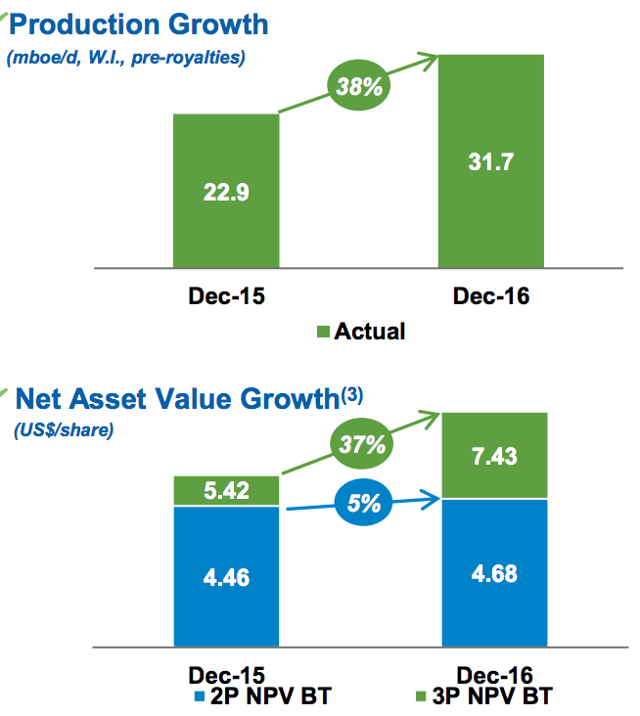 Source: GTE presentation
For such an ambitious organic growth, Gran Tierra earmarked $200-$250 million as capital expenditure for 2017, to be fully funded with cash from operating activities. Some $100-$140 million from this budget will be devoted to drilling a net of 13-14 wells as part of the field development program. The company has an inventory of 18.6 (1P), 36.0 (2P) and 54 (3P) net undrilled development well locations in the country as of end-2016.
In the Middle Magdalena Valley Basin, Gran Tierra anticipates an ongoing ramp up in output at the Acordionero field by continuously drilling both development and water injection wells and by expanding production facilities throughout 2017 and beyond.
The Management
We especially like the operational flexibility as seen in how the management, headed by CEO Gary Guidry, maneuvered the company over the last two years, responding to vicissitudes of industry conditions. When oil prices fell to decade lows, the current management relentlessly reduced spending to achieve positive free cash flows. The company managed to maintain essentially zero debt on the book throughout the crisis. This is remarkable when compared to the sallow books of many of its sickly peers.
Right after oil prices had bottomed in early 2016, Guidry promptly geared up operations to effectuate an aggressive expansion. Within 12 months of the strategic shift, Gran Tierra had successfully acquired, at distressed prices, high-quality Colombian assets from three companies (Petroamerica, PetroGranada and PetroLatina), while having increased capital spending to accelerate organic growth. Such contrarian moves came straight from the playbook of value investing: "Be fearful when others are greedy and greedy when others are fearful."
Between mid-2015 and the end of 2016, various insiders, from directors via CFO to vice presidents, purchased close to a total of one million shares; no insiders sold any shares of GTE during this time. This at the minimum revealed the level of conviction of those in the driver's seat on the turnaround of the company, even when the going had gotten tough.
However, there is a small fly in the ointment that gave us a bit of unease. The current CEO, Mr. Guidry, was found to have hopped from one chief executive job to another in a swift fashion. However, we found solace against the executive's wanderlust in that, generally, the physical reserves of petroleum factored more prominently than the stability of leadership for oil companies. Indeed, the reserve life of Gran Tierra, at 11 years, was five time longer than the average tenure of Mr. Guidry at chief executive jobs.
Catalysts for Market Price Revaluation
At the end of January in 2015, 2016 and 2017, the stock GTE traded at $2.75, $2.3 and $2.5, respectively, which were at more or less the same level. That was while the company had made considerable progress in quality and size of the assets and in production capacity. During these three years, the WI, pre-royalties 1P reserves had sequentially increased by 27.5% and 52.1%, and production had grown 3.0% and 38.4% year over year.
Obviously, these improvements in fundamentals has gone unnoticed by Wall Street, and excessive pessimism or sheer ignorance has led to irrational undervaluation of GTE. However, we are confident that, at some point in the near future, possibly within the next few quarters, the law of reversion to the mean will begin to assert itself.
As we outlined above, Gran Tierra is poised to deliver big strides of output growth over the next 3-5 years. When higher production figures are reported quarter after quarter, Wall Street will be surprised. It only takes a few surprises to the upside for Wall Street to "discover" a transformed Gran Tierra. Then the book value and earnings multiples would have to catch up. Additional fuel to the valuation correction may also include, to a lesser degree, delayed advance in operation costs and/or an amicable oil price environment. Both are expected in the initial recovery phase of the petroleum industry cycle, though they cannot be counted on.
Stock buybacks, though secondary in importance as compared with improvement of the fundamentals, can more assuredly magnify a continued stock rise. To this end, according to a January 30 announcement, Gran Tierra intends to purchase for cancellation up to about 5% of its issued and outstanding shares of common stock for a one year period at prevailing market prices at the time of purchase in the NYSE and Toronto Stock Exchange. Management believes that "the Shares, at times, have been trading in a price range which does not adequately reflect their value in relation to Gran Tierra's current operations, growth prospects and financial position. At such times, the purchase of Shares for cancellation may be advantageous to stockholders by increasing the value of the remaining Shares."
Conclusions
Coming out of a grueling industry down cycle, Gran Tierra is found to have metamorphosed into a company with higher-quality assets, revamped reserve base, visible production growth trajectory, and enticing profitability outlook. Much of this change can be attributed to the financial discipline and shrewd strategic moves effectuated by the management. The management also did a commendable job in executing opportunistic stock repurchases to create value for shareholders.
Lastly, GTE, presently undervalued, offers investors a large margin of safety along with an upside potential of 300%-500% within five years. Therefore, we are going to initiate a strong buy on this small-cap oil play.
Disclosure: I am/we are long GTE.
I wrote this article myself, and it expresses my own opinions. I am not receiving compensation for it (other than from Seeking Alpha). I have no business relationship with any company whose stock is mentioned in this article.
Additional disclosure: We may purchase more shares over the next 72 hours.