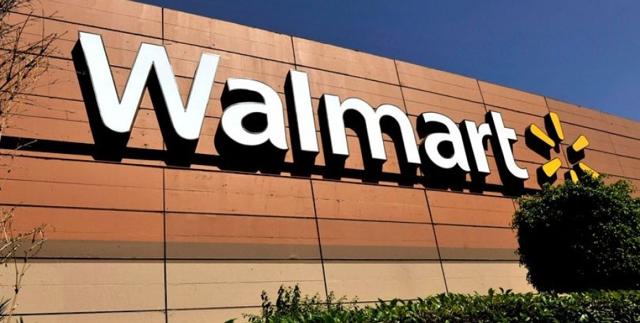 Investment thesis
Wal-Mart's (NYSE: WMT) stock price has underperformed the main market benchmarks in the past year. It is currently trading near its five-year low. This is attributed to recent consumer behavior that favors online shopping, leading to a decline in Wal-Mart's revenues, as shown below. Amazon (NASDAQ: AMZN), the market leader, has seen its valuation reach $388 billion in the past 23 years compared with Wal-Mart's $204 billion. At the current levels, I believe Wal-Mart is undervalued and has the potential to go higher this year. In this analysis, I will highlight the reasons I believe Wal-Mart is an ideal buy based on its recent investments in e-commerce, its dividend history, and its valuation compared to peers.

Source. Market Watch
The chart below shows the 3-month performance of the main retailers against the S&P 500 (SPX).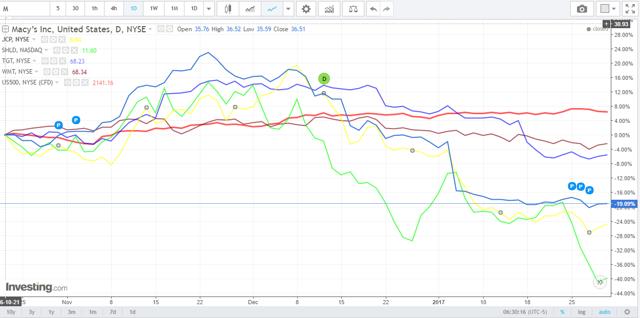 Source. Investing.com
Amazon's E-Commerce Investments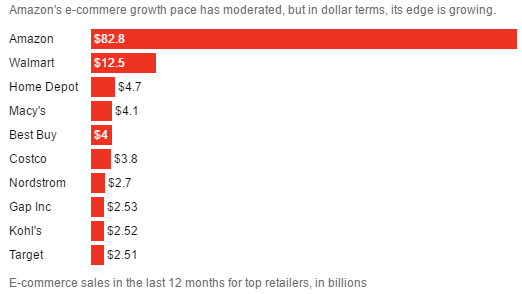 Source. Fortune
Facing the threat from Amazon, WMT has increased its investment in the e-commerce sector. It has done this organically through its Walmart.com platform and through acquisitions. Recently, the company bought Jet.com for $3 billion. Jet, on the other hand, has recently bought ShoeBuy from IAC (NASDAQ: IAC). WMT has also created a partnership with JD.com, a leading e-commerce platform in China. This arrangement gives the company a good chance to penetrate the Chinese e-commerce market. Already, Wal-Mart-owned Sam's Club has launched on JD.com, giving Chinese customers access to millions of brands with same-day delivery. Also in China, WMT has invested in New Dada, a local on-demand logistics and grocery online-to-offline (O2O) platform, which has enabled Wal-Mart to increase its local delivery to two hours in more than 40 locations.
While the e-commerce side of WMT is not as large as Amazon, the company is making good progress. In the recent quarter, the company added 8 million SKUs to its platform. The e-commerce side contributed 50 basis points to the quarter's comp. Globally, Wal-Mart's global e-commerce sales and gross merchandise value (GMV) increased by 20.6% and 16.8%, respectively. As shown below, WMT's online sales, which were declining previously, are now gaining traction with users.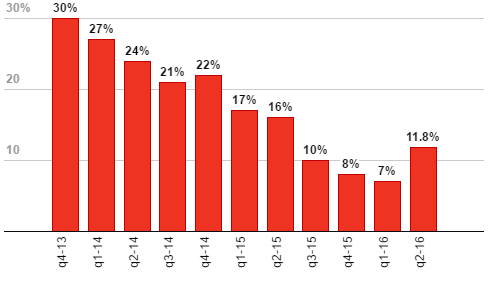 Source. Fortune
One of the main reasons why Amazon has been very successful is the opportunity for fast delivery through its Amazon Prime service. With Prime, customers pay $99 annual fee to qualify for free two-day delivery and other perks, such as free movies and TV shows, Audible channels, music, and book rentals. Amazon prime has more than 54 million subscribers. To battle for these numbers with Amazon, WMT recently announced that it would kill its prime-like service called ShippingPass. ShippingPass customers subscribed by paying $50 per month. WMT will now offer free two-day shipping, with the minimum purchase reducing from $50 to $35. Amazon Prime is still a better deal based on the other perks it offers and the wide variety of goods it offers, but with free shipping and well-priced products, WMT can gain a good number of customers.
The new pricing strategy is expected to impact the company's margins. In the last quarter, WMT had gross margins of 25.97% compared with AMZN's 35.01%. Its quarterly profit margin of 2.57% compares with AMZN's 0.77%. Also, for now, it is very early to estimate the future success of WMT's e-commerce after the new free delivery option and the Jet acquisition. This is because for traditional retailers like Target (NYSE: TGT), WMT, and Macy's (NYSE: M), e-commerce sales still contribute a small portion of their earnings, albeit the trend is encouraging.
The intersection between e-commerce and retail is likely to play a role in Wal-Mart's growth. Amazon realizes the importance of retail and has expressed interest in opening 2000 pop-up stores in a number of cities. It also previewed a new retail concept with Amazon Go, which simplifies how people buy in retail sector. Clearly, if Amazon Go works, it will redefine the retail sector as we know it, and the main beneficiary will be Wal-Mart. This is because the technology is like a commodity that can be replicated in Wal-Mart's 5000+ stores in the United States. This would help the company increase sales (by eliminating queues) and reduce operating costs (by reducing the number of cashiers).
WMT as an Investment
As shown in the chart shown above, retailers have underperformed the market in the past three months. The chart below shows how Wal-Mart has performed against Amazon, S&P and the Dow in the past three years. WMT is currently trading at a trailing PE of 14.50 compared with AMZN's 188. This valuation is less than the industrial average of 15.8, the three-year median of 15.40, and the forward PE ratio of 14.66. Also, WMT's trailing PE is lower compared with its immediate competitors such as Costco (NYSE: COST), Dollar General (NYSE: DG), and Home Depot (NYSE: HD), which have trailing multiples of 29.5, 17, and 22.4, respectively. Wal-Mart's forward multiple of 14.66 is less than its peers' as well. HD, DG, and COST have forward multiples of 18.69, 15.92, and 27.7, respectively. Therefore, based on price to earnings only, Wal-Mart is currently trading at a discount compared with its industrial peers. In addition, WMT's price to book and price to sales of 2.6 and 0.6 are better than the industrial average of 3.2 and 0.5 respectively.
According to MarketWatch, out of 34 analysts, the average recommendation for WMT is hold with a price target of $73.87, an 11.8% upside.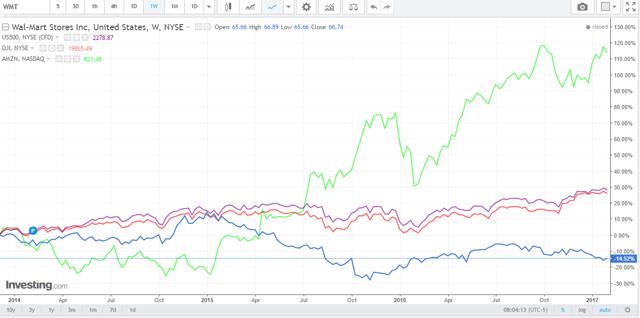 Source. Investing.com
Wal-Mart is a dividend aristocrat, meaning it has increased dividends for the past 25 years. The company has also been generous in its share repurchases. In 2015, the company outlined plans to spend $20 billion in two years in share repurchases. Last quarter, the company spent $1.5 billion in this program, bringing the total amount so far to $8.7 billion.
While the net income has declined in the past five years from $15.77 billion in 2012 to $14.69 billion in 2016, the company's free cash flow has increased from $10.75 billion to $15 billion. Dividend payments have increased from $5.05 billion to $6.29 billion in the same period. This is despite the company's huge investments in this period. Consider the following statement by Charles Holley, the company's CFO, in 2015.
Fiscal year 2017 will represent our heaviest investment period. Operating income is expected to be impacted by approximately $1.5 billion from the second phase of our previously announced investments in wages and training as well as our commitment to further developing a seamless customer experience
At the current valuation, and based on the company's FCF, I believe Wal-Mart is an ideal buy especially for long-term dividend investors. This is despite the current sentiment on retailers, which recorded lower-than-anticipated holiday sales. According to Simply Safe Dividends, WMT has a dividend score of 99, which suggests that its dividend is extremely safe. In the past 12 months, WMT's earnings payout ratio has been 79%. Consider the chart shown below.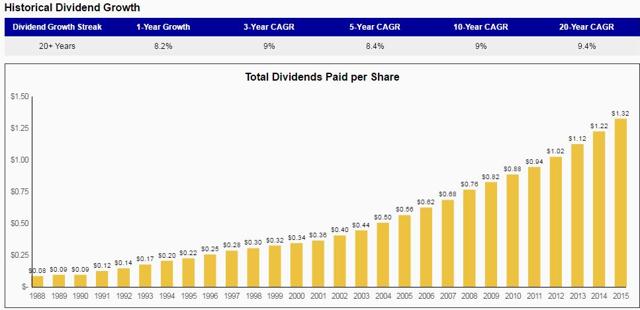 Source: Simple Safe Dividend
Conclusion
At the current valuation, I believe Wal-Mart is undervalued compared to its peers. The stock price is currently trading near the 5-year low as investors worry about Amazon mount. However, I believe buying the company's stock would be ideal because of the opportunities that lie ahead. As mentioned, the company is investing heavily in e-commerce, which is paying off as shown above. In retail, the company could gain by leveraging its huge store presence and technology (such as Amazon Go) to drive sales. As demonstrated, the company has significantly improved its FCF in the past five years and allocated capital to "reward" its shareholders through dividends and repurchases. However, future growth will depend on how the company implements its e-commerce strategies and how the customers receive the new offerings. Also, there are concerns on the proposed border adjustment tax (BAT), which could have serious implications on Wal-Mart's US revenues. The BAT proposes to impose a 20% tax on imported goods. For WMT, this would hit where it hurts since most of the company's products such as clothes and electronics are manufactured overseas. For WMT, the implications of this tax would be less severe since the company operates in about 60 countries, which could offset such impacts.
Disclosure: I am/we are long WMT.
I wrote this article myself, and it expresses my own opinions. I am not receiving compensation for it (other than from Seeking Alpha). I have no business relationship with any company whose stock is mentioned in this article.