Just prior to the OPEC meeting at the end of November, Saudi Energy Minister Khalid Al-Falih, said that a cutback in supply might not be necessary. "We can also depend on recovery in consumption, especially from the U.S."
Mr. Al-Falih also more recently said that global demand is "unexpectedly robust." But U.S. consumption data is proving to be even more of a problem than I thought it would be. In monthly data released by the Energy Department through November, total petroleum product consumption is estimated to be up just 0.4% vs. the same period in 2015.
Moreover, weekly data since then show demand dropping off due to a sharp drop in estimated gasoline usage. Total demand in the world's largest oil consuming market over the past 4 weeks is estimated to be 1.9% lower than over the same weeks a year ago.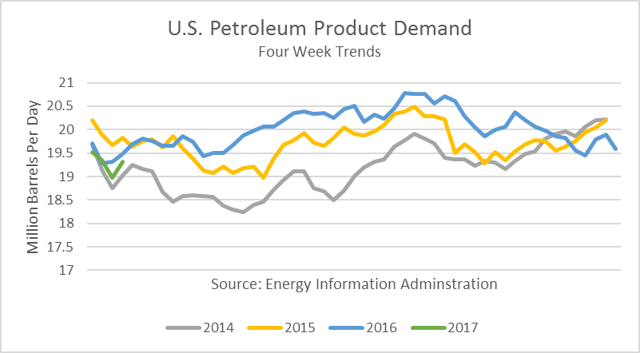 And gasoline demand is reported to be 5.7% lower than a year ago. It is even lower than it was 2 years ago.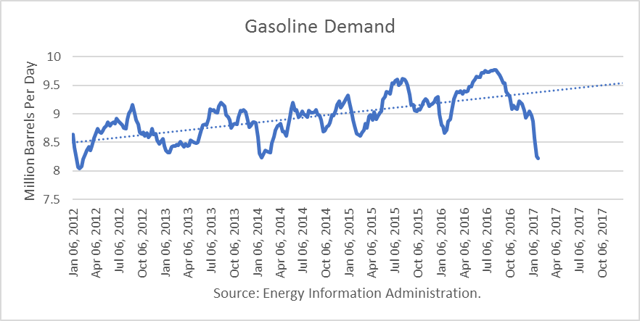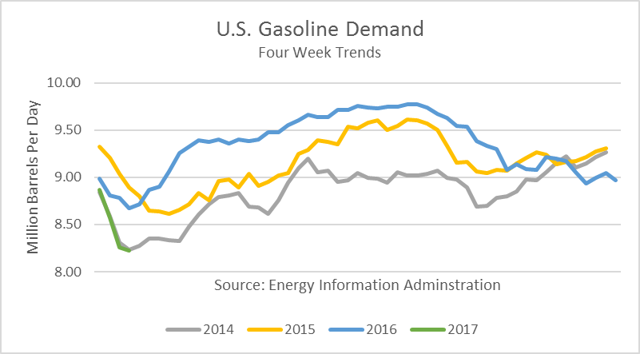 I had previously commented that the EIA admitted it had overestimated demand last year. Before improving its exports-estimates' methodology, it had underestimated exports, which led to an overestimation of domestic demand. I interpolated the weekly data for gasoline for January 2016, and it is 8.724 million barrels per day. That is only 0.6% higher than the actual monthly data for January, so it does not explain the difference.
Another possibility is that the Energy Department is overestimating recent gasoline exports, which would result in an underestimate of domestic demand. It has reported a surge in exports, but even that would not explain a drop in gasoline demand of nearly 500,000 b/d, which is roughly the size of the Saudi crude production cut.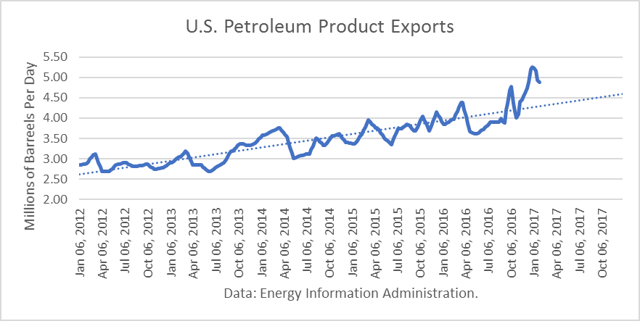 I checked data on Vehicles Miles Traveled, another indicator of gasoline demand, and they reveal no sharp downturn. However, the most recent data point is November, before this sharp downturn in the weekly data.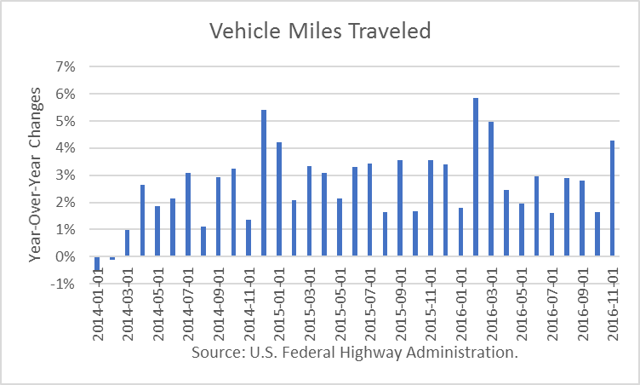 Other factors that affect consumption are prices, the economy, the weather, MPG, and consumer behavior. Gas prices have risen but not enough to cause a drop in driving. The economy has been growing. No adverse weather conditions have been present. MPG and consumer behavior trends usually change slowly unless there has been an event (e.g., 9-11).
Conclusions
For now, this large drop in apparent gasoline demand remains a mystery. However, it has contributed 21.6 million barrels to the 26 million barrel build experienced over the past 4 weeks.
Based on this preliminary data, weak U.S. petroleum consumption is another problem facing OPEC. It will make achieving its desired balance in supply and demand more difficult, requiring either deeper cuts or many more months.
Disclosure: I/we have no positions in any stocks mentioned, and no plans to initiate any positions within the next 72 hours.
I wrote this article myself, and it expresses my own opinions. I am not receiving compensation for it (other than from Seeking Alpha). I have no business relationship with any company whose stock is mentioned in this article.