This post was written by Bob Ciura on February 2nd, 2017, for Sure Dividend
Aflac (NYSE:AFL) stock fell 4% in early trading on February 1, after the company posted quarterly earnings that fell short of expectations.
A declining share price is never a welcome sight. But long-term investors should not lose focus of the bigger picture.
Aflac is not a "get-rich-quick" stock. Instead, it is more of the "build-wealth-slowly" type.
Aflac has a long history of steadily enriching investors over time. It is a Dividend Aristocrat, a group of companies with 25+ consecutive years of dividend increases.
In fact, Aflac has raised its dividend for 34 years in a row.
That by itself speaks to the strength of Aflac's business model. There are only 51 Dividend Aristocrats in the S&P 500.
You can see the entire list of all 51 Dividend Aristocrats here.
Aflac maintains its excellent track record thanks to a highly profitable business model, a leadership position in the insurance industry, and a commitment to growing its dividend each year.
Results Overview
Aflac has a very strong business model. It operates in a niche industry, and has a dominant position in that category.
Aflac sells supplemental insurance products, which pay out to policy holders if they are sick or injured and cannot work.
The company enjoys a strong brand and global scale, which leads to high profit margins and steady growth.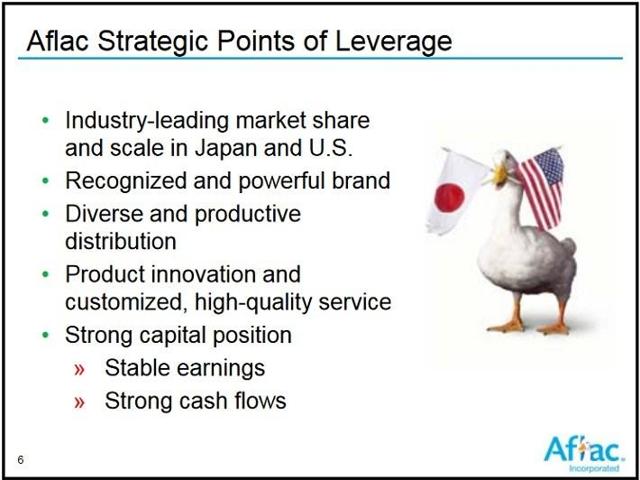 Source: Fourth Quarter Presentation, page 4
For the fourth quarter, Aflac posted earnings of $751 million. Earnings-per-share came to $1.84, or $1.54 on an adjusted basis.
Analysts on average were looking for earnings-per-share of $1.64. Aflac missed expectations by approximately 6%, and investors have responded by selling the stock.
However, long-term investors should keep in mind that Aflac's net earnings-per-share increased 7.6% from the same quarter last year. So there appears to be nothing wrong with Aflac. Rather, the company is growing earnings nicely.
One caveat is that currency played a role in boosting Aflac's results. Aflac derives approximately 75% of its premium income from Japan. This means the company's earnings per share are dependent in part on exchange rates between the yen and the dollar.
When the yen rises against the dollar, it helps Aflac because each yen earned becomes more valuable when it is reported in U.S. dollars.
The U.S. dollar weakened against the Japanese yen in the fourth quarter, which caused Aflac's total revenue to jump 12% year over year.
Without currency, Aflac's operating earnings per diluted share decreased 1.3%.
Still, Aflac's core business is performing well.
Aflac's operating earnings rose 4.7% in 2016, to $6.79 per diluted share.
Growth Prospects
Aflac should benefit from two specific growth catalysts going forward, which are growth of new products, and rising interest rates.
In the U.S., the company intends to expand its two-channel distribution model. This is an initiative to grow its core business, as well as new customer features such as everwell and one-day-pay.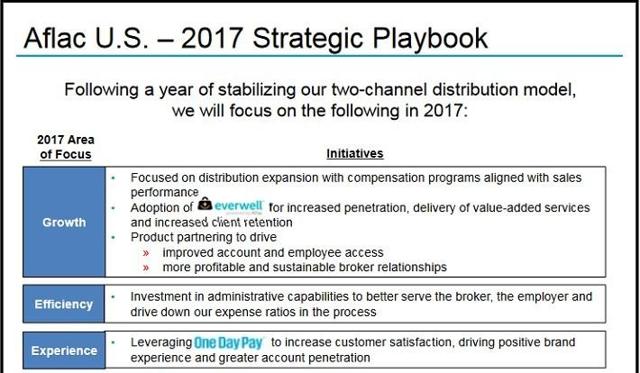 Source: Fourth Quarter Presentation, page 6
Aflac maintains a long-term growth outlook of 3%-5% annually in the U.S.
In Japan, Aflac's growth strategy revolves around third-sector product sales. These are insurance products like cancer insurance, and are popular in Japan because of the country's aging population.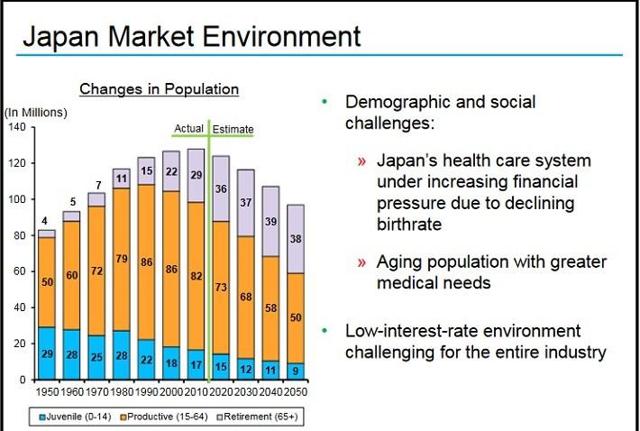 Source: Fourth Quarter Presentation, page
Aflac expects 4%-6% long-term annual growth in third-sector product sales in Japan going forward.
Second, rising interest rates are a growth catalyst for insurers like Aflac.
Aflac makes money in two ways. It not only writes policies and collects premiums, but it also invests the large pool of accumulated premiums not paid out in claims.
This is referred to as 'float'. Investing this money is a second major profit stream for Aflac, because it ended the quarter with $116 billion in total cash and investments.
When interest rates rise, it will allow the company to earn a higher rate of return on its invested assets. Aflac earned $703 million in investment income last year, up 3.8% from the previous year.
If the Federal Reserve raises interest rates three times in 2017, which is widely expected, it should be a significant boost to Aflac's investment income.
Valuation & Expected Total Returns
Aflac is a very cheap stock. Shares trade for a price-to-earnings ratio of 10. By comparison, the S&P 500 Index has an average price-to-earnings ratio of 26.
This means that Aflac is valued at less than half the valuation of the broader market index. As a result, Aflac stock could generate sizable returns going forward, simply from an expanding multiple.
For example, if Aflac stock held a price-to-earnings ratio of just 15—still a modest multiple given the company's strong business model—it would generate 50% returns from its current share price.
Plus, Aflac can provide significant returns from its capital allocation program. Share repurchases help boost earnings-per-share growth by reducing the number of shares outstanding.
Aflac expects to utilize $1.3-$1.5 billion for share buybacks in 2017. This represents approximately 5% of the company's current market cap. So, all else being equal, Aflac could boost earnings-per-share growth by 5% this year, just from share repurchases.
Over the long-term, a reasonable forecast for investor returns could be as follows:
3%-5% revenue growth
2% investment income growth
2% share repurchases
1% margin expansion
5% dividend yield
Based on this projection, Aflac could conservatively generate approximately 10.5%-12.5% annual returns, not including expansion of the price-to-earnings multiple.
Dividend Analysis
Aflac has an above-average dividend yield of 2.5%; the S&P 500 has an average dividend yield of roughly 2%.
And, Aflac's dividend is rock-solid. The company's forward annualized payout is $1.72 per share. Meanwhile, the company reported operating earnings-per-share of $6.79.
This means Aflac's current dividend payout constitutes just 25% of the company's operating profit. Distributing only one-quarter of its earnings-per-share means Aflac has plenty of room for continued dividend growth.
Aflac management stated its intention will be to raise the dividend again in 2017, which will be its 35th consecutive year. It could easily raise the dividend by the mid-to-high single digit range, thanks to its steady earnings growth and low payout ratio.
Final Thoughts
Aflac stock fell after reporting fourth-quarter earnings, but the results were still quite strong. Even after excluding the boost from currency fluctuations, Aflac grew the business in 2016.
The stock is cheap, with a solid dividend yield, and a long history of dividend growth.
The insurance industry is filled with strong dividend stocks. You can see my top insurance choices for 2017 here. Aflac is among the top insurance investments available now, despite its weak recent results.