We are short Barfresh Food Group (OTCQB:BRFH). The company makes single serve smoothie packets for commercial use wherever beverages are sold. The potential sounds great; not having to prepare and mix ingredients saves time and money. The Barfresh system provides a fast and simple solution for making smoothies without the capital expenditure of installing a large smoothie machine. This makes it a unique solution for establishments that don't currently offer smoothies, with the tailwind of a consumer that is growing more health-conscious.
However great the story may sound, our thesis is that the company has been a vehicle for enriching the CEO and his associates by hyping up the stock while the underlying company shows no real promise for growth, only a promising sales pitch to investors.
It's so bad, we're not even sure where to start. So here is a summary:
The CEO's history and company background are incredibly suspect.
The management team is getting paid more than the total revenue of the company.
It's been 11 years and the company has yet to "take off."
The patent isn't very robust.
The Sysco deal isn't working out.
A similar idea didn't work out on CNBC.
The CEO's history and company background are incredibly suspect
Doing the due diligence on the CEO and founder Riccardo Delle Coste raises many questions and few answers. He has accomplished a lot for being only 37 or 38. He has "over 20 years of experience within retail, hospitality, and dairy manufacturing," and "has over five years of investment banking experience," according to the company's most recent proxy. We found no record of any particular investment bank, not even on his LinkedIn profile.
You will find a few interesting claims there. For one, Macquarie University in Sydney, Australia, is listed, but the company's filings reveal he attended but did not graduate from there (yet got a job in investment banking?). Second is that Barfresh was founded in 2005. This is also misleading. According to this 2010 podcast, Barfresh Beverage Systems was founded in 2005 in Australia, using majority Australian ingredients with distribution in Australia, New Zealand, Singapore, and Korea (and India, as you will read later). Note that in this interview, the CEO claims to have secured distribution with "the #1 food service distributor in the U.S." Since this was dated 2010 and the Sysco deal occurred in 2013, we are wondering who the mystery distributor was. By the time Riccardo Delle Coste was founding Barfresh at the age of 26 in 2005, he had already attended college for 3.5 years, owned and exited several juice bars, and supposedly worked in investment banking for 5 years without a college degree.
With that kind of track record, you're probably wondering how Barfresh Beverage Systems is doing in Australia 12 years later. Well, we did a little digging there too, but couldn't find much. We found this on Facebook: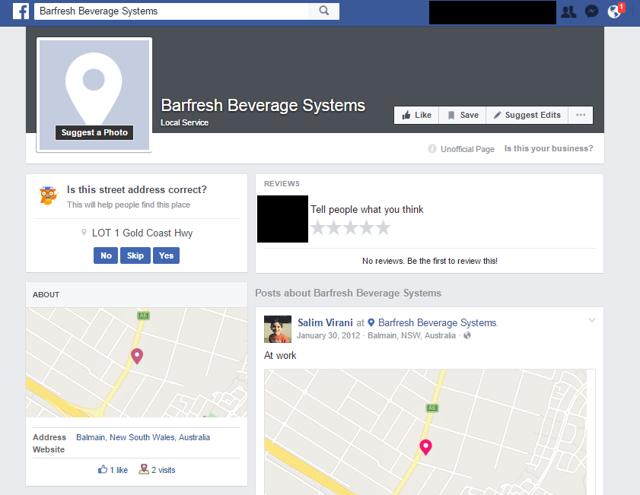 Here is a Street View of the same address: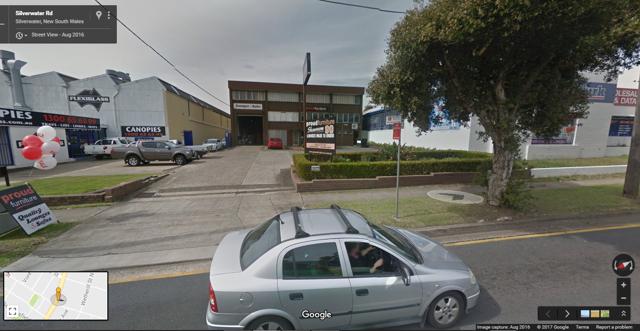 No Barfresh there. We looked elsewhere on Google Maps and found this building with a "For sale" sign: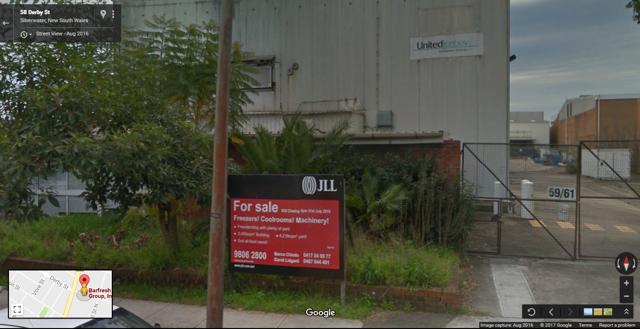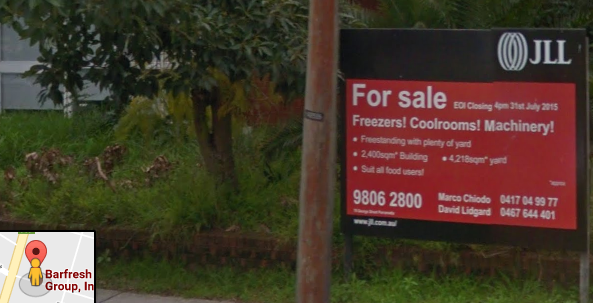 Seems odd for a company that was accumulating "about 10 new customers a day" in 2007.
If you're wondering how Barfresh came to the US, the story is just as interesting. In 2010, Moving Box LLC was founded and taken public to raise capital for the purpose of producing the film A Box for Rob. The assets were later transferred to a subsidiary, and the parent sold to a company in New York that buys and sells shell companies. Barfresh (the American version legally located in Colorado) the completed a reverse merger with the Moving Box LLC shell and changed the name. Somewhere in the timeline, Barfresh did business under the name Smoothie Inc., a wholly owned subsidiary that marketed its Smoo brand smoothies until 2015. No relation to the Smoo brand smoothie packs in Austria. Even more confusing is that the US Barfresh then struck a deal with Entyce for distribution in Australia in early 2014, probably because the Australian one went bankrupt.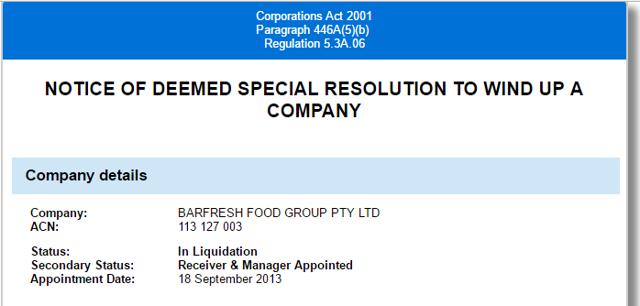 And whatever happened to the juice bars? Zoop'n Juice became J Bar Trading. This company was later deregistered, and as a very bizarre cherry on top, it was located in a modest home in Beverly Hills, Australia.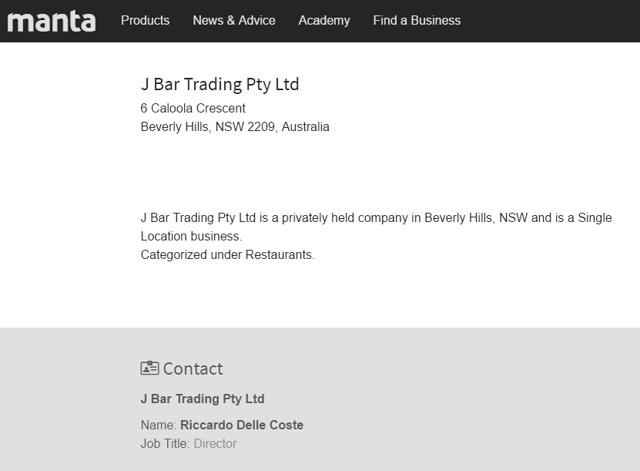 The management team is getting paid more than the total revenue of the company
The company entered into a series of employment agreements in April and May 2015 that provide for the following base salaries:
Riccardo Delle Coste, CEO, $350,000
Joseph M. Cugine, President, $300,000
Joseph S. Tesoriero, CFO, $250,000
That's $900,000 in salary for a company that did $1.4 million in revenue between 9/15 and 9/16. In addition, there was a $7,200 car allowance to Delle Coste in 2015, a $37,500 cash fee paid to three of the board members, and an additional $52,500 "consulting fee" paid to one of the board members. In addition, the three executives named above were paid over $1.9 million in stock awards and options in 2015.
At this point, you may be wondering who is on the audit committee. The audit committee consists of Riccardo Delle Coste, the board member who received the consulting fee, and another board member who is from Australia and has been the secretary of Barfresh since its inception.
It's been 11 years and the company has yet to "take off"
The story at Barfresh has remained the same for over a decade - with its great potential and proprietary, patented technology, eye-watering sales growth is just on the horizon. The company just never quite seems to get there. But what it lacks in sales it makes up for in promotion, with an almost endless trail of pitches and press releases. Some our particular favorites come from Tobin Smith of NBT Equities Research. Tobin was later fired from his gig as a Fox News contributor and was charged by the SEC. He received $35,000 in cash and 75,000 shares from Barfresh. If you've taken the time to watch the Vimeo video linked to above, we find in particularly amusing that Tobin Smith explains that the company cannot announce who it has won developmental deals with because of non-compete or non-disclosure agreements.
If we add up the press releases on potential deals put out by NBT alone:

If only the ones we have full location data on alone had resulted in a full rollout, and the company did not add a single new customer for the last 3 years, it would have sales of at least 43 million units. According to Barfresh's own press releases that it paid NBT to issue on its behalf, this should have resulted in sales of at least $21.7 million, compared to $600,000 actual revenue in 2015.
Clearly, these deals did not work out. Perhaps people did not want a smoothie with their pie while they were gambling or at the hospital. Our best guess is customers who want smoothies go to places that specialize in serving smoothies.
The patent isn't very robust
While Barfresh does have a legitimate patent, it has in no way been immune to competition. Competitors include premade smoothie mixes that come in bulk bags, blender solutions such as Island Oasis, and companies making the same product and selling in retail channels. Don't take our word for it - go to your local grocery store and look in the frozen foods isle. We found a private-label product, Jamba Juice brand (licensed by Inventure Foods (NASDAQ:SNAK)), and Dole. This is in addition to the company in Austria selling the single-serve smoothie packs under the same name, Smoo.

The Sysco deal isn't working out
We have no confidence that a push by Sysco sales teams has been able to create the long-promised growth. We did an extensive inventory check with its distributors in the Northeast and found that Sysco had a total of what we estimate to be under 9,000 units on hand, with a re-order time of about one to two weeks. This is a mere 9,000 units for the entire Northeast, from roughly Maine to Pittsburg. Most of the people we talked to were not familiar with the product and said it was not a heavy seller. One salesperson in the New York City area told us "it was pitched at a sales meeting about a year ago but never really took off." One distributor is discontinuing two Barfresh product lines.
A similar idea didn't work out on CNBC
Interestingly, a recent episode of Billion Dollar Buyer featured a company promoting a similar idea. It didn't work out for that company either. The demand was weak, and having a blender behind the bar was unacceptably noisy.
Conclusion
Based on the facts above, we think Barfresh has proven it is not a viable enterprise, and failing to disclose the true condition of its Australian sister company and its apparent bankruptcy was possibly illegal. The new hires from PepsiCo are located in NYC, according to LinkedIn, so they are far from the company's operational headquarters in Beverly Hills. They also have short histories with the company. A hypothetical acquisition by Unibel S.A. seems unlikely, as it would require an audit, though it recently took an $10 million position in the company (disclosed after it presented at ICR). The current auditor has no California office. We think an SEC investigation is far more likely than the company achieving its promised growth rate.
The company currently trades at over 50x revenue, has a mere $1.5 million in cash on the balance sheet, and total cash flows from operations of negative $8 million in the last four quarters.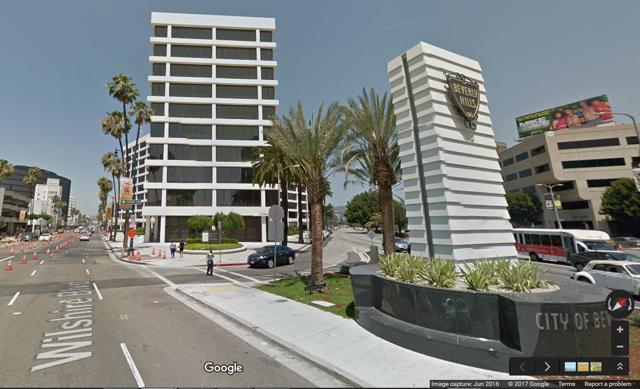 Barfresh Food Group's current headquarters, located at 8383 Wilshire Blvd., Suite 750, Beverly Hills, California
Disclosure: I am/we are short BRFH.
I wrote this article myself, and it expresses my own opinions. I am not receiving compensation for it (other than from Seeking Alpha). I have no business relationship with any company whose stock is mentioned in this article.
Editor's Note: This article covers one or more stocks trading at less than $1 per share and/or with less than a $100 million market cap. Please be aware of the risks associated with these stocks.