Vanguard Natural Resources, LLC (NYSE:VNR) filed for Ch.11 bankruptcy on February 1 because they had a highly leveraged capital structure using bank loans. Under the restructuring support agreement, senior note holders will get new stock and rights to buy stock with an estimated recovery of 80.5% based on a total enterprise value of $1.625 billion. Since I think the multiple they used in determining the enterprise value was too conservative, the 7.875% 2020 senior notes (CUSIP 92205CAA1) are attractive at current price levels.
The bankruptcy filing comes as no surprise because VNR needed to make $37.5 million monthly deficiency payments on its bank loan. As they stated in their January 5 8-K filing, "The Company continues to believe that current cash flow from operations will not be sufficient to pay the remaining borrowing base deficiency installments on the Credit Facility." Another $37.5 million payment was due February 1.
Restructuring Support Agreement
*RBL creditors will get $275 million cash to pay down the bank loans, plus participation in an exit credit facility of $1.1 billion maturing in 4 years with a LIBOR+2.5% rate (same rate as before).
*Second lien noteholders get $75.6 million new notes with an interest rate of 9%, an increase from 7%, with a 2024 maturity instead of the current 2023 maturity. The holders also get the right to buy $19.25 million in new equity at a 25% discount from plan value. (The 2lien holders would have been better off not participating in the exchange offer last year for $168.2 million senior notes.)
*Senior noteholders get 97% of new equity, subject to dilution (see below) and rights to purchase $255.75 million in new stock at a 25% discount from plan value.
*Preferred shareholders may get 3% of new equity, subject to dilution, and 3-year warrants to purchase 3% of the new stock. This payment is based upon approval of the plan by the preferred stockholder class and by general unsecured claim holder's class. It seems if they do not approve of the plan as a class (not as individuals), there will be no recovery.
*Common unitholders may get 3-year warrants to purchase 3% of the new stock. In order to get this recovery, common unitholders as a class, preferred shareholders, and unsecured creditors must approve of the plan. Again, it seems if the required approvals are not obtained there will be no recovery.
*Management gets up to 10% of the new stock under an incentive plan.
Time Table
Within
20 days File a reorganization plan and disclosure statement
65 days Hearing approving the disclosure statement
125 days Hearing to confirm the plan
155 days Exit bankruptcy
Plan Value
The company is using a total enterprise value of $1.625 billion, which is a 5.4x multiple of their estimated 2017 EBITDA of $301 million. (EBITDA source: January Management Presentation). They have indicated that there will be $1.1 billion 1lien debt and about $76 million 2lien debt when they exit bankruptcy, which implies a plan equity value of $449 million.
Based on the financial projections from management's presentation, the $1.625 billion enterprise value is a conservative estimate. Using 2018 EBITDA of $335.7 million and multiples of 5x and 7x, the enterprise value would be $1.678 billion-$2.350 billion. Using $1.176 in debt, the equity value would be $502 million-$1.174 billion.
A PV-10 of $2.146 billion (1/1/17) supports my assertion that the company's valuation is low. I expect, however, that projections and valuations included in the yet to be filed disclosure statement will be based on management's January presentation figures.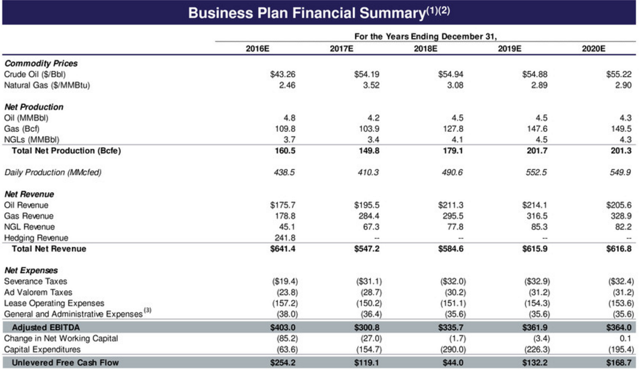 Senior Note Valuation
There is approximately $433 million in senior notes ($51.1 million 8.375% and $381.8 million 7.875%) getting 97% of the new equity subject to dilution. This dilution is actually very significant - 34.7% according to the restructuring support agreement. The dilution is from the rights offers, backstop agreement, and management incentive plan. The value of equity received as percentage of par is 65.7 [0.97 x $449 million x (1.00-0.347)]/$433 million.
The rights give holders the right to purchase $255.75 million of new equity at a 25% discount. The value of this discount works out to be 14.8 per cent of par. ($255.75 million x 0.25)/$433 million.
The total recovery for the senior notes would be 65.7 plus 14.8 = 80.5 per cent of par. Remember, this recovery is based on a very conservative enterprise value of $1.625 billion.
With over $700 million reduction in debt, and therefore, a reduction in risk, I would expect the multiple of 2017 EBITDA to be higher than 5.4x. Since the 7.875% notes are trading around 76-78, any higher valuation would mean more recovery for these notes.
CODI
This article is a recommendation regarding ANR's notes, but I will mention the important cancellation of debt income - CODI issue. With about $433 million in debt being cancelled and with 131 million common units, VNR unitholders could get about $3.30 CODI.
Conclusion
The CODI issue alone makes VNR common a sell. I need clarification on the exercise price for the warrants and further insight into the probability that the classes will approve the plan before I can give an opinion on the preferred stock.
I bought the 7.875% notes last fall in the low $40s and continue to hold them. After a reorganization plan and disclosure statement are filed, the notes may reflect their true potential for recovery. (If they start trading too close to par I expect that equity holders will complain that noteholders are getting more recovery than their claim.) Since I think the plan value is too conservative, I consider them a buy for bulls on energy prices. I would NOT recommend purchase of the notes by those not planning to participate in the right offer because the rights are a major part of the recovery.
Disclosure: I am/we are long VNR SENIOR NOTES.
I wrote this article myself, and it expresses my own opinions. I am not receiving compensation for it (other than from Seeking Alpha). I have no business relationship with any company whose stock is mentioned in this article.
Editor's Note: This article covers one or more stocks trading at less than $1 per share and/or with less than a $100 million market cap. Please be aware of the risks associated with these stocks.