Whenever I see a materially lower share price, I tend to look a bit closer at a security. Often short-term share price movements swing - either up or down - to a much greater degree than the long-term business results. Something like United Parcel Service (NYSE:UPS) may fit that bill presently. Shares traded near $118 in late January, and today the mark is closer to $105 - a 11% decline.
Now granted the share price has been much lower than this in the past year and indeed there are often reasons for these gyrations. In this case, UPS recently reported results below expectations and indicated that the company may not make quite as much this year as previously thought. Nonetheless, this gives us an opportunity to review the security.
Here's a look at the business and security performance for the last decade: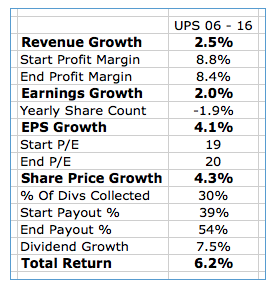 Naturally we know that history does not dictate the future, but each component can aid in our understanding of the business.
On the top line you had revenue growth of about 2.5% per annum - from $48 billion in 2006 to $61 billion last year. This number appears to be right on par for what an investor might anticipate over longer periods. You have a very large, developed business that has a good chunk of the market already. The growth avenues are price increases or selling more services (taking a larger share of the market). Price increases tend to happen over time, but the market share is already well established.
Net profit margins have been fairly consistent in the last decade - ranging from a low of 5% during the recession (UPS still made $2.3 billion in profit during the depths) to a high closer to 9%. Something in the 7% or 8% range has been fairly typical. Just to give you some context, FedEx's (NYSE:FDX) net profit margin has been in the 3% to 6% range during the same time period.
As a result of the small decline in margins, company-wide profits "only" grew by 2% annually. A boon to this result for shareholders was the share repurchase program - reducing the number of common shares outstanding from 1.07 billion down to 881 million. This allowed earnings-per-share to grow by just over 4% per year.
In addition, shareholders saw a slight increase in the earnings multiple, leading to share price appreciation of just over 4% as well. Add in the dividend, which grew by about 7.5% per year over the last decade, and you come to a total return of about 6.2% per annum. As a point of reference, that's the sort of thing that would turn a $10,000 starting investment into $18,000 after 10 years.
Now this isn't a spectacular result, but we can see what factors influenced the outcome. Moreover, these previous factors can provide a better idea of what may or may not be possible moving forward. Revenue growth and margins - while paramount on the managerial front - probably can't "move the needle" much from an investor's prospective. The entrenched profit base is there, but you'd have to do something special to get back to above average growth.
On the other hand, a lower valuation and higher dividend yield are items that could aid the security in providing reasonable gains moving forward - both of which are present to a greater degree today.
Analysts are currently anticipating UPS to grow by about 9% per year over the intermediate-term. That's a great goal, but personally I'd want to scale that assumption back a bit. In order to reach that level of growth, UPS would need to do something like combine 5% revenue growth, with a 10% net profit margin and retire 2% of shares per annual. Those are tall tasks for such a large company.
A more realistic scenario could be to scale all of those factors back - say 3% revenue growth, a 9% margin and retiring 1.5% of the share count annually - to reach a 5% yearly growth rate assumption. To be sure this is dialed back from the assumptions that are out there, but I'd contend that it's a more prudent baseline.
UPS has told investors to anticipate adjusted earnings-per-share of $5.80 to $6.10 for this year, call it $5.95. If this number grew by 5% on compound average, you'd get to a future earnings-per-share number of about $7.60 after five years.
During the last couple of decades UPS has traded hands with a valuation of about 20 times earnings or even a bit higher. There was a brief moment during the recession, when earnings momentarily sagged, where shares traded lower, but even in 2008, 2010, 2011, etc. it wasn't uncommon to see a high-teens earnings multiple for the firm. Based on today's price near $105, this equates to a P/E ratio of just under 18 times anticipated profits.
Let's use 17 times earnings (after all the above assumptions would be a "let down" growth-wise) keeping in mind that this is merely a baseline. At that rate, you'd be anticipating a future price of about $129 after half a decade.
The dividend payout ratio sits at 54%, so you might anticipate dividend growth to be more or less in line with earnings growth. Under that circumstance, you would expect to collect $18 or so in per share cash dividends. Put together, that's a total value of $147 - or an average compound anticipated gain of about 7% per annum.
That's what I mean by a "fair" deal. The expectation for the security is to grow in the high single-digits. Yet even if you discount this - say 5% growth instead of 9% - to go along with an average valuation, your potential results are satisfactory.
Naturally, the actual results can be much better or worse. So the attractiveness of the security will depend on your view of the business, and specifically in this sense whether or not you think UPS can grow by north of 5%. A lot of analysts seem to think so, but UPS did not achieve this in the past decade and often its helpful to approach your guesses about the future with caution - better to be pleasantly surprised, instead of needing spectacular results to justify an investment thesis.
Disclosure: I/we have no positions in any stocks mentioned, and no plans to initiate any positions within the next 72 hours.
I wrote this article myself, and it expresses my own opinions. I am not receiving compensation for it (other than from Seeking Alpha). I have no business relationship with any company whose stock is mentioned in this article.