In today's "deep dive" we are going to take a look at Neurocrine Biosciences (NASDAQ:NBIX) which has garnered a lot of positive analyst mentions of late. The stock might be providing a favorable entry point after a recent pullback as well.
Company Overview:
Founded in 1996, Neurocrine Biosciences is a San Diego, CA,-based biopharmaceutical concern with two late-stage clinical programs that are focused on neurological and endocrine based diseases and disorders. The company is one of the few true mid caps in the biotech sector with a market capitalization of just under $3.7 billion. The stock currently trades at just over $42.00 a share.
Product Pipeline:
The company has two primary drug candidates.
Valbenazine AKA Ingrezza.
Oral agent Valbenazine inhibits a protein (VMAT2) that regulates the movement of dopamine across nerve cells. The company believes that an overabundance of VMAT2 proteins causes a flood of dopamine into the neurons, causing movement disorders such as Tourette's syndrome and Tardive Dyskinesia (TD). Neurocrine is performing or has conducted clinical trials for three indications:
Tardive Dyskinesia. This is by far the most important indication because of the underserved market. TD is an incurable disorder resulting in involuntary, repetitive body movements that are the result of long-term usage of neuroleptics. In the United States there are 500,000 people afflicted with TD, 280,000 of who are deemed moderate to severe. There is currently no standard of care for TD and thus lies the opportunity.
The company just completed a successful Phase 3 trial of Valbenazine where AIMS scores measuring movement disorders dropped meaningfully at the two-week, four-week, and six-week stages for both the 40mg and 80mg doses. More importantly, the treatment exhibited symptom control out to a year. The positive results reversed relatively quickly when Valbenazine was discontinued. Also, no cardiac or liver toxicity issues were reported and no impacts were seen on psychiatric outcomes. A PDUFA date of April 11, 2017, (Priority Review) has been set.
In the United States, the company plans to market the compound by itself, ready to activate a national sales force of 140 by June, contingent on an April approval. Back in 2015, the company entered into an agreement with Mitsubishi Tanabe Pharma to commercialize Valbenazine in Japan and select Asian markets. As part of the deal, Neurocrine received $30 million up front. It can receive an additional $85 million in milestone payments as well as royalties.
The potential for the drug is substantial. The company estimates that the regimen will sell for $20,000 to $60,000 annually. With 280,000 patients suffering with moderate to severe TD, $2 billion in peak annual sales is not out of reach.
Teva Pharmaceutical (NYSE:TEVA) has a potential competitor with its SD-809 (modified tetrabenazine), but Valbenazine has demonstrated slightly higher efficacy and faster onset. With that said, given TEVA's experienced sales force and an expected 3Q17 launch, the competition in this previously untapped space should be intense, with NBIX's couple month head start vital.
Adult Tourette's syndrome. In a press release dated January 17, 2017, NBIX announced that it had failed to achieve its primary endpoint in a Phase 2 study. Although disappointing, this setback represents only 15% to 20% of the overall Tourette's market.
Adolescent Tourette's syndrome. Results from a Phase 2 study (T-Force GREEN) are expected in March/April 2017. Obviously, the failure of the adult trial has investors on edge, and a lack of success in the juvenile trial would be a blow, but this indication is still a long way from potential commercialization and should not count significantly in terms of valuation in most analysts' models.
The patents are protected through 2029 and potentially through 2034 with a Hatch/Waxman provision.
Elagolix.
Elagolix is gonadotropin-releasing hormone (GnRH) antagonist that is partnered with AbbVie, Inc. (NYSE:ABBV). As part of this agreement AbbVie is handling the trials and the dissemination of news. The compound has completed or is undergoing trials for two indications: endometriosis and uterine fibroids.
Endometriosis. Elagolix completed a successful Phase 3 trial for the treatment of endometriosis in 2016. Endometriosis is a disorder in which tissue that normally lines the uterus grows outside the uterus. It becomes inflamed leading to pelvic and chronic non-menstrual pain. It also can cause infertility. The GnRH antagonist works by blocking the luteinizing and follicle stimulating hormones, thus suppressing estrogen and progesterone production by the ovaries. This has the effect of reducing the growth - inflammation - of the endometrial lining. It is believed by the company that 176 million women worldwide suffer from endometriosis, 7.5 million in the United States of which 5 million are untreated.
Currently, medical options are available, but almost everyone has something strongly unappealing about it. Therapy choices range from progesterone injections (minimally effective with side effects including bleeding and sudden mood changes) to GnRH antagonist Lupron (delivered subcutaneously once a month or quarter with side effects) to a laparoscopy or hysterectomy (very invasive with a high recurrence rate).
These problems illuminate the appeal of a therapy such as Elagolix. It is a twice daily oral agent that is highly efficacious, rapid acting and readily reversible. Being readily reversible is significant as it allows a woman to get pregnant. The results of the Phase 3 trial are as follows:
Response Rates Dosage (twice a day)
150mg 200mg
Menstrual 45% 75%
Non-Menstrual 50% 60%
Bone Mineral Density .73pts 2.5pts
No significant thickening of the endometrial lining occurred. The results, although positive, point to the need for an add-back therapy to counteract the bone mineral density loss issue.
Elagolix may eventually face competition in the form of Myovant Sciences' (NYSE: MYOV) Relugolix. This once daily oral GnRH antagonist has successfully completed Phase 2 trials and is expected to initiate Phase 3 trials in the United States in 1H17. Significant in these trials will be the inclusion of add-back therapies (estradiol and progestin) and the relatively small dosage (once-a-day 40 mg versus twice daily 150mg or 200mg dosages of Elagolix).
Despite the competition looming, and maybe to locate an effective add-back therapy, an NDA for Elagolix in the treatment of Endometriosis isn't expected to be filed by ABBV until 3Q17.
Uterine Fibroids. Uterine fibroids are simply noncancerous growths in the uterus that develop during a woman's childbearing years. The company believes that 9 million women are seeking an effective pharmaceutical agent for this underserved market. A recent Phase 2 trial met its primary efficacy endpoint for the reduction of uterine blood flow and a secondary endpoint of reduced fibroid volume. Bone mineral density loss was mitigated with an add-back therapy (Activella). Phase 3 studies began in 1Q16 with a topline data readout expected in 4Q17.
As part of the agreement with ABBV dating back to June 2010, Neurocrine received a $75 million upfront payment. It has since received an additional $45 million in milestone payments with an additional $485 million still can be earned. The company also will receive a percentage of global sales for the greater of ten years or the life of the related patent rights. In exchange, ABBV has the worldwide rights to Elagolix and is responsible for third-party development, marketing and commercialization costs.
The patents are protected through 2024 with a five year extension possible.
Outlook:
The company has solid financial flexibility with $350 million in cash and equivalents on the books. The company has been burning cash at a rate of $35 million per quarter, but that rate should increase with the addition of a sales force given the approval for Valbenazine in April 2017. Neurocrine has no debt.
The stock has sold more than 20% since a recent closing high set on November 14, 2016, of $54.77 a share. The stock has essentially traded flat for the month on concerns over the failure of Valbenazine for Adult Tourette's and its implication for the adolescent study, anxiety over AbbVie taking its time with Elagolix's NDA and hand wringing over the December 2016 announcement that the long-time CFO (Tim Coughlin) is leaving the company at the end of 2017 have been tailwinds for the stock.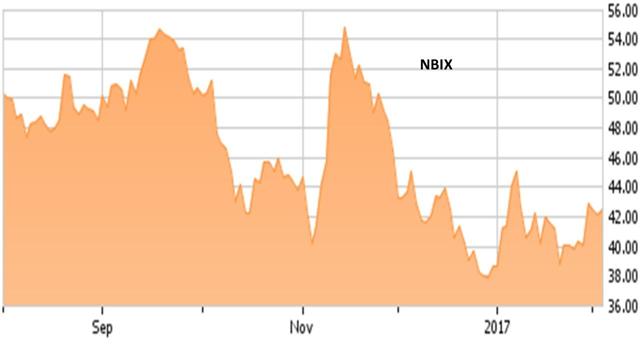 With lowered expectations regarding the Phase 2 data for Valbenazine in Juvenile Tourette's syndrome, this month of sideways trading looks like a bottom forming in the stock and a good entry point.
Analysts currently love Neurocrine. Over the past three weeks, nine analyst firms have reiterated or upgraded their ratings to Buy. Price targets range from $56 a share at Jefferies to $80 at H.C. Wainwright.
Given multiple "shots on goal," strong analyst support and upcoming catalysts, this developmental concern seems to offer a favorable risk/reward profile and is worthy of a small stake at current levels within a well-diversified biotech portfolio.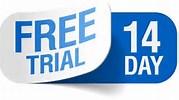 Note: The Biotech Forum is currently having a "Super Bowl" promotion. From now until the game ends, you can take advantage of a 14-day risk-free trial into the fourth most subscribed to of the 70 offerings available through Seeking Alpha's Marketplace. Read our reviews and come see what our 500 member community is all about.
Our model-20 stock portfolio has easily outperformed the main biotech indices since its launch and the "Live Chat" area is quite lively with seasoned biotech investors swapping investment ideas in the sector back & forth throughout the trading day. To enable your two-week free trial into the Biotech Forum, just click HERE.
Thank You and Happy Hunting
Bret Jensen
Founder, Biotech Forum
Disclosure: I am/we are long NBIX.
I wrote this article myself, and it expresses my own opinions. I am not receiving compensation for it (other than from Seeking Alpha). I have no business relationship with any company whose stock is mentioned in this article.