The EIA reported a -87 Bcf draw figure yesterday, which was 1 Bcf lower than our forecast of -88 Bcf. Be sure to read our summary of the storage figures here.
We anticipate a storage draw of -151 Bcf for the week ending Feb. 3.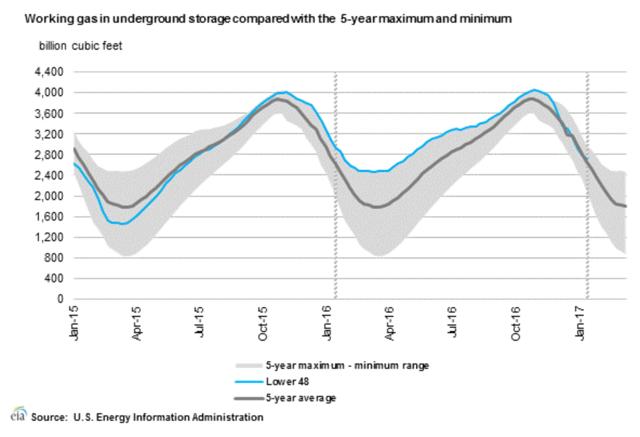 US natural gas (NYSEARCA:UNG) supplies this week saw a move higher entirely from a move higher in Canadian gas imports. In the meantime, US natural gas production moved back below 70 Bcf/d. Total US gas supplies were up modestly from last week to 75.8 Bcf/d.
On the demand side, heating demand picked up as temperatures across the North were considerably colder than normal while the South remains warmer than normal for the week ending 2/3. Heating demand averaged 48.7 Bcf/d.
Mexico's gas exports remain healthy averaging 4.3 Bcf/d, and LNG export averaged 1.85 Bcf/d. Power burn demand is still lower year over year as coal takes market share back, and averaged around 21 Bcf/d. Total US natural gas demand averaged 97.4 Bcf/d.
The observed physical flow this week indicated that the structural imbalance of 3.6 Bcf/d weakened as increased Canadian gas imports were the main cause. Given where Canadian gas storage is at the moment, we will start to see higher gas flows to help decrease storage up North. But this would imply a looser supply and demand forecast for storage in the US.
If we get a storage draw around -151 Bcf, it would be compared to -138 Bcf for the five-year average and -93 Bcf last year.
If you are interested in receiving material weather updates along with our daily commentary on natural gas fundamentals, you can sign up here.
Disclosure: I/we have no positions in any stocks mentioned, and no plans to initiate any positions within the next 72 hours.
I wrote this article myself, and it expresses my own opinions. I am not receiving compensation for it (other than from Seeking Alpha). I have no business relationship with any company whose stock is mentioned in this article.