More than a decade ago, Mark Thornton wrote an interesting article in the aftermath of the 2000 stock market bubble. The article was titled Who Predicted the Bubble? Who Predicted the Crash? and discussed exactly what the title implies. Thornton concluded that there were, in general, two groups of correct predictors. The first group based their predictions on equity valuations such as the cyclically adjusted P/E ratio (CAPE) employed by Professor Shiller. The second group came from outside the mainstream economics profession, most notably members of the Austrian school of economics whom based their predictions on economic developments, especially monetary developments.
As a value investor for more than 20 years and inspired by Thornton's article, I developed a rather simple stock market risk indicator for the U.S. stock market based on insights from both value investing and the Austrian school. This indicator includes stock market valuations and economic developments from six individual components which are then weighted and compiled into one aggregate.
The components include the level of interest rates, changes in the money supply, developments in consumers' time preferences by comparing changing patterns in spending vs. saving, Shiller's CAPE ratio, changes in the Chicago Fed National Financial Conditions Index, and stock market prices relative to the level of savings. The higher the combined reading, the greater the risk for a stock market correction. Conversely, the lower the reading, the better the prospects for high future returns. In essence, the higher stock market prices are relative to earnings and savings following a longer period of low interest rates and rapid expansion of the money supply, the greater the probability of an economic reaction and stock market correction.
Though the indicator is not developed for market timing purposes, it correctly identified the previous two stock market bubbles that peaked in 2000 and 2007. It also suggests a stock market correction is once again very likely as the current reading is close to the 90th percentile based on data since 1988.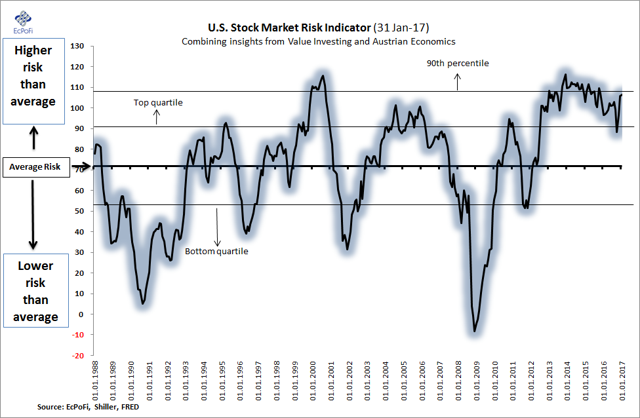 True, the indicator has been flagging red since 2013/14, facilitated by an extended period of high monetary inflation and low interest rates. But since these developments are not sustainable and, following an unprecedented period in which the reading has been hovering around the 90th percentile, the downside risk today is arguably substantially higher than it was a couple of years back. Why? Because the economic distortions caused by artificially low interest rates fueled by rapid monetary inflation have been allowed to fester for an extended period.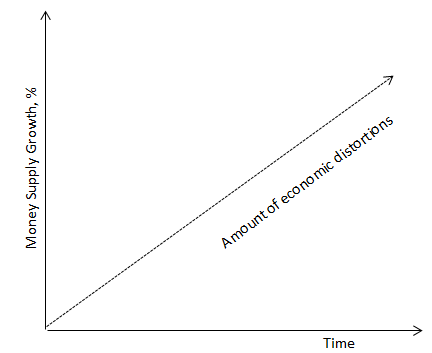 Source: Money Cycles - The Curse of an Elastic Money Supply
Whether the stock market will crash or not in the near future remains to be seen. But the indicator does signal that future stock market returns are more likely than not to be poor and that the risk of a major stock market correction is high. In my opinion, monetary developments will again be a deciding factor in 2017.