I just had a look through this week's precious metals articles on Seeking Alpha and was surprised to see no mention of an important development: Silver (NYSEARCA:SLV) has broken the downtrend.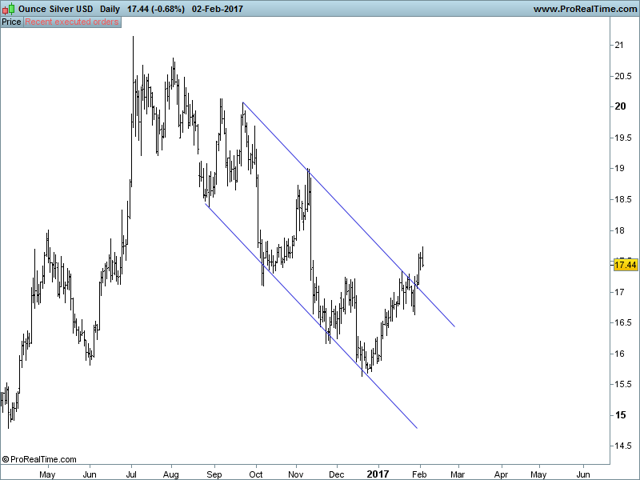 The presence of a parallel channel, and the consolidation before the break-out (from 18th January to 27th January) gives the break-out added validity.
This is a clear signal that the tables have turned, and the downtrend, which has been in place since the July 2016 top, has reversed.
So what next?
Although this break-out doesn't necessarily mean silver will surge to new highs, the behavior of participants has clearly changed. This can be seen with a Demark indicator I use to show buyer and seller exhaustion. Buyer exhaustion is shown in red (it is a signal to short), and seller exhaustion in green (a signal to cover shorts or go long).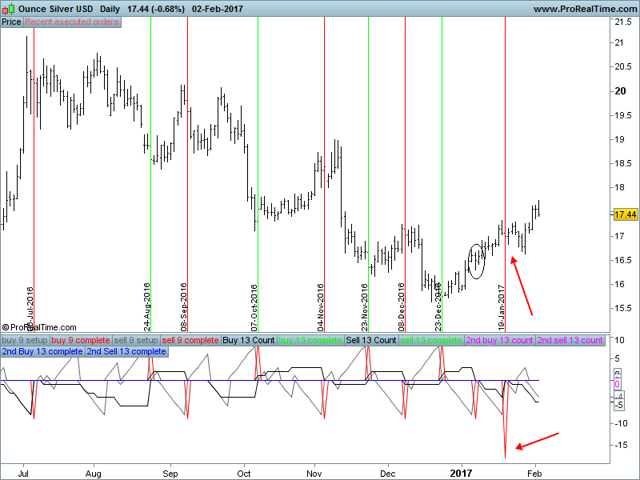 Throughout the second half of last year, the buyers exhausted quickly and every sell signal worked. In contrast, the first signal this year led to a measly one-day pullback (circled) and buyers managed to get to a second signal before exhaustion (shown by the arrows). Even then, the pullback was very small and only acted as a spring board for the breakout.
This is just one way of showing that buyers are much more aggressive and are shrugging off sell signals. The market has changed, and the high probability bet is to now "buy the dips".
Actually, I don't think advising to "buy the dips" is very helpful as it's so vague. When I hear someone say "I'm buying the dips" I always want to ask, "but where?!"
Well, here is one good spot: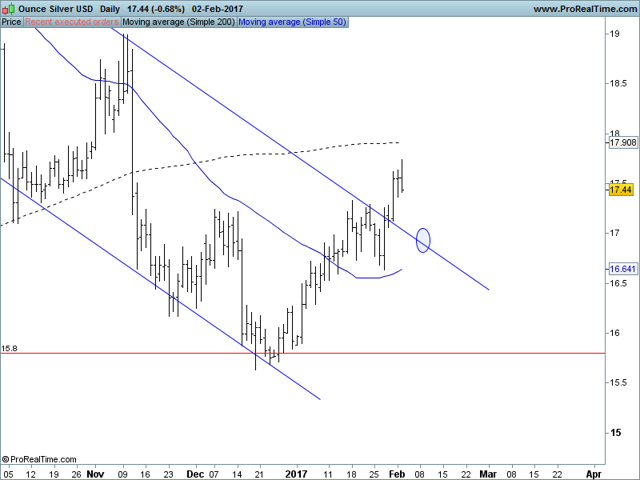 The 200-DMA is just above price at the moment. It may force a small retrace back to the 50-DMA (in blue) and re-test the broken channel just under $17.
This is just one option. Perhaps you don't want to risk missing out, in which case buy here and add on a successful break of the 200-DMA. You could always add more if price did pullback and eventually re-test.
An Observation
I often look to historical precedents to get a feel for a market's character. In August 2016, I compared silver to 2011 due to the parabolic move up and consolidation top it seemed to be repeating on a smaller scale. In December 2016, I made the comparison again as the declines from the 2011 top and the 2016 top looked proportional (albeit in different time frames). I concluded that the downtrend should be ending. Actually this call was two weeks early, but it's still useful to check the completed "fractal" using current charts.

The point here is not to try and match the current action and expect the same to happen, but to get a better understanding of how silver acts. In both examples above, there is a parabolic phase to the rally and plenty time to sell as the market subsequently traded sideways.
This may be of use in future: the current rally has not had a parabolic phase, yet, and if it does, I would not be too hasty to sell.
Conclusions
Silver has broken the downtrend, and the behavior of participants has changed. Sell signals will not work in this market and the high probability set-ups are now on the long side. I hate to say it, but "buy the dips".
Disclosure: I/we have no positions in any stocks mentioned, but may initiate a long position in SLV over the next 72 hours.
I wrote this article myself, and it expresses my own opinions. I am not receiving compensation for it (other than from Seeking Alpha). I have no business relationship with any company whose stock is mentioned in this article.