Pakistan has been making progress in the areas of security, politics, and economics over the past few years. The first democratic transition from one elected government to another occurred in 2013, with the Pakistan Muslim League-N of Nawaz Sharif forming the government, based on a platform of private sector-led economic growth. The country has since struggled through three tough years aided by low energy prices and government reforms, with the end result being a more stable economy and a bright outlook, more than can be said for many other countries.
Less poverty and increasing middle class
Pakistan has made substantial progress in reducing poverty since the turn of the century, declining from 64.3% percent in 2001 to 29.5% percent in 2014. 38% of all households are now considered to be middle-class, while another 4% are upper class.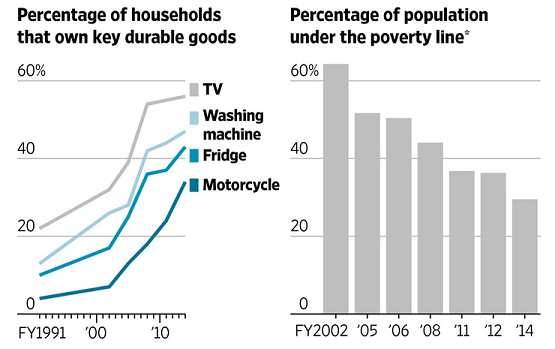 Source: WSJ.com
As per the Wall Street Journal:
[These middle class] households are likely to have a motorcycle, color TV, refrigerator, washing machine and at least one member who has completed school up to the age of 16, the study found. Official figures show that the proportion of households that own a motorcycle soared to 34% in 2014 from 4% in 1991, and a washing machine to 47% from 13% over that same period. These trends are also attracting international business.
Accelerated Growth
Economic growth is showing signs of sustained recovery, with a higher level of activity in large-scale manufacturing and construction, the latter being driven primarily by initiation of the China Pakistan Economic Corridor (CPEC) infrastructure and energy projects, one of the tailwinds Pakistan is currently experiencing (see below).
The industrial performance resulting from CPEC is expected to compensate for the weather setbacks that have impeded the agriculture sector. GDP growth in Pakistan in 2016 was 4.7% despite a major crop failure. Inflation was lower than expected, the budget deficit shrank, and foreign exchange reserves strengthened. Growth forecast for Pakistan in 2017 is 5.2%.
Tailwind No. 1: China-Pakistan Economic Corridor
China has committed $46 billion to the CPEC, a development that has been likened to that of the Marshall Plan undertaken by the United States in post-war Europe. CPEC projects are intended to strengthen the Pakistani economy by construction of new and overhaul of existing major infrastructure projects, establishment of special economic zones, and an improved electrical grid.
With the initiation of the CPEC this year, Pakistan's economy will benefit vastly due to better infrastructure:
With the CPEC taking shape and a possible end to the power crisis, economic outlook is positive. Major gains are already being seen by the service industry, construction sector and the auto industry with global players also entering the Pakistani market. The FMCG sector is also confident of growth being fueled by rising consumer confidence and expenditure.
Tailwind No. 2: MSCI Emerging Markets
MSCI announced on June 14, 2016, that Pakistan will be reclassified from Frontier Markets to Emerging Markets coinciding with the May 2017 Semi-Annual Index Review. This is the second tailwind, this one for Pakistan stocks.
Why is emerging markets status a big deal? In the words of Sebastien Lieblich, MSCI's head of global index management research:
There is approximately $10.5 trillion benchmarked to MSCI's indexes worldwide, including $1.5 trillion benchmarked specifically to MSCI's Emerging Markets Index, as of 12/31/2015. When a market is upgraded to emerging status, by default, it becomes part of the universe that many global investors focus on. It hits their radar…

Prior to the reclassification of Pakistan, the last change to MSCI's Emerging Markets Index occurred in 2014, when we added United Arab Emirates and Qatar. We announced that change in June 2013, at which time the two countries accounted for 0.85% of the index, on a pro forma basis. A year later, on the day of inclusion, they accounted for 1.15% of the index. As of MSCI's most recent index rebalance, the countries accounted for 1.80%.
As another example, MSCI announced on June 14, 2016, that Nigeria may be removed from the MSCI Frontier Markets Index and reclassified as a stand-alone market due to capital mobility issues. On that day, the share price of Global X MSCI Nigeria ETF (NYSEARCA:NGE) started to decline, and has not recovered.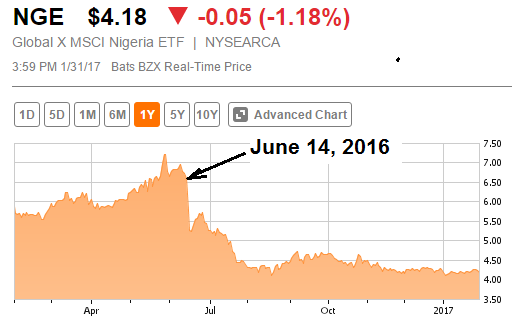 Pakistan ETF
The Global X MSCI Pakistan ETF (NYSEARCA:PAK) is the only country ETF that focuses on Pakistan. The ETF started trading in April 2015, and currently has Assets Under Management (AUM) of approximately $12m. Note: this low amount of AUM is considered by many to be a risky investment. Investment newbies might want to pass on this ETF.
With the two tailwinds, CPAC and upcoming inclusion in the MSCI Emerging Markets Index, PAK has been handily beating both neighboring country ETFs: iShares S&P India Nifty Fifty Index ETF (NASDAQ:INDY) and iShares MSCI China ETF (NYSEARCA:MCHI).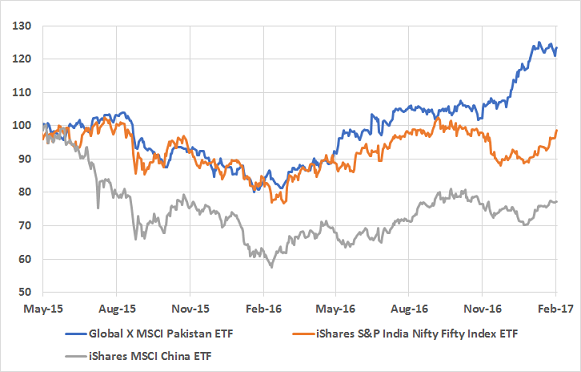 Since the fund does not have a particularly long trading history, I am providing the MSCI Pakistan Index performance to give some idea how the ETF could have performed back to 2002.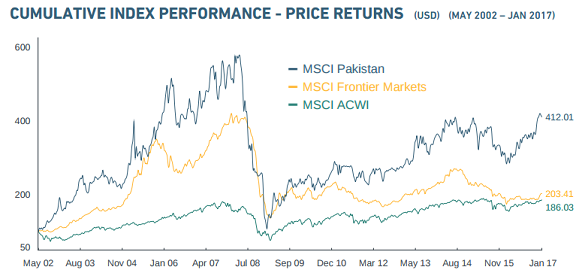 Source: MSCI.com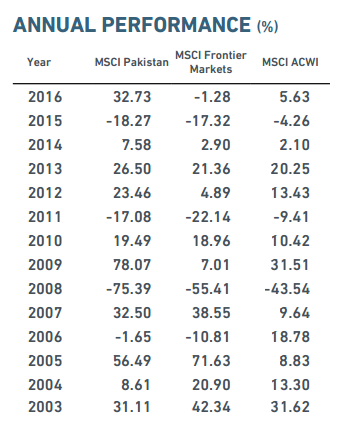 Source: MSCI.com
Checking under the hood
Fundamentals for the MSCI Pakistan Index are provided on the MSCI website and are shown below, along with the fundamentals for the MSCI Frontier Markets Index and MSCI ACWI. Note: The MSCI ACWI captures large and mid-cap representation across 23 Developed Markets (DM) and 23 Emerging Markets countries.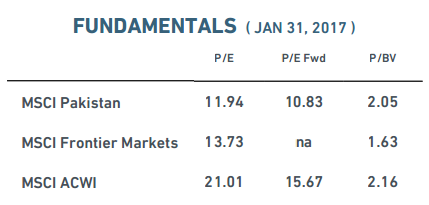 Source: MSCI.com
The MSCI Pakistan Index has a better price/earnings ratio than either of the MSCI Frontier Markets Index or MSCI ACWI. PAK is based on the MSCI Pakistan Index and has almost identical holdings as the index.
PAK has a high concentration in the financial sector, with four banks in the top 10 holdings, as shown in the figure below.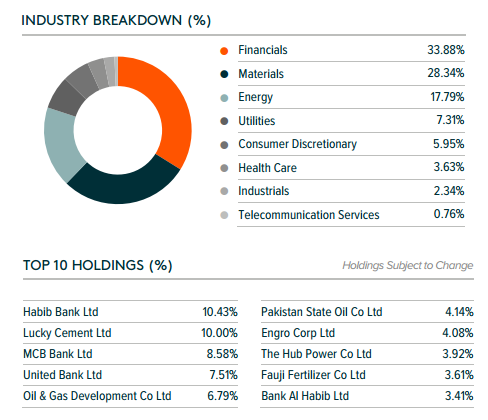 Source: globalxfunds.com
The proposed trade
The proposed trade is to buy PAK and hold until May 2017, when the MSCI Pakistan Index is formally included in the MSCI Emerging Markets Index. Note that the annual fund operating expense is 0.92% which is quite high.
Risks - banks
The high concentration of banks should be considered a risk for investing in this ETF:
Pakistan's entire banking industry is structured on a high interest rate regime. When the rates started to plunge, the cost of funds also went down. But the branch administration costs still remain high as consumers are getting most banking services, if not all, free of any charge. If you look at the financial results, you'll see that even smaller conventional banks are in a crisis and profits of the large banks have decreased because of low interest rates (and high administration costs)…

… He said the struggling full-fledged Islamic banks could easily turn their losses into profits provided they started charging for their services. But, he argued, none of these banks are in a position to risk this because in the given conditions the competition from large conventional banks, like Habib Bank operating standalone Islamic branches, will wipe them out of the market.

… The managers of the large banks know they can make billions just by starting to charge the free services they are offering their customers. But they are not doing so because this gives them leverage over the smaller full-fledged Islamic banks.
Risks: climate change
Reflecting upon the country's economic survey report, the chairman of the Federation of Pakistan Chambers of Commerce & Industry's Regional Standing Committee on Horticulture Exports said:
Insufficient progress in technological innovation, limited progressive farming techniques, marketing and trade restrictions, low prices of crops and traditional processing methods were major reasons for low production. Around 40 per cent of the total agricultural production was wasted in post-harvest due to an insufficient utilization of biotechnology…

... the agriculture sector was being badly affected due to climate change and disturbance of seasons and decreasing water level in the earth. The situation could get worse if no appropriate measures are taken…

The whole world is being affected due to climate change and Pakistan could become the single most affected country in future if pre-emptive measures are not taken.
Risks: working-age population
Pakistan has one of the highest (worst) age dependency ratios, defined as the number of persons aged <15 and ≥ 65 divided by the number of persons aged 15-64 years. Pakistan's increasing working-age population is a challenge for providing adequate services and jobs.
Age Dependency Ratio
| | |
| --- | --- |
| Pakistan | 65 |
| India | 52 |
| China | 37 |
Risks: poor human development
According to Worldbank.org:
Pakistan ranks 147 out of 188 countries in the 2015 Human Development Index (HDI) with most indicators lower than most countries in South Asia Pakistan's low human development indicators undermine its labor force productivity and economic growth. Access to education remains low and completion rate for primary education is among the lowest in the world. In FY2014 public spending on education was 2.1% of GDP which reflects on the quality, poor teaching and learning outcomes and inadequate infrastructure.
Risks: water, energy and security
Growing population and climate change have fueled conflict between Pakistan and India, due to challenges of water and energy management, and security. The Indus Waters Treaty between India and Pakistan which was signed in 1960 provided a framework for irrigation and hydro-power development in both countries. However, In the past 12 years, conflicts have been elevated to a Neutral Expert and a Court of Arbitration.
Risks: global movement for protectionism
The global movement for protectionism is a risk for Pakistan's export industry. Higher cost of production, lack of energy, institutional support and R&D remain major challenges. Pakistan's domestic manufacturers also have to contend with massive under invoicing, mis-declaration in imports and outright smuggling.
Risks: political instability
Political instability is a cause for concern, particularly in the run-up to parliamentary elections scheduled for 2018. The military will maintain its influence against a weakened civilian government, especially in foreign affairs and national security.
Risks: South China Sea
The conflict in the South China Sea between China, Vietnam, the Philippines, Taiwan, Malaysia and Brunei has the potential of becoming a major issue. China has backed its expansive claims with island-building and naval patrols. The U.S. has sent military ships and planes near disputed islands, calling them "freedom of navigation" operations to ensure access to key shipping and air routes. If this situation explodes, it will impact Pakistan's relationship with the U.S., given Pakistan's association with China.
Summary and Conclusions
Pakistan, known for terrorism, coups and poverty, has been making progress in the areas of security, politics, and economics over the past few years. Economic growth is showing signs of sustained recovery, driven primarily by initiation of the China Pakistan Economic Corridor. Pakistan will be reclassified from MSCI Frontier Markets to Emerging Markets coinciding with the May 2017 Semi-Annual Index Review. History shows that inclusion in the EM Index causes large stock market gains.
The proposed trade is to buy PAK and hold until May 2017, when the MSCI Pakistan Index is formally included in the MSCI Emerging Markets Index. The trade has multiple risks, including the working-age population, protectionism, weather, tensions in the South China Sea, and political instability.
Disclosure: I/we have no positions in any stocks mentioned, and no plans to initiate any positions within the next 72 hours.
I wrote this article myself, and it expresses my own opinions. I am not receiving compensation for it (other than from Seeking Alpha). I have no business relationship with any company whose stock is mentioned in this article.