US Banks in our sample have given back, on average, 2.8% since our last valuation check, while over which time the S&P has fallen 0.6%.
Some consolidation in these stocks is necessary after the recent run, and the Q4 results season has largely given confidence to investors that the underlying picture is already good.
The major piece of good news in the week has come today with Trump set to sign executive orders calling for reviews of the 2010 Dodd-Frank rule and for that matter the DOL Fiduciary rule. There are risks to relaxing bank regulation, but the move toward it is a good thing for now. Remember though, that a move like this one has been expected since the day after the election.
Things look less positive on the international front. The list of posturing confrontations is now almost too long to walk through efficiently, so I will focus on the most serious development over the last week. This is the direction of the Trump-EU dynamic. It's recent news, but this one is already going badly.
Peter Navorro's attack on Germany for "exploiting a grossly undervalued" Euro was just one element of what EU politicians see as an increasing stack of evidence that the Trump administration might actively seek the breakup of the European Union.
Navorro in fact has a point. Germany's refusal to recycle its current account surplus into a fiscal deficit, which would strengthen the currency, has long been identified as one of the structural imbalances of the Eurozone. Navorro's attack is unlikely to change German attitudes, and recent Euro weakness is not purely a function of EU problems but also reflects the anticipation of deficit driven inflation in the US following Trump's victory. Germany would argue that the prospective higher fiscal deficit stance, not to mention language around the subject of import tariffs, is counterproductive for an administration targeting improved export manufacturing and are likely to weaken the Euro.
Germany is the linchpin of the European Union due to its economic strength and generally liberal political values. Navorro's rhetoric against Germany goes right to the top in this respect and comes at a time when two vocal anti-EU figures with whom Trump has relationships have caused ructions.
The first of these is British MEP Nigel Farage. Farage was a leading figure in the Brexit movement and is a brilliant political communicator. Most EU politicians see his rhetoric as grossly distortive of the EU reality (a view shared by FIG Ideas) and think that he has convinced Trump of its veracity. During the week, Farage harangued the EU Parliament about its opposition to Trump's immigration policies. This speaks to Farage's own political base, and probably impresses Trump given the President's sensitivity to public criticism. It also entrenches opposition to him from his fellow MEPs, one of whom expressed himself in written form as Farage was speaking.
The second piece of evidence is Trump's consideration of Ted Malloch for U.S. Ambassador to the the EU. Malloch was strongly pro-Brexit and recently appeared to compare the EU to the Soviet Union, which (amazingly enough) is regarded as insidious within the EU. This has now elicited a response from the EU, with cross party groups in the European Parliament writing to the European Council (the de facto executive body of the EU, comprised of the heads of member state governments) requesting that Malloch's credentials as U.S. Ambassador be refused if Trump selects him for the role.
Finally, the evident admiration for Trump among Europe's right wing populist parties in the wake of Brexit, Trump's own praise for Brexit and speculation that other EU states will follow the UK, and the association of both Trump and the likes of Marine le Pen with Vladimir Putin of Russia, who is a continual harassing force for the EU, help create the impression of hostility towards the European project.
How does this affect banks investors? Just as Trump's apparent determination to force change in the US's terms of trade with China might trigger a financial crisis in China, so markets taking a potential breakup of the EU seriously could also trigger a financial crisis for the EU and Eurozone.
Trump is potentially pressing towards confrontational positions with two powerful actors that would see the altercation in existential terms, and he may create situations that are dollar strengthening, which works against his desire to reduce the trade deficit and advantage US manufacturing. This could lead to a very dangerous position in which Trump had backed himself into a corner, to which his likely response would not be to back down. If nothing else the Fed might ease off its hiking schedule due to level of the dollar. It is hard to see how such a situation would be helpful for bank stocks anywhere.
Investors should monitor news flow around Trump-China and Trump-EU as either (or both) could tip equities into risk-off mode with banks assuming their usual beta in such situations.
With this in mind, let's turn to US Bank valuations this week:
In line with the potentially febrile international atmosphere, there is good value in P/E terms in Citigroup (NYSE:C) while Capital One (NYSE:COF) also languishes on a single digit multiple for 2018, which reflects a growing cost of risk as its loan books season. If the "growth math" works as management expects, which means that the rise in provisions will ease once it has normalized against the new recent loan vintages, then COF is cheap. If you think that COF can trade on 10x current year EPS, then the right hand column in the table below is of great interest since it recasts the 2018 EPS with a 20% tax rate. As the legislative agenda shapes up, tax reform could put COF on 7.3x EPS, which would imply 37% upside to a 10x EPS for 2018.
At the cheaper end of this selection of bank stocks, KeyCorp stands out. Its discount to peers owes to execution risk around its integration of First Niagara, which I think the company will deliver while hiccups are probably in the price.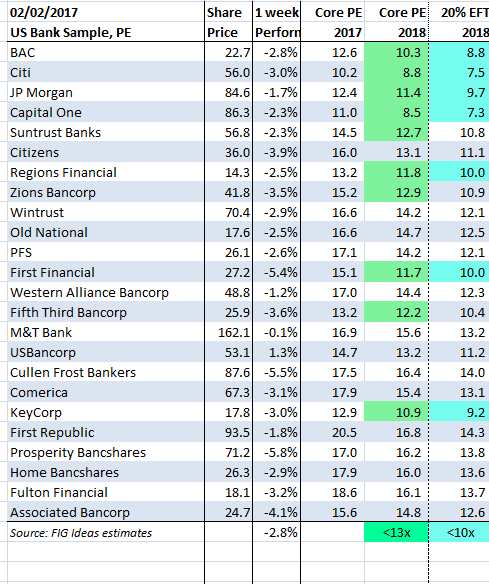 Conclusion
The pullback this week is a natural development after the rally since November and the absorption of good news in the 4Q numbers released over the last three weeks. There are deflationary "bombs" in the international situation and it may no longer be so easy to dismiss Trump's wrecking ball approach to international diplomacy, although I would not reduce positions on this risk as yet.
Disclosure: I/we have no positions in any stocks mentioned, and no plans to initiate any positions within the next 72 hours.
I wrote this article myself, and it expresses my own opinions. I am not receiving compensation for it (other than from Seeking Alpha). I have no business relationship with any company whose stock is mentioned in this article.