As the British pound has been plunging against the greenback since Brexit, we see that the United Kingdom's largest stock index - the FTSE 100 - has been doing the very opposite.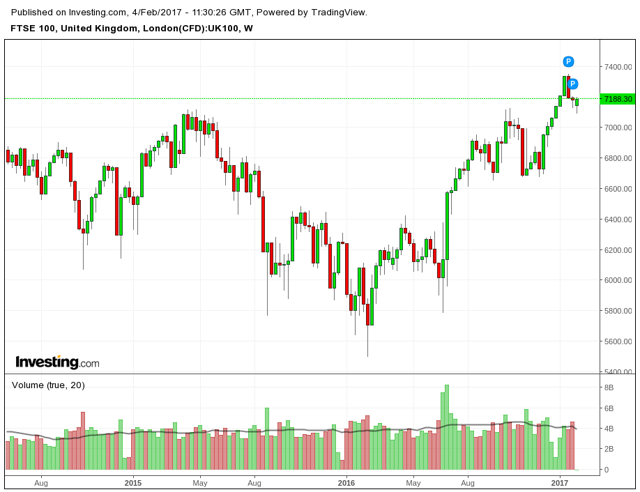 Growth rates in the United Kingdom have exceeded expectations ever since the vote to leave the European Union. For instance, for the past three quarters, GDP Growth in the United Kingdom has hit 0.6% each quarter, surpassing that of the euro area: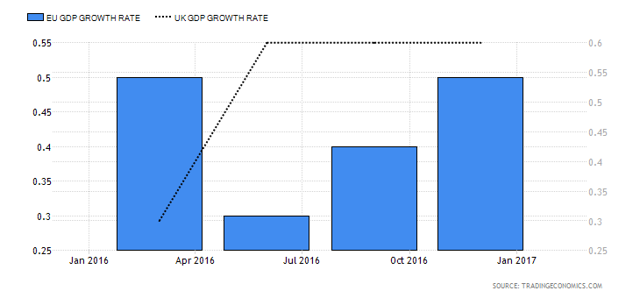 Source: Trading Economics
Moreover, we see that with a weaker pound, exports have surged in 2016 to reach a 10-year high: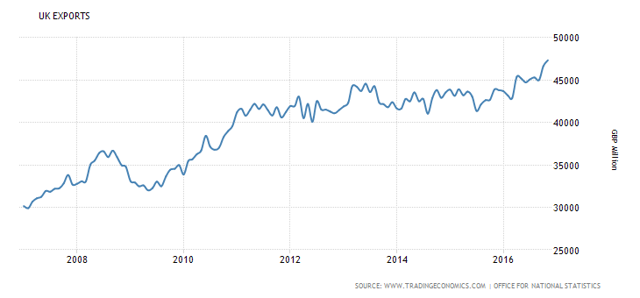 In this regard, it comes as little surprise that the FTSE 100 has accordingly benefited from such growth. So, what can we expect for the index from here?
Primarily, the main beneficiaries from a weaker pound have been those who derive a direct advantage from a weaker pound, such as miners, energy, and basic materials companies. For instance, since the vote on June 23 of last year, BHP Billiton (NYSE:BHP) is up from just above £800 to £1397.50 at the time of writing. On the other hand, stocks in the utilities, consumer and healthcare sector lagged the FTSE 100.
Given that Brexit is pretty much priced into the currency at this point, it is unlikely that we would continue to see further gains on the index related directly to a weak pound. However, even with the 33% gain on the index, there could still be upside ahead.
In particular, the financial sector could well lift the FTSE 100 in the months ahead, with President Trump having set out intentions to significantly relax Dodd-Frank regulations for the United States. For instance, Barclays (NYSE:BCS) had risen by 3.6% on the news while Royal Bank of Scotland (NYSE:RBS) also rose by nearly 3%. Therefore, further relaxing of regulations would likely have a positive effect on British banking stocks, which make up a sizable portion of the FTSE 100 Index.
To conclude, I still see upside in the FTSE 100 Index and expect that even with Brexit negotiations coming up, the index should still continue to see highs from here.
Disclosure: I/we have no positions in any stocks mentioned, and no plans to initiate any positions within the next 72 hours.
I wrote this article myself, and it expresses my own opinions. I am not receiving compensation for it (other than from Seeking Alpha). I have no business relationship with any company whose stock is mentioned in this article.