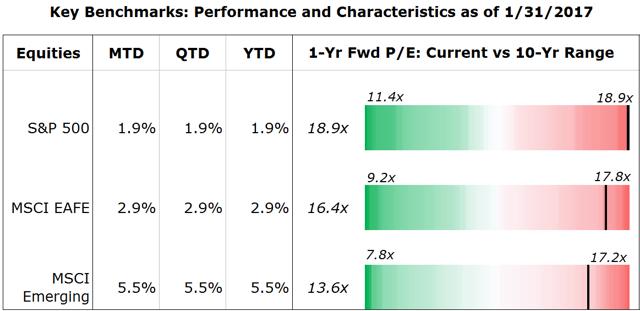 Data Source: Bloomberg
The January Reversal - What Worked in the 4th Quarter Lagged This Month
Whether it was profit-taking or the markets questioning the Trump reflationary trade, the cyclical risk assets that drove strong year-end performance took a breather while asset classes and styles that lagged in the prior quarter, such as precious metals and momentum, performed well ( Exhibits 1 and 2).
Exhibit 1: Precious Metals Makes a Comeback in January…

Exhibit 2: …As Does Momentum

Fixed income turned in a flat month although investors continue to thirst for below investment grade high yield credit. In addition, after having lagged U.S. markets following the election, non-U.S. developed and emerging markets outperformed the U.S. market on the back of a weakening dollar (DXY) which dropped 3.6% during the month partly in response to concerns over President Trump's blitzkrieg of executive orders covering immigration and his negative statements over relations with key trading partners.
Large cap growth ( Exhibits 3a and 3b) outperformed in January as technology companies reported strong 4Q earnings, which helped support the market advance.
Exhibits 3a and 3b: US Large Cap Growth Outperforms
January's market performance largely amounted to investors coming to grips (and reality) with a dramatic shift in policy and tone coming out of the new administration. In addition, the market remained on edge concerning how aggressive the Fed will rate hikes this year as well as whether company earnings will meet heightened expectations for the next year or so.
Make America Inflate Again
This month, readers of our monthly market commentary get a twofer. In addition to highlighting what drove market performance this past month, we provide an update on the global cyclical versus secular disinflation theme that we've been writing about for the last several months. Normally, we would dedicate a separate article to this topic, but it has become apparent that the interaction of these two tectonic forces will drive pricing of short- and long-term investable securities; hence, a play-by-play update of this ongoing battle warrants inclusion in this month's market commentary.
In our 2016 Year-End Market Commentary, we wrote:
"…something fundamental seems to have changed - a tectonic shift of sorts - following the June Brexit vote and U.S. November electoral outcomes. The market is now forecasting that a tangible cyclical recovery will take root, at least in the U.S.; a cyclical recovery strong enough to overtake the longer-term secular disinflationary pressures that have defined the "New Normal" forces of excess global capacity, aging demographics, and high debt levels."
As we've observed since last September, global markets have been experiencing a global reflation trade which began shortly after the June 2016 Brexit vote referendum. The reflation trade accelerated with the November election and expectations for policies to be enacted under the new administration. U.S. small cap value and commodity prices recovered at such a strong pace since the election as to suggest that the world just exited a recession (just like they did following the 2008 recession), which in some ways, felt like a recession given the magnitude of the sell-offs in cyclical risk assets from late 2014 through early 2016.
We've also seen the 'Trumpflation' trade back off a little in January as the markets grapple with a flurry of executive orders covering immigration and trade stances and whether the subsequent uproar will burn too much of this administration's political capital, which will be needed in pursuit of regulatory and tax reforms. Incidentally, there is a debate concerning the uproar over this administration's latest executive actions on immigration as to whether these executive actions are merely a noisy sideshow designed to distract and exhaust political opposition from blocking more substantive initiatives.
Nevertheless, the near-term should continue to favor the cyclical reflation trade benefiting global industrial sectors, commodity producers, and levered borrowers. A more hawkish Fed could preempt further run-ups, but the Fed also needs to navigate a narrow corridor between 1) dampening animal spirits that could lead to credit bubbles and spiraling inflation versus 2) sending the country into recession due to overaggressive tightening. Per Fed Funds futures, the markets are pricing in a low probability of a March rate hike and only two rate hikes through the rest of the year versus the three implied by the latest Fed statements.
How all this is being priced into the markets can be viewed through the break-even rates implied by the spreads between nominal U.S. Treasury yields versus U.S. Inflation-Protected Securities (OTC:TIPS) yields. Exhibit 4 displays the 5-year/5-year forward break-even rates which remain comfortably above 2% despite the January reversal of the Trumpflation trade.
Exhibit 4: 5-Year/5-Year Forward Inflation Expectations Imply Cyclical Reflation Remains Intact

Make no mistake - global inflation is on the rise ( Exhibit 5). This is largely due to the run-up in commodity prices, namely energy; however, with the exception of Japan, core inflation figures (which exclude energy and food prices) are also on the rise ( Exhibit 6).
Exhibit 5 - Global Inflation on the Rise

Exhibit 6 - Global Core Inflation Also on the Rise

Private wage growth (Exhibit 7) has been slowly recovering and could see further upward pressure given the tight labor markets.
Exhibit 7 - Rise in Private Wage Growth Will Put Further Pressure on Inflation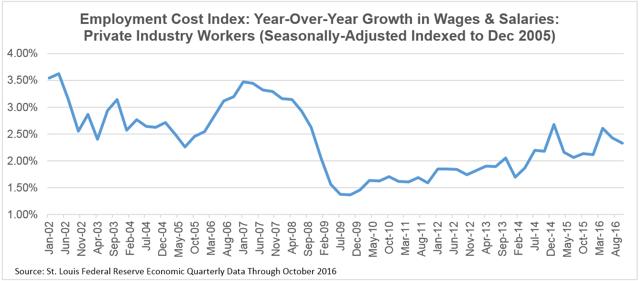 Longer-term, the tectonic battle between cyclical reflation and secular disinflation could result in the worst of outcomes, namely stagflation. A move towards de-globalization through the imposition of cross-border taxes and import tariffs would pose longer-term ramifications on productivity and standards of living. The research staff at Renaissance Macro Research highlighted several Federal Reserve and IMF studies stressing the importance of maintaining innovation in the face of secular disinflation brought on by aging demographics, high debt levels, and global excess capacity.
"Import Penetration and Domestic Innovation: A View into Dynamic Gains from Trade" published by Maria D. Tito, demonstrates the link between import penetration and innovation activity as manifested through patent applications. The paper maintains that the threat of cost-competitive imports (particularly out of China) drives domestic companies to focus capital on research and development to counteract competitive threats. Neil Dutta from Renaissance Macro believes that the increased focus on trade protectionism could reduce the incentives for U.S. companies to innovate resulting in a loss of global competitiveness. This would negatively impact productivity which is already anemic due to a lack of fixed capital spending, although the loss in productivity could be alleviated by a more benign regulatory environment to incentivize greater domestic business activity.
Another paper speaks to the longer-term drag of aging demographics on total factor productivity as can be observed in Japan. In "The Impact of Demographics on Productivity and Inflation in Japan," published by Niklas J. Westelius and Yihan Liu from the IMF, Japan's aging demographic and declining population are "hampering growth and reflation efforts" and have "had a significant negative impact on total factor productivity."
So, rising trade protectionism mixed with the secular disinflationary forces of aging demographics, which most industrialized nations are now facing (including China), will weigh on productivity growth - a recipe for stagnation where, outside of a cyclical boost in growth, would lead to a Bad New Normal of low growth but with higher prices.
Offsetting this scenario will be technological innovation in which one insulated-and-protected industry after another succumbs to technological disruptions resulting in unanticipated shifting patterns of consumption at lower prices. This Vanity Fair article ("Why Hollywood as We Know It Is Already Over") outlines the disruption faced by film production that has already hit music, publishing, and other industries. Here is a quote worth highlighting:
"Hollywood, these days, seems remarkably poised for a similar disruption. Its audiences increasingly prefer on-demand content, its labor is costly, and margins are shrinking. Yet when I ask people in Hollywood if they fear such a fate, their response is generally one of defiance. Film executives are smart and nimble, but many also assert that what they do is so specialized that it can't be compared to the sea changes in other disrupted media. 'We're different," one producer recently told me. "No one can do what we do." That response, it's worth recalling, is what many editors and record producers once said."
One is hard-pressed to identify an industry that has not faced technological disruption - financial services being a prime example with the advent of exchange-traded funds (ETFs) and robo-advisory platforms. Hence, one can understand the outcry coming from U.S. tech companies over the H1B visa restrictions being proposed by the Trump administration. Rising protectionism could just mean delaying the inevitable for many domestic industries protected by higher trade barriers, but those industries would still end up falling behind due to an unwillingness to maintain high levels of innovation.
The long-term implications may be difficult to map out, but the recent rally in the 30-Year Treasury Yield versus the 10-Year can be interpreted as investors expecting the longer-term secular forces overwhelming the near-term cyclical reflationary bounce. Rising input costs can also show up in a profit margin squeeze, keeping a lid on final prices, but at the expense of corporate profitability which, more recently, has enjoyed historically high profit margins offsetting anemic revenue growth (Exhibit 8). Over the longer run, there exists a strong relationship between S&P profitability and revenue growth due to the high operating leverage enjoyed by large cap companies, particularly in financial services and technology. S&P companies have enjoyed 20 years of globalization which may now be reversed under the new regime; we could now see a breakdown of this positive relationship between revenue growth and profitability.
Exhibit 8 - S&P Profitability and Revenue Growth Tied at the Hip (Until Now?)

All this may not matter for this year nor the next as sell-side analysts have ratcheted up their fiscal year 2017 operating earnings estimates for the S&P 500 to $131.11 from $108.52 (a 21% increase) based on 57% of companies reporting 4Q results so far. In the wake of Trumpflation and policy uncertainty, the forward valuation multiple may come down from its 10-year high, but the markets should continue to advance alongside earnings growth. Cyclical reflation is here to stay although eventually the move towards de-globalization will need to be arrested for this current reflationary cycle to sustain itself.
Ultimately, how markets react to 'Making America Inflate Again' comes down to whether the inflation is cost-push (i.e. the 1970s) or late cycle catch-up. How much of the intermediate cost pressures will show up in final prices (i.e. core inflation) remains to be seen. In addition, what will be the productivity impact from policies that either incentivize or inhibit innovation? These issues will play out as we move beyond the 2016 commodity price recoveries to get a sense for the true run rate of inflationary trends.
Positioning in a Trumpflationary Landscape
Readers interested in hearing more about positioning for a Trumpflationary environment should register for our upcoming webcast, "Trump vs. Bonds - What's next?" which will include fixed income ETF specialists from Powershares and First Trust. TIPs have largely priced in 2% inflation for the foreseeable future, so investing in TIPs or inflation swaps amounts to a bet that inflation will come in higher than what is currently priced in. On the other hand, the 3-Month London Interbank Offered Rate or LIBOR, which serves as a reset point for many floating-rate loans issued with LIBOR floors, has risen above 1% (Exhibit 9). LIBOR is expected to rise with the Fed Funds rates, so shortening the duration (or interest rate sensitivity) of your fixed income portfolio may make sense if one believes the Fed will hike more aggressively than what is priced into the bond market. The intermediate part of the curve (3-7 year range) may be more at risk versus the short- and long-ends of the curve as a more aggressive Fed would reduce the profitability of so-called roll-down trades (investing in the steepest part of the curves to take advantage of rates rolling down from year to year).
Exhibit 9: 3-Month LIBOR Crosses 1%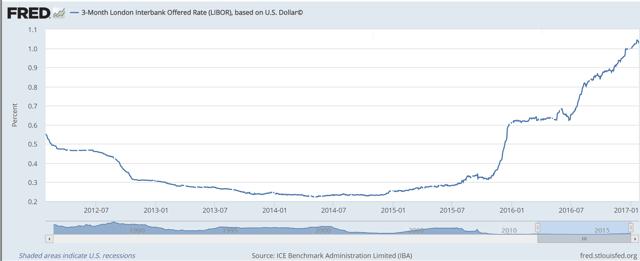 One may argue that both equities and fixed income have fully priced in a second wind for global growth, yet equities participate more in cyclical upside surprises than fixed income. For fully invested balanced portfolios, why take on more cyclical risk in fixed income via traditional high yield and emerging market debt? At this point, given how narrow credit spreads have gotten (Exhibit 10), take your 'equity risks' in equities while keeping fixed income positioned for downside surprises.
Exhibit 10: Energy Sector Credit Now Trades in Line with the Broader Credit Markets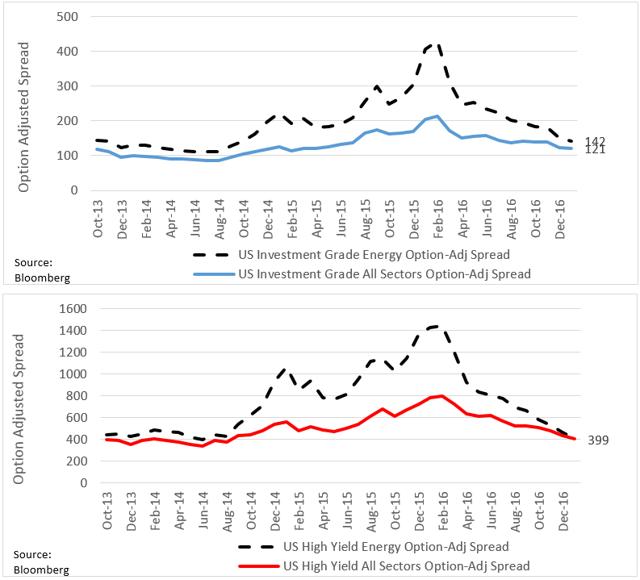 Disclosure:
The above is the opinion of the author and should not be relied upon as investment advice or a forecast of the future. It is not a recommendation, offer or solicitation to buy or sell any securities or implement any investment strategy. It is for informational purposes only. The above statistics, data, anecdotes and opinions of others are assumed to be true and accurate however 3D Asset Management does not warrant the accuracy of any of these. There is also no assurance that any of the above are all inclusive or complete.
Past performance is no guarantee of future results. None of the services offered by 3D Asset Management are insured by the FDIC and the reader is reminded that all investments contain risk. The opinions offered above are as February 1, 2017 and are subject to change as influencing factors change.
More detail regarding 3D Asset Management, its products, services, personnel, fees and investment methodologies are available in the firm's Form ADV Part 2 which is available upon request by calling (860) 291-1998, option 2 or emailing sales@3dadvisor.com or visiting 3D's website at 3dadvisor.com.
Disclosure: I/we have no positions in any stocks mentioned, and no plans to initiate any positions within the next 72 hours.
I wrote this article myself, and it expresses my own opinions. I am not receiving compensation for it. I have no business relationship with any company whose stock is mentioned in this article.