OPEC's stated goal by reducing its production is to drive OECD oil inventories back to its 5-year average. As I have recently shown, that figure is more than 300 million lower than at end-2016.
Not only would prices presumably rise, but the crude futures market structure may turn from contango-to-backwardation. For non-futures traders, contango is a futures price market structure in which future prices are higher than the nearby contract. A backwardated market is one in which future prices are lower than the nearby contract.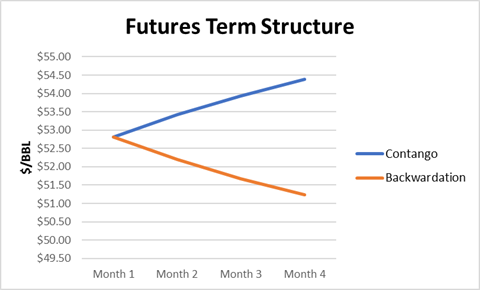 If the market flips into backwardation, OPEC achieves three goals: a premium of spot prices for their sales of crude v. hedgers of future production; a disincentive for oil companies to build (or hold) high inventories for profit, prolonging low inventory conditions; and a discouragement of crude producers to hedge, which could hamper producers' plans to ramp-up future production.
Assuming OPEC maintains its current strategy, and the inventory glut is burnt off (at some point), what would it take to flip the market into backwardation?
I performed a study over the past 10 years to determine the U.S. crude oil inventory levels that have supported backwardation. While there are a lot more variables to consider, this one implies stocks would have to fall well below 5-year levels to have any probability of backwardation.
"Normal Backwardation"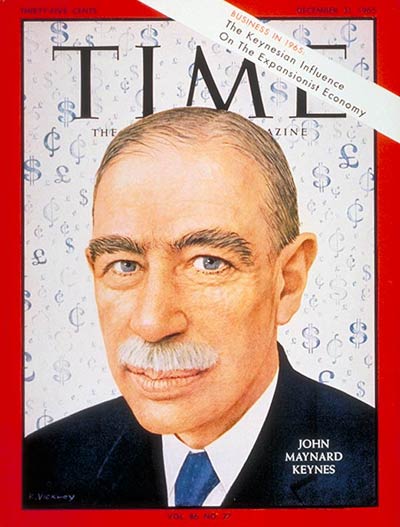 In Treatise on Money (1930, chapter 29), economist John Maynard Keynes argued that in commodity markets, backwardation is a normal market situation, and so he referred to it as "normal backwardation." Producers of commodities are more prone to hedge their price risk than consumers, and so there is more selling than buying interest after the nearby month.
All things being equal, this also makes sense from an insurance risk standpoint. Producers want greater certainty for their revenues and are willing to pay a risk premium. Buyers are will to take the risk, but they want to be paid a risk premium. As a result, futures prices are inherently underpriced.
But time spreads over the past 10 years show that backwardation was present in only 24% of the weeks in the study (January 2007-January 2017, using weekly data). The predominant (76%) market structure was contango.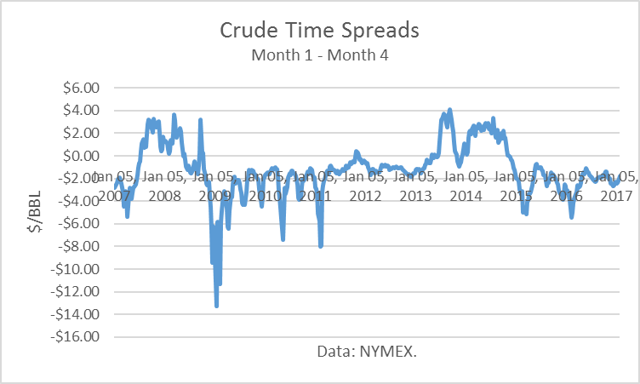 And since OPEC engaged in its initial strategy to compete for market share (November 2014), the market has been continuously in a contango structure.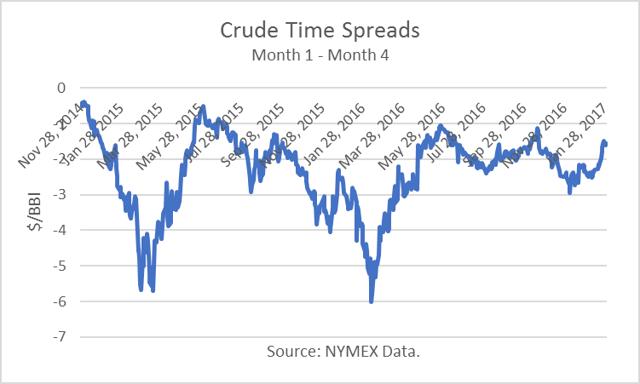 Crude inventories is just one variable determining market structure, which is a function of future price expectations. But it is no doubt an important variable. Below are U.S. crude stocks over the same period.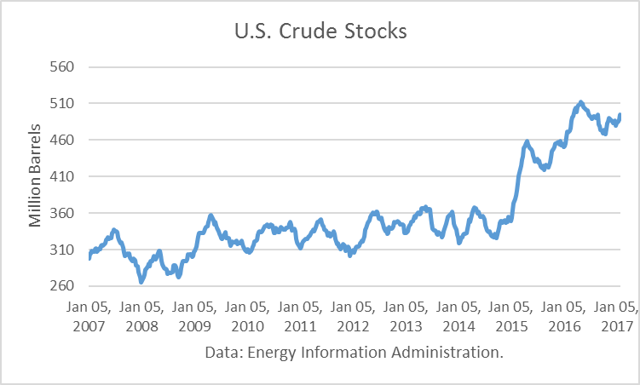 The minimum stock level was 265 million barrels and the maximum was 512 million. The latest stock level is 495 million. Crude stocks have risen by 16 million over the past 4 weeks, and I project that crude stocks will make new highs this spring.
I calculated the 5-year average to be 393 million. That's 102 million lower than the latest figure.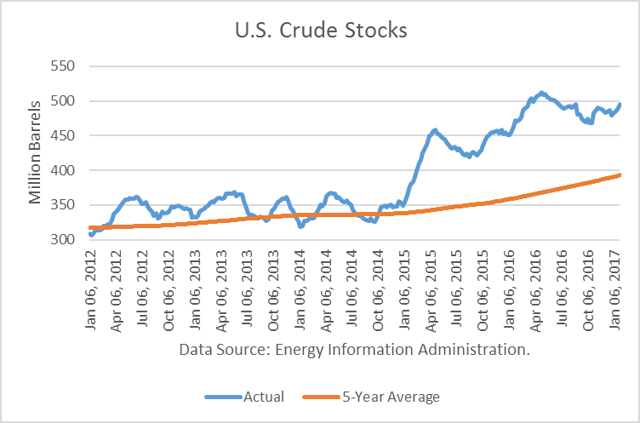 I constructed a frequency distribution to assess the conditional frequency of each market structure depending on the stock levels. For example, the "Count" is 100% for 265 million and above. Backwardation was present 24% and Contango 76%. At the other end of the table, stocks were 500 million or higher in only 2% of the weeks, and prices were in contango 2%.
Historical Frequency Distribution

MMB

265

300

350

360

393

400

450

500

Count

100%

90%

32%

24%

19%

19%

13%

2%

Backwardation

24%

18%

4%

2%

0%

0%

0%

0%

Contango

76%

72%

28%

22%

19%

19%

13%

2%
Based on this analysis, with crude stocks at 393 million, its 5-year average, prices had been backwardated 0% of the time in that condition. Inventories had to be about 360 million barrels or less for backwardation to be present.
Conclusions
Market expectations that determine the futures price curve are based on numerous factors. U.S. crude inventory levels is just one of them, but it is an important one. Based on historical NYMEX data over the past 10 years, crude stocks would have to drop about 135 million barrels for prices to have any probability to flip into backwardation.
The main point here is that it appears that crude inventories will have to drop substantially for the market to become backwardated. And I do not expect that to happen this year, unless OPEC changes its strategy.
Disclosure: I/we have no positions in any stocks mentioned, and no plans to initiate any positions within the next 72 hours.
I wrote this article myself, and it expresses my own opinions. I am not receiving compensation for it (other than from Seeking Alpha). I have no business relationship with any company whose stock is mentioned in this article.