"Eat my shorts!"

- Maximum Overdrive, 1986
Much has been made of the weakness in the Dow transports lately. Clearly, their performance over the past two months has been generally weak. And for Dow theorists, this is a potentially troubling early warning signal for a broader stock market, including the Dow industrials, that have been setting new highs in recent weeks. But while I have no shortage of reasons to be bearish about stocks in the current market environment, the recent performance of the transportation stocks is not one of them.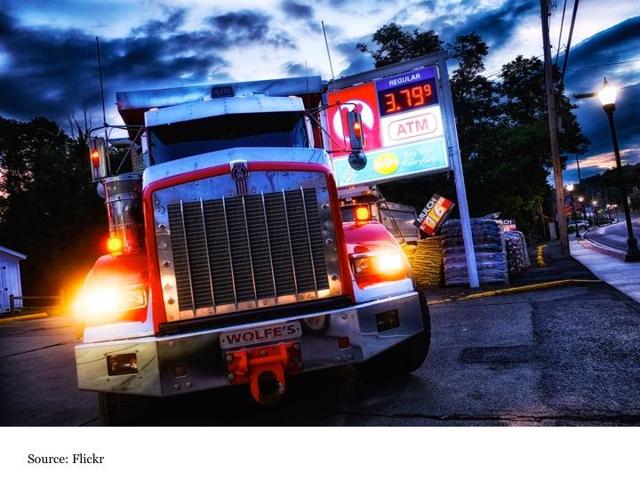 Flat Tire?
The performance of the Dow Jones Transportation Average (BATS:IYT) has raised some eyebrows over the past two months. Since December 8, the Dow transports have fallen by as much as -4% at a time when the Dow Jones Industrial Average (NYSEARCA:DIA) has risen to new all-time highs, including a move for the first time over the headline attention-grabbing 20,000 mark.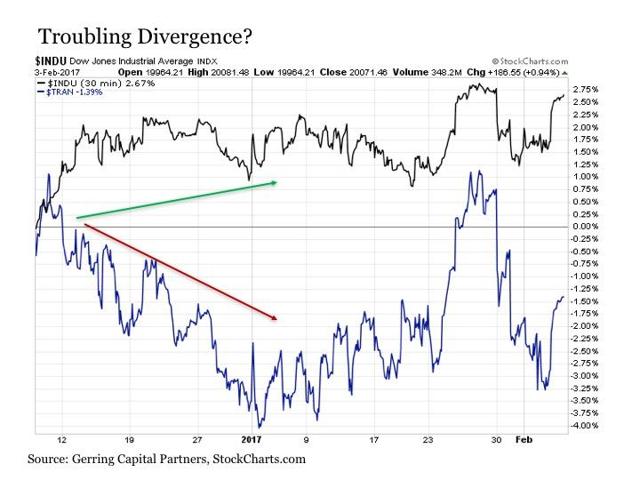 Such a divergence is problematic from a Dow theory perspective. Why? Because the two indices are not confirming each other. More specifically, for the rise in the Dow Jones Industrial Average and its associated S&P 500 Index (NYSEARCA:SPY) to be sustainable, it implies that the transportation companies that are moving and delivering the products to support increased business activity should also be performing well. And if they are not, it is likely only a matter of time before the broader industrial-driven averages succumb to the downside as well.
Perhaps it will be the case that the Dow and the S&P 500 give in to the downside at some point in the near term. After all, I could provide any number of reasons why a -3% to -7% stock market correction over the next few months would be a perfectly reasonable outcome. These include skimming the top off of currently premium valuations and overbought conditions, a shift to more realistic but still optimistic expectations about pro-growth policies going forward, any number of geopolitical and/or global economic scenarios, and recently rising currency volatility. But any near-term sell-off is not anything that is likely to be driven by what is currently taking place in the transportation stocks.
Maximum Overdrive
Sure, transportation stocks have been weak lately. But from my perspective, this is actually a very healthy and reasonable thing to see taking place. Why? Because the stock of no company, whether it is a company engaged in speculative technology or managing a fleet of 18-wheelers, grows to the sky.
Consider the performance of the Dow transports from a slightly longer time horizon over the past few months. Let's just say, for example, we consider the performance of the transports versus the industrials dating back to Election Day on November 8, 2016. What we quickly see is a transportation average that is not trailing the industrials, but instead, has got out ahead of the broader market by a healthy margin in the first few weeks following the election and has been consolidating this advance and effectively regressing back to the mean in the weeks since.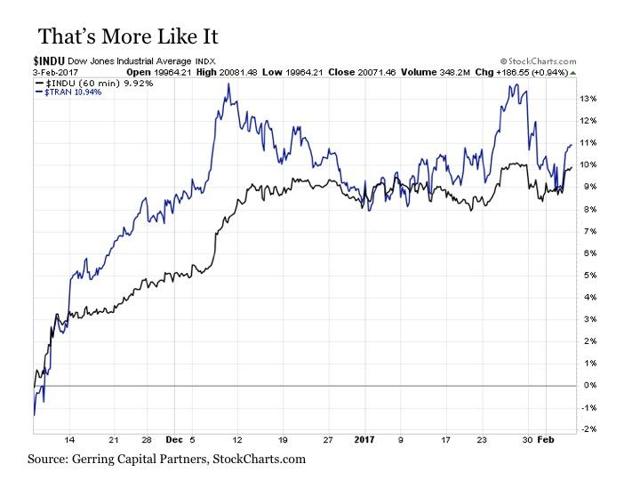 But let's draw back from the tree even further and consider the transports relative to the industrials from a longer-term forest perspective.
For example, consider the performance of the transports relative to the industrials dating back to the start of the financial crisis in July 2007. Since that time, both segments have performed well. But it has been the transports, in particular, that have been surging well ahead of trend. This divergence first began in 2013 and peaked out in early 2015, before starting to converge once again. And after this gap was mostly closed by early 2016, it has blown out once again, particularly in recent months.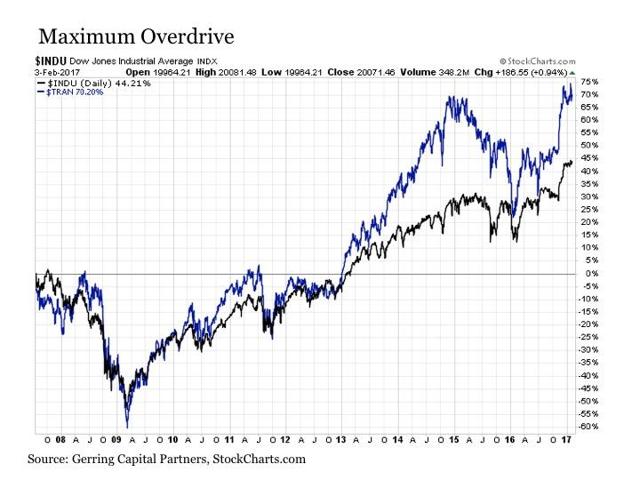 Let's take this one step further. OK, the transports have still been lousy since December 8. But why exactly? It hasn't been the railroads, as Union Pacific (NYSE:UNP) has effectively matched the market, while Norfolk Southern (NYSE:NSC) and CSX Corp. (NYSE:CSX) have surged to the upside, with both up double-digits. It hasn't been the airlines either, for while Delta (NYSE:DAL) and American (NASDAQ:AAL) have been laggards, they are relatively smaller parts of the average versus Alaska Air (NYSE:ALK) and United Continental (NYSE:UAL), both of which are higher over this time period.
So what, then, has been the primary driver to the downside over the past two months? It has been the package shipping companies in FedEx (NYSE:FDX) and United Parcel Service (NYSE:UPS), which are two of the four largest companies in the index and together make up nearly one-fifth of the entire average. UPS, in particular, has been a notable downside drag in recent days after its recent quarterly sales and earnings miss.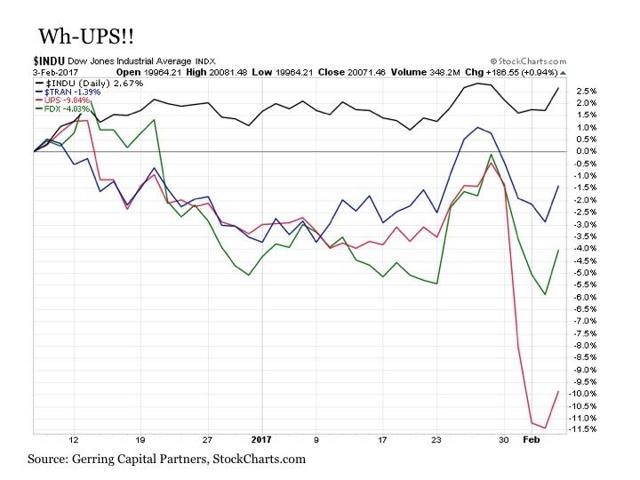 Moreover, both companies have been coping with the recent headline pressure that they are getting a new competitor in the shipping business in Amazon (NASDAQ:AMZN), which just happens to be one of the most - if not the most - important customer for both FedEx and UPS.
The Bottom Line
The recent weakness in the Dow Jones Transportation Average relative to its Dow industrials counterpart should not be interpreted as a negative signal about economic activity and potential future trouble for the broader markets. Instead, recent weakness has been part of normal behavior for a segment of the market that was already running hot in recent years and had gotten well ahead of itself in the weeks immediately following the election.
Moreover, the weakness in the transportation stocks is not necessarily broadly based, but instead, is concentrated in a select group of package shipping and ground transportation firms. And part of the primary drag on these companies is arguably due just as much to a new competitive threat from an important customer that would rather ship some of its packages themselves as it is to a reduction in any overall shipping activity.
I have no shortage of reasons to suggest why the stock market may go lower in the coming weeks. But the recent performance of the Dow Jones Transportation Average is not among these reasons.
** Thank you to everyone that took part in the DIY Investor Summit 2017. I enjoyed participating in this year's event and hope that you found it to be a worthwhile experience. Thanks also to those that took advantage of the special offers to join The Universal, as it is great having you on board.
Disclosure: I/we have no positions in any stocks mentioned, and no plans to initiate any positions within the next 72 hours.
I wrote this article myself, and it expresses my own opinions. I am not receiving compensation for it (other than from Seeking Alpha). I have no business relationship with any company whose stock is mentioned in this article.
Disclaimer: This article is for information purposes only. There are risks involved with investing including loss of principal. Gerring Capital Partners makes no explicit or implicit guarantee with respect to performance or the outcome of any investment or projections made. There is no guarantee that the goals of the strategies discussed by Gerring Capital Partners will be met.