The alarm bells are ringing on high yield bonds and investors, particularly those who are retired and dependent on monthly income are caught in a pickle. The questions they keep asking are: "Do I take profits in my high yield ETFs, mutual funds and CEFs?", "Do spreads have room to tighten further from current levels?", and "If I sell now how do I replace my lost income?"
These are all perfectly valid questions and we will attempt to provide an option to GET DEFENSIVE.
Credit Spreads
Let's take a look at option adjusted spreads on HY going back to 1997 by looking at a chart of the BofA Merrill Lynch US High Yield Option-Adjusted Spread Index.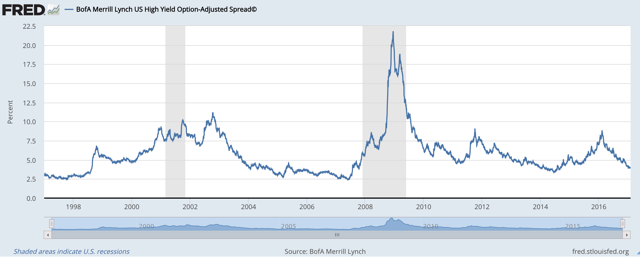 Source - BofA Merrill Lynch, BofA Merrill Lynch US High Yield Option-Adjusted Spread© [BAMLH0A0HYM2], retrieved from FRED, Federal Reserve Bank of St. Louis; February 3, 2017.
It's fairly obvious from the chart we are on the tight end of the range over the course of the past 20 years. As of February 2, 2015, spreads averaged 393bp. In June 2014, spreads got as tight as 341bp which was as tight as they've been since the market meltdown of 2008.
Prior to 2008, spreads were as tight as 250bp. So we can see there is still room for tightening but not much. Certainly, it's likely that interest rates will not move in our favor but the recent move in the 10-year Treasury has been well tolerated in the HY space. Going forward, Mary Bowers, senior portfolio manager, global high-yield at HSBC Global Asset Management says:
The market will likely sustain itself against any rate increase.
and thus it has!
The factors that are most likely going to influence HY spreads in 2017 are:
Default Rates
GDP
Supply and Demand
LBO Activity
It's not a surprise that these are generally the most important factors influencing high yield always.
Let's talk about each.
Default Rates
Default rates in 2016 were about 5% with the vast majority coming from commodity-related companies i.e. energy, mining, metals, etc. The good news is that the expected default rate for 2017 is approximately 3%. This is below the long-term average default rate average of roughly 4%.
GDP
The bane of any high-yield portfolio is near zero GDP growth or a recession. The consensus forecast, according to the Wall Street Journal, for 2017 GDP, is 2.2%. While not stellar growth, it's not going to negatively impact HY spreads.
Supply and Demand
The majority of Wall Street firms are looking for YoY HY supply to decline by roughly 6.5%. Given this forecast, the supply/demand equilibrium doesn't appear to be drastically different from 2016.
LBO Activity
Here is the biggest unknown. An uptick in LBO activity will likely lead to higher default rates than predicted but not until after 2017.
Get Defensive
Despite reasonably favorable tailwinds for HY over the next 12 months, you are still nervous and rightly so. What can you do to remain in the space yet get defensive?
Improve credit quality
Shorten duration
Let's take a look at historical default rates by credit quality.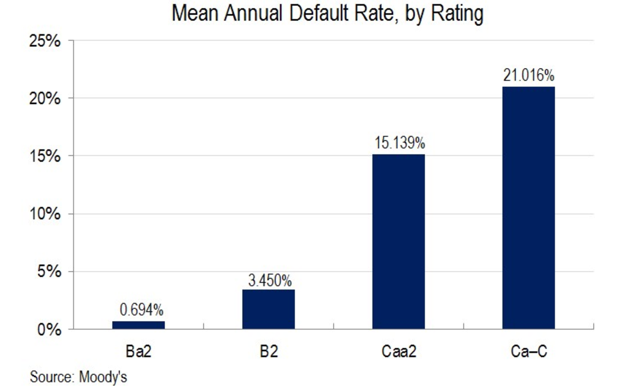 This chart is quite telling. While obvious in terms of credit quality, probably not so obvious in magnitude differentials. If you are worried that the proverbial dung is going to hit the fan, move up in credit quality. It will save your portfolio.
Shortening duration is a wise capital preservation move if you are stuck between a rock and a hard place. You want to remain in HY as an asset class, but you want to take some chips off the table and you want to mitigate risk. So how does one improve credit quality and shorten duration? The following ETFs do just that and I will talk a little about each.
Pimco 0-5 Year High Yield Corp bd ETF (NYSEARCA:HYS)
This actively managed short duration, reasonable high-quality HY ETF has a respectable ttm yield of 5.08%. The fund uses various CDX derivative contracts to hedge spreads. The portfolio is comprised of 38% BB rated securities, 40% B rated securities, with 22% below B or not rated. While this is higher than we like to see, it's mitigated by both the hedging activity and ultra short duration. 33% of its portfolio is invested in bonds with maturities ranging from 1 to 3 years and 53% ranging from 3 to 5 years. Now that is short!
iShares 0-5 Year High Yield Corp bd ETF (NYSEARCA:SHYG)
This actively managed short duration ETF has a slightly higher ttm yield of 5.52%. This is a result of a lack of hedging. However, the duration is still short at 2.25 years and credit quality is reasonably good in that 48% of the portfolio is in BB rated securities, 31% in B rated securities and 17% in below B or not rated.
As a basis for comparison, let's talk a bit about iShares iBoxx $ High Yield Corporate Bd ETF (NYSEARCA:HYG) and SPDR Barclays Capital High Yield Bd ETF (NYSEARCA:JNK). They yield 5.25% and 6.85%, respectively. As an income vehicle, I'm not sure it would ever make sense to own HYG at a 5.25% yield unless you are looking for capital gains too. The duration on HYG is 3.97 years, certainly more risky than the 0-5 ETFs above. JNK has a juicier yield but its duration is 4.27 years, and only 44% of its portfolio is in BB rated securities while almost 16% is CCC or not rated.
Summary
If you are concerned about your HY portfolio and want to take profits, but remain in the HY asset class giving up only a little yield but reducing both credit and duration risk, you can't go wrong in either HYS or SHYG.
Disclosure: I am/we are long HYS.
I wrote this article myself, and it expresses my own opinions. I am not receiving compensation for it (other than from Seeking Alpha). I have no business relationship with any company whose stock is mentioned in this article.