Hedge funds in January were naturally focused on a few key events, the largest of which being the inauguration of Donald Trump as President of the United States. The month, in terms of performance, was for the most part positive, however there were a few weak spots, notably seen in macro funds and merger arbitrage. Volatility really hasn't begun to elevate, which is an interesting construct, but the fact that hedge funds posted a solid 2016 return over 7% and had a net positive January, the outlook for active management is now positive.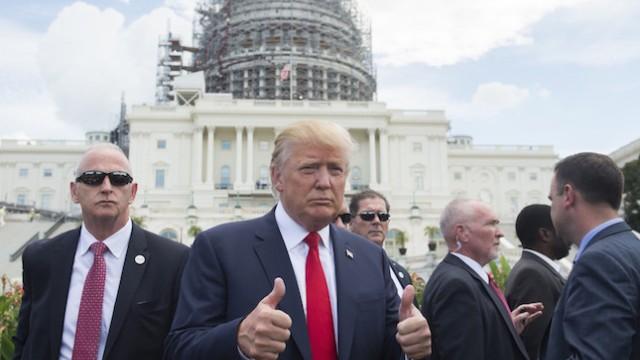 Source: The Hill
Hedge Fund Performance
This was a month unlike one we've seen for quite sometime. As a whole, the HFRX Global Hedge Fund Index posted a return of 0.50%. This continues the streak of hedge funds posting positive returns post-election, despite a stop in the Trump rally for equity markets. This is the continuation of a trend that really began back in Q2 2016, after the massively disappointing 2015 calendar year.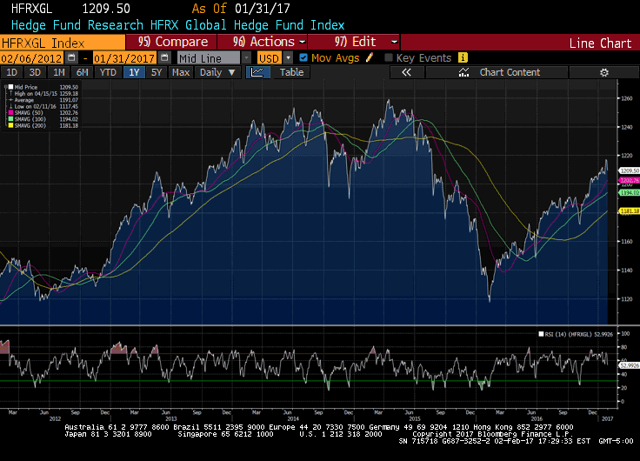 Source: Bloomberg
You had to have guessed that event-driven funds would have performed well this month as the inauguration was the event on everyone's mind and trades were being placed left and right to try and profit off of the first round of executive orders. Event-driven strategies in 2016 were up 11.1%, so they are the best performing strategy in the LTM, with a 1.92% return in December and now a 1.05% increase.
Under the heading of event-driven funds was a -0.29% return for merger arbitrage funds. With President Trump now in charge, the number of approvals for U.S. M&A activity, for relatively large deals, may actually decline as he may view them as anti-competitive and directly against job growth (as SG&A cuts are usually the core synergy of any given deal), however we'll have to evaluate each specific deal on a case by case basis to determine the efficacy of merger arbitrage funds going forward.
Market directional funds did quite well, up 1.09% for the month, which makes sense considering the milestones that the three major equity indexes have hit. Reduced allocations to fixed income over the last month as well helped hedge funds to earn a full percentage point in this category. Interestingly enough, among the realm of fixed income, relative value arbitrage hedge funds put up a gain in January of 0.63%, which is quite interesting given the pessimism that has surrounded that asset class since the election.
Macro funds were really the laggard this past month and whether or not that's the tone for the rest of the year remains to be seen. The index posted a return of -0.95%. As a sub-strategy, emerging markets did quite well, posting a return of 1.22%, but the broader global macro dip comes after a positive 0.48% return in December. The trend for global macro really the last three years has been lagging, so we'll be looking to policy changes from the new administration as well as cyclical recoveries across many futures markets over the next 12-24 months in order for this trend to be broken. Elevated volatility would also aid global macro funds in the current environment.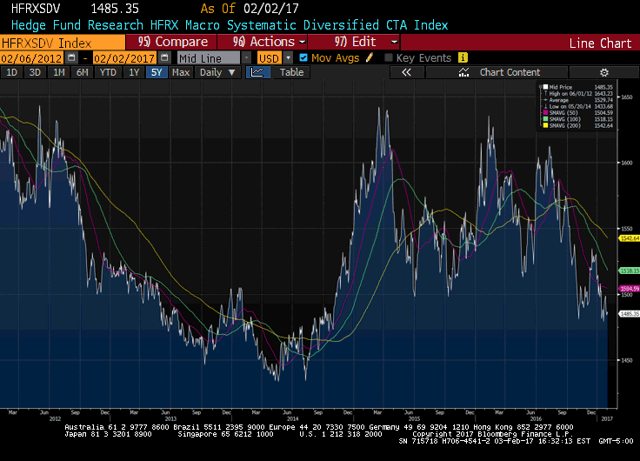 Source: Bloomberg
Investor Takeaway
Market directional funds and funds with heavy exposures to precious metals during the month of January did quite well. Whether or not that trend continues remains to be seen as equities have stalled, as a basket, since reaching all-time highs. Precious metals may see more strength in the coming months as fund managers and major investors keep on their hedges against the Trump Administration's plentiful policy changes; however, there are many moving parts present
ETFs: QAI, MCRO, HDG, ALTS, QEH, MULT, JPHF
Disclosure: I/we have no positions in any stocks mentioned, and no plans to initiate any positions within the next 72 hours.
I wrote this article myself, and it expresses my own opinions. I am not receiving compensation for it (other than from Seeking Alpha). I have no business relationship with any company whose stock is mentioned in this article.