One amazing aspect of this US expansion cycle is its stability: slow steady growth despite large political and economic changes, foreign and domestic -- combined with persistent (almost delusional) expectations for accelerating growth really soon. Another amazing aspect is the combination of slow economic growth and profit growth with high equity valuations. How long can this discordant picture continue?
None of this is difficult to see. At the beginning of every month I post a brief look at graphs of the economy. The conclusions are almost too obvious to state.
Let's begin with today's jobs numbers. Every month brings the same schtick: exciting commentary about flat trends plus statistical noise. Look at the top line: the number of jobs grew 1.6% YoY, seasonally adjusted (roughly 2x the growth in working age population). Slow slowing from its February 2015 peak. Do you say "wow" when reading this? Neither do I. It's like a magnified photo of my desktop, near the scratch.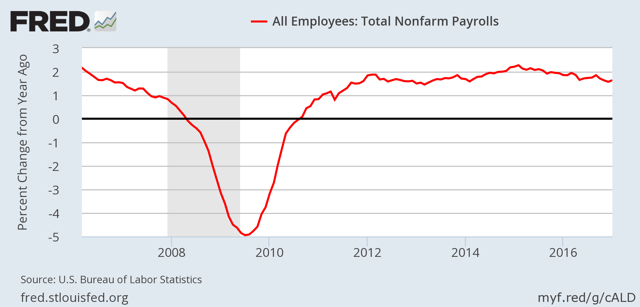 But these days "jobs" might mean steady 40 hours plus overtime or 25 hours and hope for something next week. Aggregate hours worked in the private sector is a better indicator, shown below. Up 1.1% YoY, SA. Slowing fast from its February 2015 peak. Slightly above population growth. This graph is exciting, but in a bad way.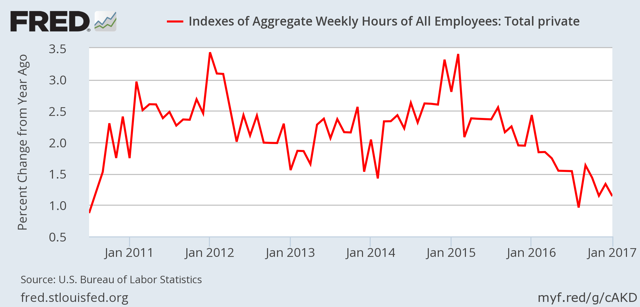 But hours worked is only half the picture. What do hourly workers (roughly 85% of workers) earn per hour after inflation? This was up 0.4% SA in December (January's number was similar). Peaked in January 2015 and slowing fast.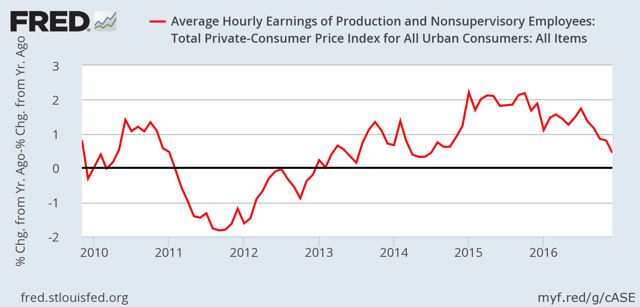 Let's look at the other news today: new orders for manufactured goods. The below graph shows the numbers through December. These have been flat for two years (since February 2015). They are where they were in August 2011, and below the previous cycle high in January 2008 (the purple line). Boomtime this isn't.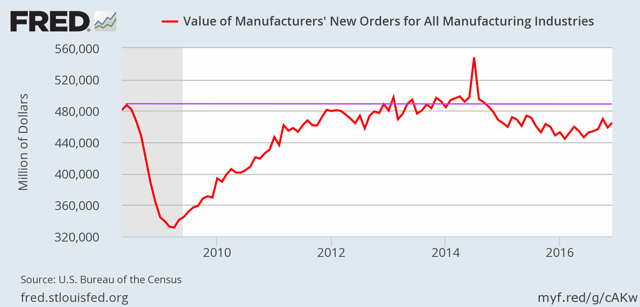 Let's look at an engine of this expansion: housing starts. They grew nicely in 2011-2014, then growth slowed. Up 1.6% annualized since April 2015. Not much of an engine. Total construction spending looks similar. Almost everything looks similar: slow to flat growth.
The bottom line for the economy is real GDP. Up 1.9% in 2016, below the snail-like average of 2.1%/year since the recession ended. Growth peaked (surprise) in Q1 2015.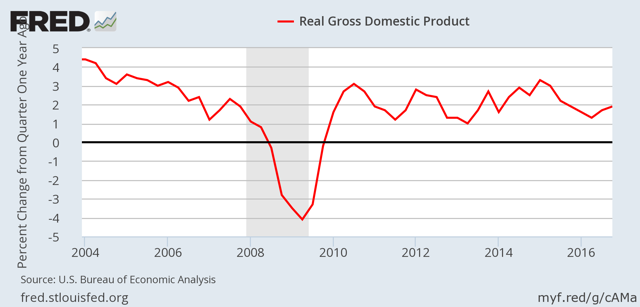 There is good news in this graph: we proved that the theory of a "stall speed" for the economy is false (or we would have had an recession or two since 2009). This was a valuable lesson for people who believed it (e.g., me).
Why so many excited equity investors?
They hope that Trump will convince Congress to gut regulations on business (likely; effect will be small to nil) and do Reagan-like fiscal stimulus -- big tax cuts and big military spending plus (un-Reagan like) massive infrastructure spending. This would send the federal deficit into outer space. God only knows what the Fed would do (they certainly don't; their plans were based on a win by Clinton).
Will a Congress full of GOP fiscal conservatives and Democratic Trump-haters do this? Anything is possible. Is this scenario a reason to spend real money buying stocks at near-record high valuations? That seems quite mad, in my opinion. Time will tell.
See these Seeking Alpha posts for more information
Disclosure: I/we have no positions in any stocks mentioned, and no plans to initiate any positions within the next 72 hours.
I wrote this article myself, and it expresses my own opinions. I am not receiving compensation for it (other than from Seeking Alpha). I have no business relationship with any company whose stock is mentioned in this article.