Although there have been bumps on the road, and, as a result of continuing uncertainty, there will continue to be, things look a whole lot rosier today than they did some years ago. Global growth for 2016 came in, according to IMF figures, at around 3.1%, unemployment is falling in many advanced economies, and more jobs are being created. No one is saying that the current economic climate is a godsend, although markets have been bullish, but with the right approach it is far easier today, for individuals and companies to get ahead, than it was eight years ago. This being the case, as long as global growth holds, and technological developments continue to boost the demand for specialist employees, one market is sure to benefit: recruitment. This article considers five recruitment companies you might choose to invest in: Adecco Group (OTCPK:AHEXY), Kelly Services (NASDAQ:KELYA), Manpower Group (NYSE:MAN), On Assignment (NASDAQ:ASGN), and Robert Half (NYSE:RHI). We also run the rule over one London listed stock, as a runner up: Empresaria Group (EMR:LSE). Over the past year, on average, these companies' share prices have risen by 30%, with the lowest performer; Adecco Group, posting a 20.51% year on year increase. Pushing the clock further back, the same numbers over a five year period show an average increase of 150%, with the lowest performer again being Adecco, increasing in value by only 35%. These are positive figures, and with 2017 set to see a continued return to global growth, these stocks might be of interest for your portfolio.
The Six Considered Stocks - 1 Year. Source: Bloomberg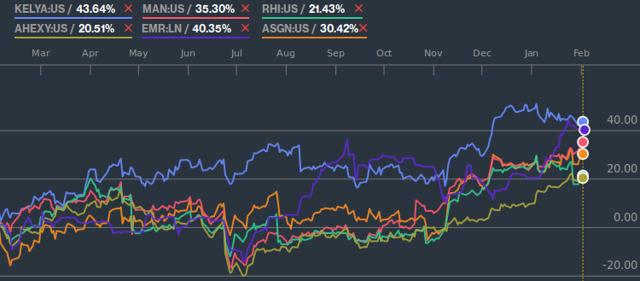 Recruitment Volume Forecast. Source: Recruitmentbrief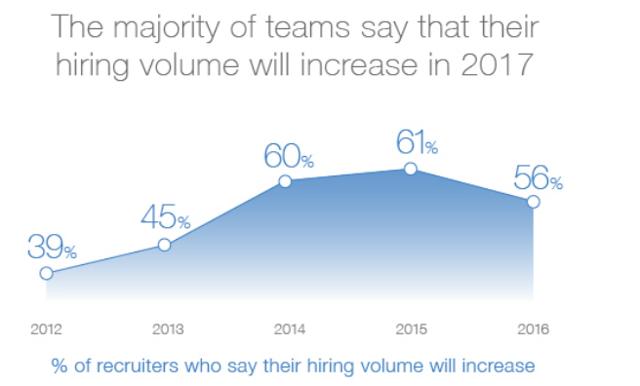 The Six Considered Stocks - 1 Year. Source: Bloomberg.
Adecco Group :
Addeco Share Price - 1 Year. Source: Bloomberg

Adecco, the largest of the companies this article considers, with a market capitalisation of over $12bn, as the above share price chart indicates, pulled itself back from a July slump, surging to yearly highs in January. Currently trading between $35 and $36 a share, and up 25.2% over the year, and almost 10% in 2017, with an attractive dividend of 3.5%, noteworthy in the recruitment sector, offers a seemingly safe option, with steady growth forecast for 2017. This is backed up by several market analysts, including some from Credit Suisse, Citigroup, Barclays, and Kepler Capital Markets.
AHEXY Financials. Source: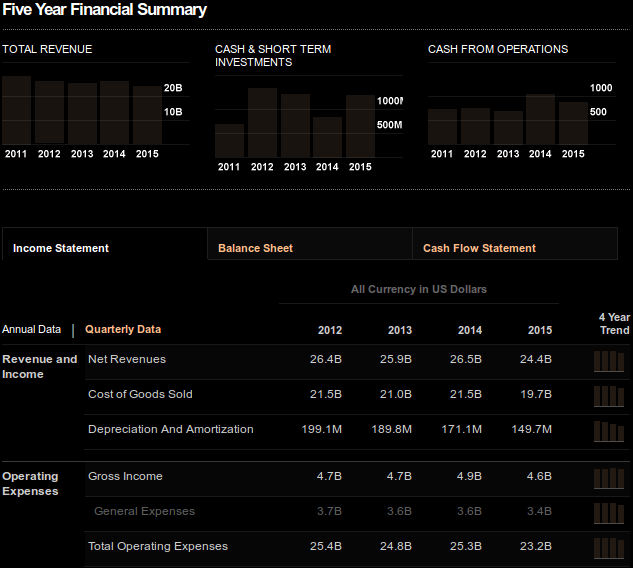 Adecco offers a variety of recruitment services, in areas including temporary staffing, outsourcing, and consultancy. It also offers its services in sectors like IT and finance. The Swiss backed company, the largest recruitment consultancy in the world, has much to recommend it, not least the stability you get from an investment in a larger company, at least when compared to small-cap investments. The available price to earnings ratio currently outperforms the recruitment industry market as a whole by $3, with a forward PE of 15.54, and earnings estimates have been trending upward. If you are interested in taking a position in the recruitment big-beast, and steady, if unspectacular growth, Adecco might be worth a punt.
Kelly Services :
Kelly

Services Share Price - 1 Year. Source: Bloomberg
Kelly Services, which has seen its share price climb by an impressive 45.73% over the past year, with the year to date figure disappointing, especially in comparison, a poor -2.92%, has a market capitalisation of $853m, offers a dividend of 1.35%, and has a p/e ratio of 14.63. The U.S. company works to place employees at all levels, in a wide range of industries. Based in Michigan, with $5.5b in revenue, the company once synonymous with temporary office workers, then known as Kelly Girls, as was the company, has not done too poorly in the last twelve months, and its financials make for positive reading, for the most part. Yearly revenues fell, but its net income grew by a positive rate of 125.84%.
Kelly Financials. Source: FT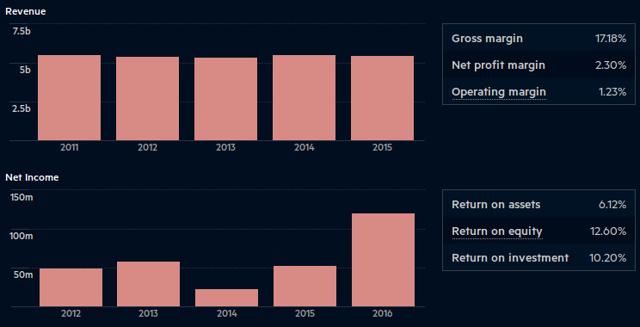 Analysts do not expect the company to have a thriving 2017, but nor do they expect it to suffer markedly. If events such as Trump's infrastructure spend do in fact occur, and with Trump thus far sticking to all his promises, like it or loathe it, this is likely, then having a position in a widely operating recruitment company that is in a sense ticking along, ought to offer you a strong return if you get in on the ground floor. A conservative estimate of Kelly's share price sees a minimum of 3% growth in 2017, and if circumstances are right, this figure could prove much larger.
Manpower Group
Manpower Share price -1 Year. Source: Bloomberg

Manpower, a name familiar to many, with a market cap of $6.5b, is the second largest company considered in this article. Currently trading in the high nineties, the company has seen healthy growth of 38% in the past year, in terms of its share price, and its value has increased by a further 9.4% in 2017. With a P/E Ratio of 15.24, and a dividend of 1.77%, the company certainly seems worthy of research.
Manpower Financials. Source: FT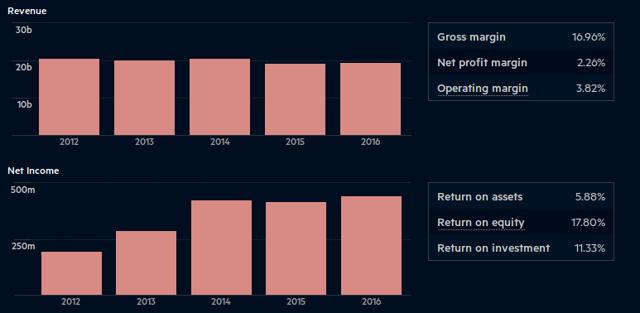 Based in Wisconsin, Manpower focuses on recruitment, training and development, career management services, consultancy, and outsourcing. The 69 year old company has posted a marginal increase in its year on year revenues, for the year ending in 2016, with its annual revenues of $19.7bn up 2% on the previous year, and 4% on 2015s figure. This consistent growth for such a large company in an established sector is certainly promising. Net earnings also rose, from $419.2m to $443.7m. In its own reports, despite strong share price growth, and steady improvement in their financials, Manpower's CEO describes himself as simply 'very pleased' for a 'solid, if uneven, year.'
Manpower Financials. Source: FT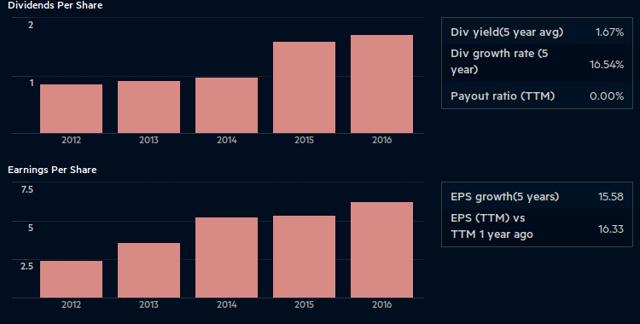 In terms of its future prices, average forecasts seem to suggest a median share price target of $99, a low of $80, and a high of around $105. Whilst even this high would not present a spectacular return, a 7% increase is nonetheless not awful, and the relative security that an investment in a medium-cap company affords ought to be taken into account when comparing it to significantly higher performers over the past few years in the recruitment sector, like Empresaria, and On Assignment.
On Assignment
ASGN - Share Price -1 Year. Source: Bloomberg

On Assignment performed well in the last year. Its share price rose upwards of 30%, 3% this year, although its P/E Ratio is high in comparison with several of the stocks considered in this article, at 24.54. The Californian company has a market capitalisation of $2.4bn, and is focused primarily on providing technology recruitment. This sector is almost certain to grow in 2017, as the technology sector at-large is expecting a bumper year. As the demand for specialists increases, so will the demand for specialist providers such as ASGN. The thirty-one year old company boasts of being the 2 nd largest IT, marketing, and creative staffing firm in the U.S., the country's sixth largest direct hire recruiter, the tenth largest staffing firm overall, and the sixteenth largest in the world.
ASGN Financials. Source: FT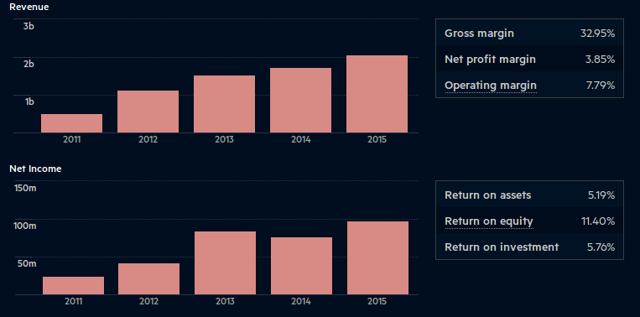 The company's financials are sound, with year on year growth of 19%, and net income up by 26%. It is listed by Fortune as one of the 100 fastest growing companies, and has been for the last three years, and is no stranger to M&A if needs be, acquiring, for instance, a creative IT solutions staffing provider in 2015, in order to boost its broader market share and expertise. In terms of its share price, On Assignment appears to be moving through a strong upward trend, and this seems likely to continue.
Robert Half
RHI Share Price - 1 Year. Source: Bloomberg

Californian company Robert Half has seen a strong pull-back in share price terms over the last few months, and a fairly strong year overall, with a 24.12% increase. Its performance in the year to date is disappointing. The company has lost 2.32% of its value since the first of January. That said, the company's shares continue to trade above its 200-day moving average, and do so by around 13%. Robert half focuses its attention on accountancy, finance, and temporary employment, and regular scores well in Fortune surveys. Additionally to its staffing provision, Robert Half also has positioned itself as a strong provider of data to the U.S. government, and its data is employed by several departments, for instance the U.S. Department of Labour. Through its subsidiary Protiviti, RHI also offers an auditing and IT consultancy service.
One of the three larger companies considered in this article, with a market capitalisation of $6.1bn, RHI has a P/E Ratio of 17.85, and offers dividends of 1.85%. Currently trading in the $46-$47 range, many analysts expect the company to improve strongly in terms of its share price, with Barclays suggesting $54 as a price target.
RHI Financials. Source: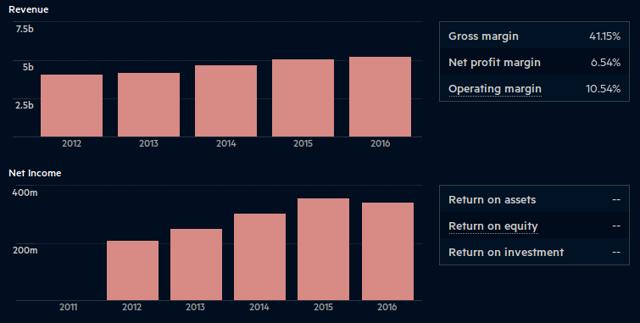 FT
The Runner Up:
Keep in mind that the following stock only trades on the U.K. exchange.
Empresaria Group:

Source: Empresaria Share Price - 1 Year. Source: Bloomberg
Empresaria Group, an international staffing specialist, with an internal market M&A strategy, focused on acquiring recruitment start-ups, runs a group of companies, each of which focuses on a specific market. These markets range from engineering, to logistics, to construction, IT, finance, and healthcare. The U.K. based company, which impressively for the first thirteen years of its existence posted consistently increasing turnover, has done more than well in recent years, and over the last year grew by 41.96%. Its exposure in particular to recruitment areas such as construction, with 2017 potentially the year building is back, is likely to see 2017 being an excellent year for the £58m company. Indeed, with a P/E Ratio of 12.41, and year to date returns of 16.5, Empresaria Group looks like a stock very much worth considering.
Empresaria Financials - Source: FT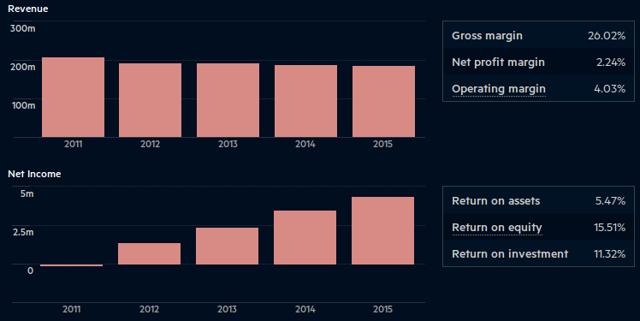 Disclosure: I/we have no positions in any stocks mentioned, and no plans to initiate any positions within the next 72 hours.
I wrote this article myself, and it expresses my own opinions. I am not receiving compensation for it (other than from Seeking Alpha). I have no business relationship with any company whose stock is mentioned in this article.
Additional disclosure: CFDs, spread-betting and FX can result in losses exceeding your initial deposit. They are not suitable for everyone, so please ensure you understand the risks. Seek independent financial advice if necessary. Nothing in this article should be considered a personal recommendation. It does not account for your personal circumstances or appetite for risk.
Editor's Note: This article discusses one or more securities that do not trade on a major U.S. exchange. Please be aware of the risks associated with these stocks.