*This report was released to subscribers several weeks ago which often produces lower entry points and higher yields.
Yield Hunting: Alternative Income Investing
We highlighted in our monthly Nuveen UNII and earnings update that the second release would have specific funds we like in the space and why.
The relative value between munis and treasuries still shows a significant amount of political risk built into muni prices. At 94%, the 10-year AAA muni yield is well above the longer-term average around 75% after they underperformed treasuries in the fourth quarter of 2016.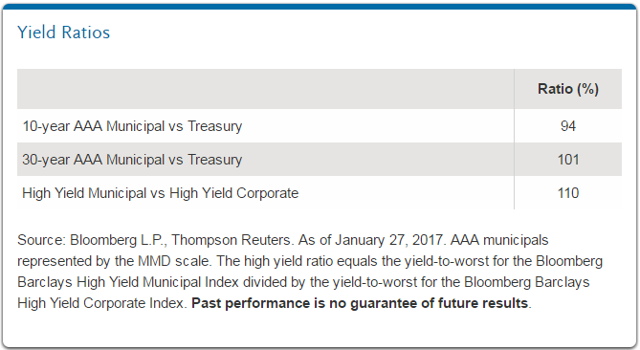 From a macro sense, it appears that the sell-off in municipals following the election was driven by technicals and exacerbated sentiment. The supply and demand dynamic, present before the election, became more of a sentiment-driven sell-off due to the prospect of tax reform.
As Nuveen has researched, changes in the top marginal tax rate has made no distinct change in the prices of municipal bonds in the following year. Following tax reform in 1986, the ratio of munis to the 10-year stayed fairly stable in the high-80%-to-low-$90 range.
Pensions Still A Long-Term Credit Risk
We highlighted last year the risk to municipal bonds that unfunded pension liabilities pose. Our conclusion was that "GO" bonds, municipals that are backed by the taxing authority of the municipality, were now more risky than revenue bonds. Revenue bonds, at least, were protected in the case that the municipality files for bankruptcy (think Detroit).
Nuveen agreed in a more recent analysis:
We expect that upgrades should continue to exceed downgrades. Most downgrades are in New Jersey, Illinois and to a lesser extent Pennsylvania and Michigan. They are mainly focused on the Midwestern rust belt states and states with underfunded pensions. Most downgrades are coming from general obligations bonds (GOs) rather than revenue bonds.
We follow the ratio of the number of municipal upgrades-to-downgrades over the years to assess that public finance health barometer. Through the third quarter of 2016 (latest data available), S&P had upgraded 719 issuers and downgraded 473. Moody's ratio was 391/388. Both GO and revenue bonds had positive trends in those ratings.
Our Favorite Names In Closed-End Funds
We broke down the national muni fund universe and assigned points to certain factors. Obviously, the more points, the better the fund. But as we noted there were certain factors that were deal-breakers for us which automatically disqualified the fund from consideration.
Points were awarded for:
Fund at a discount.
Relative discount (current discount vs. 90 average).
Current discount below 3-year average discount.
1-year Z-score below negative 1.
Ratio of total yield to leverage adjusted NAV yield greater than 70%.
UNII positive.
UNII trend positive.
Earnings trend positive.
Coverage above 98%.
1-year NAV total return positive
Average duration below 10 years
Call risk less than 15% over the next 2 years.
3-year NAV total return greater than group average.
Funds were disqualified if:
NII yield was below 4.9%.
AMT was greater than 10%
Data was more than six months old.
Coverage was below 93%.
5. PIMCO Muni Income II - (NYSE:PML)
PIMCO recently pushed through a slew of distribution cuts among both taxable and municipal funds in their complex. Two of the three national muni funds saw a cut to their distributions as well as a few state-specific funds. PML was spared (and is the one we own) which we think bodes well for the fund. If they were going to cut, it would likely have been done in conjunction with these. PMX has had just two cuts in the last 13 years and PMF has never cut going back to 2001. In other words, a cut for a PIMCO muni fund is very rare!
The fund trades at a 5.50% premium which is not far from its average over the last year and not far from the five-year average of 3%. The five year total return is in the top decile and the fund was earning 108% of its distribution (rarity among munis) and had a sizeable UNII cushion of $0.39. It also is a rare fund with positive earnings trends through year-end and a flat UNII trend, indicating that for now, the distribution appears safe. That distribution yield is a juicy 6.20% for a tax-equivalent yield of 10.94%.
4. Delaware National Muni Income - (NYSEMKT:VFL)
A fund we've recommended in the past, this fund continues to perform well. In 2016, it had a total return of 6.50% compared to 1.74% for the peer group. At a 7.4% discount to NAV, the fund trades near the 52-week average and not far off the five year average of 8.8%. That valuation is a rarity among the muni CEF universe. The fund suffers from low liquidity and quarterly earnings/UNII data, which makes the most recent numbers fairly stale. Another negative is the lower distribution rate of 5.05%. Fund positives include a favorable call schedule and high quality holdings with a low amount of non-investment grade positions.
Coverage: 100.4%
Discount: 7.23%
Distribution: 5.05%
Z-score: -0.6
3. Eaton Vance National Muni Opp - (NYSE:EOT)
Another high-quality fund with less than 10% below investment-grade or not rated. The fund has an average duration of just 5.2 years. EOT has not been immune to the downdraft in earnings but has a nice sized UNII balance to help cushion it. UNII is at 0.159 with coverage at 97.9%, with data available through the end of the year. The main drawback is that the fund distributes just 4.85%, in the bottom half of the muni universe. But given the lower duration, that lower distribution rate can be expected.
Coverage: 97.9%
Z-score: 0.40
2. Dreyfus Muni Income - (NYSEMKT:DMF)
A portfolio of nearly all investment grade holdings with a large allocation to very safe double-A and triple-A rated issues. The call schedule, a bane for many funds this year, is very favorable with very little call risk through the end of next year. The call schedule percentage does jump for 2019 so that is something we will be watching to see if they mitigate over the next year. Another key positive is the funds minimal exposure to state-GO debt, an area of concern for us (especially when it is Illinois, Connecticut, Kentucky, California, and New Jersey). The exposure they do have in this sector is insured further mitigating risk. UNII is slightly positive and the coverage near 100% although the data is a bit stale coming from Sept. 30th. Updated financials should be out in the next few weeks.
As of the end of the year, neither Illinois nor New Jersey were in the top five states. The effective duration including leverage was 6.41 years with 8.75% subject to AMT. The coverage ratio fell to 94.2% at the end of November. With no cut, and yields recovering, the fund may be in the clear from a cut.
Yield: 5.45%
Coverage: 94.2%*
Z-Score: 1.2
And our top pick:
1. MainStay Def Term Muni Opps - (NYSE:MMD)
A very high-quality portfolio with 62.3% in double-AA rated issues. Just 11% of the portfolio is below investment-grade with another 7.6% unrated. The fund does have some exposure to Puerto Rico bonds (and Virgin Islands) but all of those positions are insured. Given the inverse correlation to interest rates, the fund uses treasury futures to hedge (one of the few muni CEFs to do so). The average duration of the holdings is just over 7 years though the average maturity is 20 years as the fund hedges by shorting treasury futures.
The fund is a bit larger with $600 million in assets making it a bit more liquid to trade. The fund garners a significant point total for having an "okay" call schedule, positive UNII, high distribution rate, low AMT (2.54%) and a defined term fund which converts to an open-end in 2024. Very little state GO bonds
Distribution rate: 5.75%
Coverage: 99.3%
Z-Score: 0.0
Conclusion
Some of the names have moved since we made the recommendations to subscribers a few weeks ago. But in general, the rankings remain. We would also caution investors in acquiring target term trusts- funds that will be liquidated in the near future. These were launched in an effort to mitigate the discount "problem." However, you can see with the Blackrock NY Municipal 2018 Term Trust (NYSE:BLH) or Blackrock Muni 2018 Term Trust (NYSE:BPK) what can and will likely happen over time as it approaches the liquidation date. Another couple of funds to avoid would be the Blackrock Muni Target Term (NYSE:BTT) and Nuveen Muni 2021 Target Term (NYSE:NHA).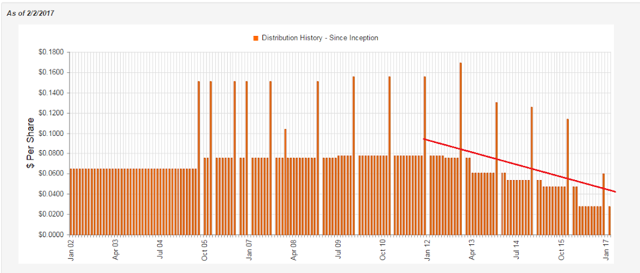 There are other muni funds set up as term trusts (but not targets) that are likely to suffer as they near their wind up dates. These are the funds we would avoid.
The municipal market remains in a state of flux and could see a rebound in the near term as the value relative to treasuries is assessed and the prospect of individual tax reform is reduced near-term. We highlight the funds we have recommended to subscribers and are buying personally.
Comments appreciated.
Note: To get these types of articles as soon as they are published, just click on the "Follow" button next to my profile and choose the "Real-time alerts" option.
Marketplace Service For Those Hunting For Yield
In April 2016, we launched our marketplace service "Yield Hunting: Alternative Income Investing" dedicated to yield/income investors who wish to avoid the risk associated with most of the equity market. We encourage investors to utilize the free two-week trial in order to benefit from our yield opportunities within closed-end funds, business development companies, and other niche areas.
Disclosure: I am/we are long MMD, DMF, VFL, EOT, PML.
I wrote this article myself, and it expresses my own opinions. I am not receiving compensation for it (other than from Seeking Alpha). I have no business relationship with any company whose stock is mentioned in this article.
Additional disclosure: The commentary does not constitute individualized investment advice. The opinions offered herein are not personalized recommendations to buy, sell or hold securities. As I have no knowledge of individual investor circumstances, goals, and/or portfolio concentration or diversification, readers are expected to complete their own due diligence before purchasing any stocks mentioned. The strategies discussed are strictly for illustrative and educational purposes and should not be construed as a recommendation to purchase or sell, or an offer to sell or a solicitation of an offer to buy any security. There is no guarantee that any strategies discussed will be effective. The information provided is not intended to be a complete analysis of every material fact respecting any strategy. The examples presented do not take into consideration commissions, tax implications or other transactions costs, which may significantly affect the economic consequences of a given strategy. This material represents an assessment of the market environment at a specific time and is not intended to be a forecast of future events or a guarantee of future results. This information should not be relied upon by the reader as research or investment advice regarding the funds or any security in particular.