I have mixed feelings about the iShares MSCI Thailand Capped ETF (NYSEARCA:THD), On one hand, it appears the share price is ready for a breakout, but on the other hand, there are way too many negatives to propose investing in this country ETF. Let's start with technical analysis.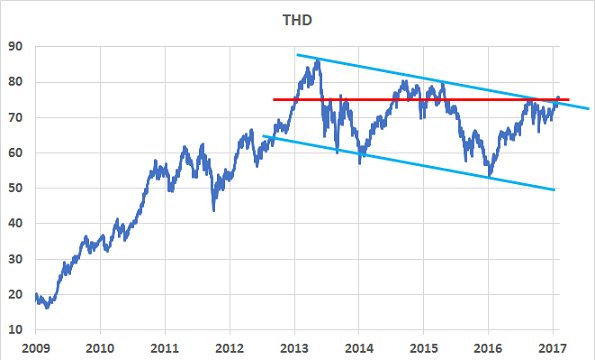 Figure 1 - THD share price time series,2009-present
Glancing at the price chart above, it seems that THD is on the verge of a breakout from the descending channel, and the long-term resistance level.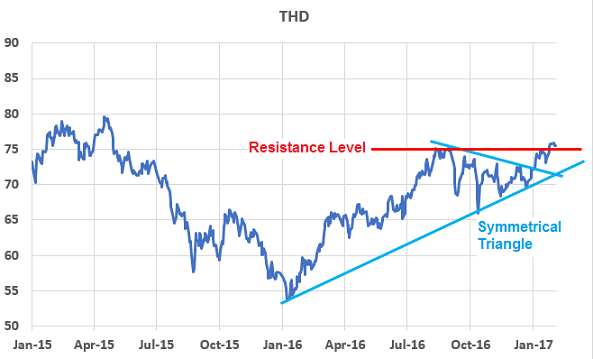 Figure 2 - THD share price time series,2015-present
A closer look shows that the share price will likely continue the upward trend started in Jan 2016. I interpret this as bullish. But before coming to any conclusions on this investment, let's have a look at Thailand's economic and political situation.
Background
Thailand historically has had a strong economy, but it experienced slow growth Following the May 2014 coup d'etat, when the army seized power. Tourism decreased 6-7%, Thailand's foreign investment and GDP growth suffered due to political uncertainty. In 2015, Thailand's economy grew just 2.8%, the country's exports decreased by 5%, and the Thai baht depreciated more than 8%. The death of the king recently and the ensuing royal transition have caused additional fluctuations in the Thai economy.
Statistics and forecasts (Source: tradingeconomics.com)
The Thai economy is the second-largest in Southeast Asia, but has the lowest growth rate in the region. The forecast for Thailand's growth in 2017 is 3.2%. Meanwhile, the Philippines, Vietnam, and Indonesia have growth forecasts greater than 5%. Economic recovery has proven to be a tough task for the junta.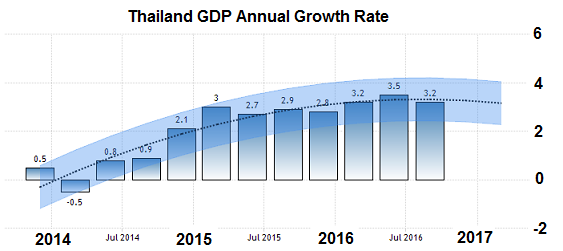 Figure 3 - Thailand GDP growth rate (Source: tradingeconomics.com)
Even with government infrastructure projects and consumer spending gradually picking up, 3.2% projected growth is a long way from the average 5% expansion Thailand once enjoyed and which it aspires to get back to.
As stated on the tradingeconomics.com website:
Forecasts are projected using an autoregressive integrated moving average (ARIMA) model calibrated using our analysts expectations. We model the past behavior … using vast amounts of historical data and we adjust the coefficients of the econometric model by taking into account our analysts assessments and future expectations. "
Table 1 - Inflation rate, currency, and stock market forecasts
| | | | | | | | |
| --- | --- | --- | --- | --- | --- | --- | --- |
| Forecast | Actual | Q1/17 | Q2/17 | Q3/17 | Q4/17 | 2020 | Units |
| GDP Growth Rate | 0.60 | 1 | 0.5 | 0.9 | 1 | 0.8 | percent |
| Inflation Rate | 1.55 | 0.5 | 0.7 | 0.9 | 1.1 | 2.5 | percent |
| Currency | 35.00 | 36.72 | 37.08 | 37.44 | 37.8 | 43.2 | Thai Baht |
| Stock Market | 990.97 | 932 | 923 | 913 | 904 | 761 | points |
As can be seen from the above table, the inflation rate throughout 2017 is projected to be very low, around 1%, the Thai Baht (currency) is expected to rise from 35 to 37.8, and most importantly, the Thailand Stock Market (SET50) is projected to drop from 990.97 to approximately 904 by the end of 2017.
Tourism
Tourism represents 11 per cent of Thailand's GDP and has been one of the few bright spots. In 2016, the number of visitors increased by 9%. This result was despite the fact that the last quarter registered a drop of 16% drop in arrivals due to a government campaign against low cost agencies targeting the Chinese market, and the king's death in October 2016, which has resulted in many people putting off weddings and vacations. The country started a one-year period of mourning, this in addition to a 30-day ban on entertainment that has forced bar districts to shutter.
Exports: Electronics
Thailand is an export oriented economy with exports accounting for approximately 65 percent of the GDP. The country mainly exports manufactured goods with electronics, vehicles, machinery and equipment and foodstuffs being the most important. Major export partners are China (12%), Japan (10 %), the United States (10%) and the European Union (9.5%).
Electronics is Thailand's largest export sector, accounting for 15% of total exports. Thailand is the world's second-biggest producers of hard disk drives (HDDs) after China, with Western Digital (NYSE:WDC) and Seagate Technology (NASDAQ:STX) among the biggest manufacturers. But the country's manufacturing index is in decline, with production of goods like televisions and radios down substantially. Manufacturers are relocating to nations where labor is cheaper than Thailand. For example, production at the LG Electronics (OTC:LGEAF) factory in Ranong Province was moved to Vietnam in 2015. And as technologies evolve, manufacturers are reconsidering where to produce these latest technologies. For example, HDDs are replaced by solid-state drives (SSDs), and the SSDs won't likely be produced in Thailand.
Exports: Automobiles
On a brighter note, Thailand is fast becoming a center for car manufacturing for the Association of Southeast Asian Nations (ASEAN) market. Ford (NYSE:F), Toyota (NYSE:TM), Nissan (OTCPK:NSANY) and Isuzu (OTCPK:ISUZY) are active in Thailand, and the growth of the car industry has increased domestic steel production.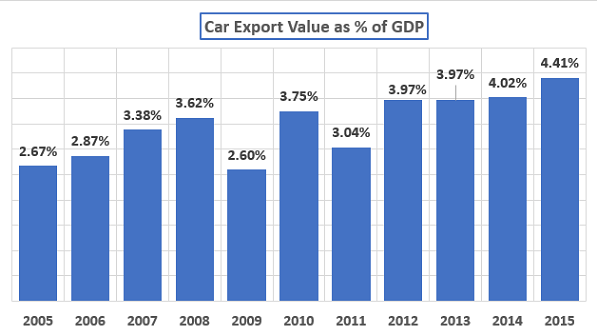 Figure 4 - Car exports by year (Source: Wikipedia.org)
Export of automobiles has helped improve the country's trade balance, with over one million cars produced annually. Thailand is one of the world's top ten automobile-exporting nations.
Exports: Rice
Thailand is the second largest supplier of rice, after India. Rice shipments from Thailand are likely to decline by 4% this year amid increased competition from Vietnam and other producers. The forecast drop in exports comes as the U.S. Department of Agriculture expects global rice consumption to lag production for the 12th straight year.
Risks: "Middle-income trap"
"Middle-income trap" occurs when an emerging economy begins slowing before it can reach the developed stage. Thailand is losing jobs to countries with lower cost workers. But Thailand lacks the expertise, especially in high-technology, needed to modernize their industry. Only 56 percent of Thailand's population has access to the Internet, an obstacle to the creation of a high-tech workforce. Conversion to automation will also be hampered by bureaucracy, with every action plan calls for results from several ministries, "all of which are big, clumsily-run organizations."
Risks: Private investment
Thailand has had 19 military coups since 1932. Since the 2014 coup, freedom of speech has been restricted, and leading politicians have been placed under house arrest. The persistent political instability has negatively affected the economy and undermines the investment climate. Systemic corruption undercuts the judicial system and hampers stable long-term economic development. Property rights are not strongly protected.
The delay in returning to civilian rule (general elections have now been postponed until 2018), could discourage foreigners from investing in the country.
Risks: Shifting alliances
In 2015, in an effort to pressure the junta to restore democracy, the U.S. reduced its role in Cobra Gold, Asia's largest annual multinational military exercise, held in Thailand. Instead, the Thai and Chinese air forces conducted their first joint exercise, while their marine forces in 2016 participated in "Blue Strike", a joint drill at the Sattahip naval base. Thailand was a traditional U.S. treaty ally, but is now shifting its alliance to China. This could prove problematic, given recent tensions between the United States and China.
Risks: Automation
One-third of the workforce, or about 12 million workers may lose their jobs to automation over the next 20 years, according to a joint study by the Quality Learning Foundation (QLF), Dhurakij Pundit University (DPU), and the World Bank.
MSCI Thailand Fundamentals
The MSCI Thailand Index fundamentals are provided in the figure below.

Figure 5 - MSCI Thailand fundamentals (Source: msci.com)
Given the higher P/E Ratio for MSCI Thailand than other emerging markets, and low growth / inflation rate, I do not find that there is sufficient value in Thailand to warrant the substantial risks involved.
Disclosure: I/we have no positions in any stocks mentioned, and no plans to initiate any positions within the next 72 hours.
I wrote this article myself, and it expresses my own opinions. I am not receiving compensation for it (other than from Seeking Alpha). I have no business relationship with any company whose stock is mentioned in this article.
Editor's Note: This article discusses one or more securities that do not trade on a major U.S. exchange. Please be aware of the risks associated with these stocks.