As its slogan suggests, Pearson (NYSE:PSO) is "always learning." This month, the global education company is learning that telling a story about rebasing a dividend, divesting assets, and falling revenues inevitably comes to an unhappy ending - a falling stock. Long-term catalysts remain in place, but the company's transition will take time and could face challenges created by the Trump administration.
Last month, I suggested Pearson was putting itself in a position to combat rapidly changing industry dynamics, pointing to the success of its digital offerings and the moat created by the evolution of its products into complete classroom solutions. The stock's 20% collapse since I made these assertions does not dispel the evolution narrative because the long-term catalysts remain in place.
The correction in the stock price makes intuitive sense: short-time horizon investors do not want to take part in what is becoming a multi-year transition from content publishing to digital services provider. One of the key points of my earlier post was that investors with a lot of patience could be paid to wait with what was then an almost 5% yield; announcing that the dividend will be rebased going forward challenges this assumption. After this assumption was challenged, the stock's fall-out was not surprising.
On the surface, then, the Pearson bull thesis seems uprooted by the company's recent update. But the reason for the announcements was not some sudden inability of Pearson's software to resonate with the academic world. Instead, the large revenue declined was a result of an inventory correction and lower than expected higher education enrollments.
Reasons For Optimism
For those who believe in Pearson's transition, the drivers of this decline do not present a reason to sell the stock. Lower-than-expected college enrollment does not remove the catalysts of gaining larger share of value and the building of a technological moat - explained in my earlier article - though it does present something that needs to be watching closely.
There are still two ways forward for investors looking for reasons to be optimistic: accelerating the tech transition and lowering prices of the tech offering. Both of these ways were central to the company's January trading update, wherein Pearson promised investors that it recognizes and is strategizing an attack to Pearson's largest looming threats.
The former of these two ways will prevent the company from being plagued by inventory issues in the future. It will also remove the company's exposure to the secondary market, where cost-conscious college students (otherwise known as just "college students") can turn to avoid buying a brand new textbook. If the company's revenue streams transition more fully towards digital, the secondary market is less threatening because there are no "used eBooks."
Recent asset divestitures, viewed by some as negative, actually aid the bull narrative because they eliminate the company's dependency on print and enable spending on the technological evolution without issuing debt during a time when creditors are watching closely. This includes the recently announced intentions to divest Penguin Random House. The company is right to narrow its focus to the future, which is a largely technological world, by exiting its positions in the side of its business that is at the mercy of disrupting forces.
The latter of the two aforementioned ways forward addresses a phenomenon I've seen over and over again: Students turn to the secondary market for an older edition of a textbook to dodge costs. Textbooks are expensive, their digital version really isn't much cheaper, and college students are not willing to spend any more than they absolutely have to.
As a college student myself, it always confounded me how an e-textbook could be so similarly priced to the paper edition. In fact, the graphic below from the company's recent presentation shows that an eBook rental was actually more expensive than a print rental. Finally, Pearson is making its digital textbooks more cost-competitive, promising to reduce "eBook rental prices by up to 50% across 2,000 titles - making digital rental the best option for price-conscious students."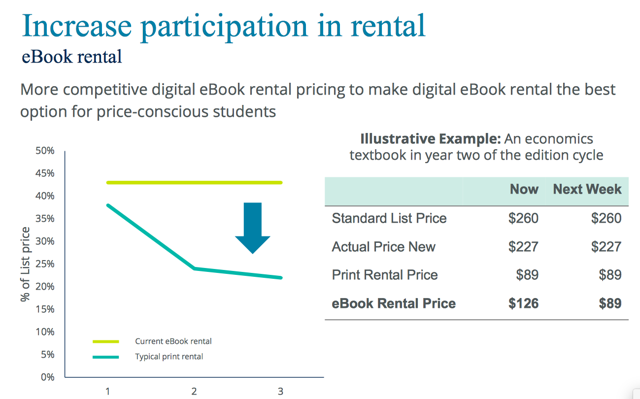 Source: Company Presentation
While price cuts can often be problematic, undermining a firm's pricing power, this move should be applauded by investors as it will allow the company to capture a segment of the market that is doing everything it can to dodge it. This allows Pearson to increase its share of overall value in a market where its share of usage is quite high, warranting the price decrease.
I'm Still Not Buying (Yet)
There is something of a tail risk lurking in the crucial US Higher Education market: Betsy Devos. During her nomination hearing, President Trump's nominee for Secretary of Education provided little insight into what actions she will take if she ends up heading the department. Will she stimulate increased enrollment by using federal funds to make college more affordable? On this, she was noncommittal, though she said "We can work together and we can work hard on making sure college or higher education in some form is affordable for all young people that want to pursue it."
Despite Pearson taking appropriate actions to thrive in a digitized education world, investing in the company remains uncontrollably risky until we know how the new administration's policies will affect higher education enrollments. It is also possible that President Trump's push towards the onshoring of manufacturing jobs could lead to a deceleration of enrollments if he creates jobs that require technical skills.
In my previous article, I wrote that the company will eventually be due for a multiple expansion after it is recognized as a digital services company. If the company's recent investments in digital result in increased earnings, Pearson's multiple can certainly still expand into a range of "15.45 times the 2018 earnings stream, which are a better representation of what earnings will look like throughout the future than 2016's earnings." Expanding the multiple into this range yields a stock price closer to $13 a share, a remarkable 63% higher than Friday's close.
The problem is that this expansion rests entirely on an assumption that Pearson will grow or maintain market share and enrollments will increase. It is possible that the low enrollments Pearson pointed to "particularly in Community College and amongst older students" are not an anomaly. If it is a continuing trend, Pearson's stock price will be missing the necessary catalyst to engender a multiple expansion even if it maintains or grows its share of value.
I will be watching enrollments, particularly in the US, over the next two quarters to see if the recent slip was an anomaly or a trend. Pearson's transition to technology will do little for the stock if macro trends are unfavorable. Until a better forecast of future enrollments can be assessed, Pearson's stock carries too much uncertainty to be a conviction buy.
Disclosure: I/we have no positions in any stocks mentioned, and no plans to initiate any positions within the next 72 hours.
I wrote this article myself, and it expresses my own opinions. I am not receiving compensation for it (other than from Seeking Alpha). I have no business relationship with any company whose stock is mentioned in this article.