If you like the recent employment report, if you think the economy is poised to grow, and if you think the consumer will spend some more of his or her hard earned money then you may consider an investment in the SPDR S&P Retail ETF (NYSEARCA:XRT). This article will comment on the most recent employment report, the forecast for GDP growth in the first quarter, provide an overview of the Retail ETF, and look at the technical merits of XRT.
Friday's employment report showed that 227,000 jobs were added in January. While many of the jobs were in retail and restaurants, meaning that the pay is not too great, there were many jobs added in construction, health care, and financial services. These three categories are considered higher paying jobs than jobs in the retail and restaurant industries. The report also noted that wages increased 2.5%. Both of those numbers are positive for the economy.
Speaking of the economy, GDPNow's most recent Q1 2017 GDP forecast is for 3.4% growth. This forecast is up from 2.3% on January 30, 2017. In contrast to the Q1 forecast, the 2016 Q4 actual GDP was 1.9% according to the Bureau of Economic Analysis. It looks like the economy may be starting to move to a higher level of growth.
New jobs are being added to the economy. People who are working are receiving more wages. The economy is projected to grow in first quarter. All of this leads me to believe that retail stocks may be the beneficiary of this positive activity. If you too make this connection perhaps an investment in XRT is for you.
XRT is a well-diversified ETF specializing in retail companies. According to Morningstar, XRT has $724.66M of assets and total holdings of 101 companies. It has expenses of 0.35% and it pays quarterly distributions. Its twelve month yield is 1.39%
Obviously, XRT is heavily weighted towards consumer discretionary stocks. Table 1 below shows the top ten holdings that represent just over 12% of the total stocks in the ETF.
Table 1 - XRT Top Ten Holdings
| | | |
| --- | --- | --- |
| Company | Stock Symbol | % of Assets |
| | | |
| CarMax Inc | KMX | 1.24% |
| Ulta Salon Cosmetics & Fragrance Inc | ULTA | 1.23% |
| O'Reilly Automotive Inc | ORLY | 1.23% |
| Costco Wholesale Corp | COST | 1.22% |
| Netflix Inc | NFLX | 1.22% |
| Monro Muffler Brake Inc | MNRO | 1.21% |
| CST Brands Inc | CST | 1.21% |
| AutoZone Inc | AZO | 1.20% |
| The Kroger Co | KR | 1.20% |
| AutoNation Inc | AN | 1.20% |
| | | |
| Total | | 12.16% |
Source: finance.yahoo.com/quote/XRT/holdings?p=XRT
Technically, XRT is in a rising upward sloping trend channel. It has made a series of higher highs and higher lows. See Chart 1 below.
Chart 1 - XRT Weekly Stock Chart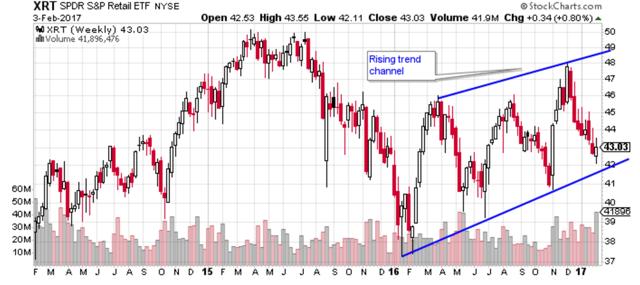 Three times since early 2016 XRT has bounced off of this rising trend channel. Each time a trader could have earned over 10% in two months. Considering Friday's close of $43.03, the channel has a six to seven point upside which represents an approximate gain of 14 - 15%. In November, 2016 XRT experienced high volume as XRT bounced off of the lower trend channel. Last week's volume was actually higher than the November bounce and that high volume may signal the upcoming move higher. The fact that XRT is currently at the bottom of its upward sloping trend channel makes an investment in XRT look well timed at current prices.
In summary, both the most recent jobs report and the latest GDP forecast for the first quarter seem encouraging to me. That leads me to believe that people will be shopping for cars, clothes, cosmetics, and various other discretionary purchases. While there are many ways to capitalize on this investment thesis, such as an investment in Target (NYSE:TGT) which I wrote about previously, one way is to invest in the Retail ETF XRT. It is well diversified and from a technical perspective an investment in XRT seems timely. An investment in XRT at current prices could return 14-15% in the next couple of months. Investors willing to hold on for a longer term could be rewarded with even bigger gains if the economy continues to gain strength and more jobs are added to the economy. I am long XRT.
Disclosure: I am/we are long XRT.
I wrote this article myself, and it expresses my own opinions. I am not receiving compensation for it (other than from Seeking Alpha). I have no business relationship with any company whose stock is mentioned in this article.