Post the announcement of disappointing holiday sales and lower outlook, the share price of Macy's (NYSE:M) took a nosedive. The only remaining bright spot appears to be its juicy dividend payout which was pushed to a yield of 5% + with the staggering price. Some perceive this as an opportunity for value investment. However, the seeming value is more like a mirage as the business lacks margin of safety.
Dividends
The management has been great at returning value to investors via dividends but the fat payout has been at the expense of future prospects. Looking at a history of revenue, EPS and dividends per share, one can clearly see that earnings power has decreased. In Fiscal Year 2017, the dividend payout even exceeded earnings, at 102%, 944%, and 755% for the three quarters. Needless to say, this is not sustainable.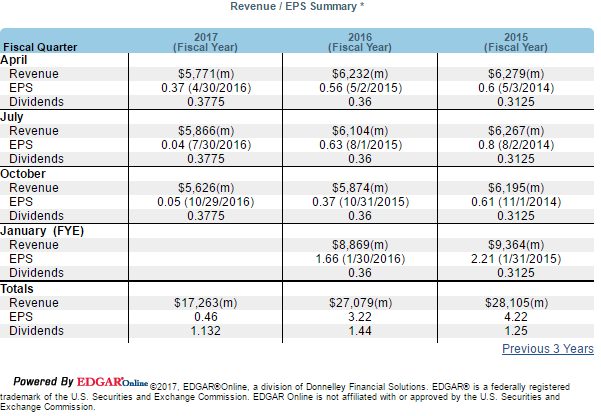 To continue paying out large dividends, Macy's must increase earning and/or obtain external financing. The former has its own challenges, given the store closures, persistent hardship for traditional retailers, lack of resources to reinvest back into the business, and other internal issues. The latter warrants some discussions. Macy's can liquidate some assets, namely its real estate, but this again means taking future resources to maintain something unsustainable. The true extractable value of the real estate position is also questionable (discussed in more detail later). A simpler financing solution may be to acquire more debt, and indeed debt has been the most exploited channel in recent years. Looking at the ratios from the last 5 years (with red indicating bad and green indicating good), one can clearly see that debt has become alarmingly high and interest rate coverage is worsening quickly. The poor margin and store closure do not help either. While this doesn't mean immediate liquidity issues or dividend cuts, it does hint that any additional leverage needs to be carefully thought through.

Hudson Bay Company (HBC) Takeover Rumor
M's share price surged 12% late this week on rumor that HBC may be interested in a takeover bid. Many believe that the most likely scenario, if the deal were to go through, would be selling M's assets to HBC and Macy's leasing the operating rights back. After all, how does a company with $1.87B CAD (~$1.44B USD) market cap engulf another one with $10.51B USD market cap and approximately $7.5B debt? Assuming the potential takeout value is around $20B which is Starboard's estimate of M's real estate value, JV/HBC is likely able to borrow about $10B against the real estate to fund the purchase. The remaining half may be financed by selling additional equity interests in HBC's portfolios, borrowing against HBC's owned properties, and/or brining a partner. None of these options is quick and clean; therefore, investors are really exposed to more risk.
Furthermore, HBC itself has many worries. The company just lowered guidance after the holiday, citing continued retail/mall weakness and FX headwind. Having grown up in Canada, I distinctly remember that HBC stores had never been that popular with the crowd, barring holidays or major events (ie. The Olympics). It is also not a place popular with young people or fashionistas as the brand image is more mature. Going back to the financial, one may notice that HBC hasn't been profitable for three quarters in a roll. Debt burden is also quite high with Net Debt / EBITDA at 84.46. The company had to sell some business (Zellers) in late 2011 and announce a $1.6B IPO in late 2012 to raise money to pay down debt. Gauging from the CAD weakness and the sizes of more recent transactions (acquired Saks for $2.4B in 2013, Galeria Kaufhof for $3.2B in Sep 2015 and Gilt Group for $250M USD in Jan 2016), I hypothesize low probability of a large, quick, favorable takeout deal for Macy's investors.
Real Estate Properties
Ever since Starboard announced its $20B estimate of M's real estate, many have become interested in the stock hoping to unlock those value. It is dangerous to put money behind an investment pure because of activists and illiquid assets. Looking at Herbal Life and Valeant, we know that activists may be wrong and don't always succeed. If we learned anything from 2008, real estate valuation can also be fickle and liquidity can disappear quickly depending on market condition. With mall traffic declining significantly in the last two years, no one really knows how the estimate from 2015 has changed. On M's balance sheet, the net PP&E is $7.15B. According to Green Street Advisors, 80% of Macy's mall stores are in A or B malls, an industry designation for the highest grossing malls, vs. 70% for Penney and Sears. The Cushman & Wakefield's estimate for J.C. Penney's properties was $3.3B back in 2013. Even though the numbers are a bit dated, it is still hard to see the $20B.
Ultimate the question investors seek to answer is that how much I can reasonably get back. This value is most likely less than $20B. M's management has been focusing on selling some properties. However, most properties sold are in non-prime locations and therefore the sales don't move the needles in term of returning shareholder value. If $20B is the total value of the properties, then the company needs to liquidate them to extract the value. Then the question becomes, can M still get favorable pricing if the buyers know its desperation? Also, if properties are sold, do the sales impact the normal retail business? After all, share price is still largely influenced by sales growth, margin etc.
To conclude, while the late drop in share price and the subsequent deal with HBC mark some unusual green shoots in M's future prospect, there is still no value offered to investors. The dividend policy and balance sheet still look very concerning. Investors should refrain from falling into the value trap.
Disclosure: I/we have no positions in any stocks mentioned, and no plans to initiate any positions within the next 72 hours.
I wrote this article myself, and it expresses my own opinions. I am not receiving compensation for it. I have no business relationship with any company whose stock is mentioned in this article.