For most people who have been following Gildan Activewear (NYSE:GIL), the company has been a phenomenal growth story with double-digit revenue and earnings growth through being an strong leading competitor and low cost producer. However, this significant growth may be done for the company with signs from their recent quarterly performance, shareholder return-oriented capital allocation plans, and recent competitor performances indicating that their strong growth-orientation might be done.
With the most recent year, Gildan's recent three quarterly filings for FY2016 show that company has been slowing down in both of its two categories, Printwear and Branded Apparel. Their Printwear division has been experiencing negative organic growth given the exit of certain private label brands as well as lower demand. The recent year's nominal growth over the previous year's quarter has been mostly on the reliance of small acquisitions. Similarly, the Branded Apparel division is facing a similar situation but it is still showing signs of positive organic growth. Revenues on the Branded side have been falling in acceleration - from its high single digit to double-digit organic growth in the past few years to the low single digits reported this year-to-date.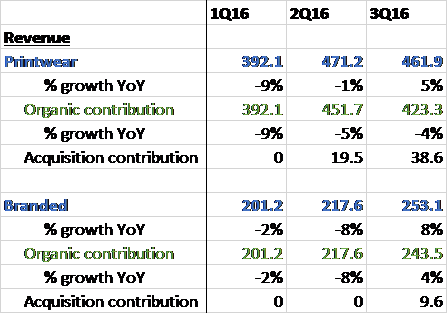 Furthermore, the company has been very focused on giving back to shareholders through double-digit dividend increases (+20%) as a well a share repurchases (up to 5% outstanding shares) more recently. Since 2011, the company has been raising its dividends by 20% but did not start its repurchasing shares until this year; probably because it was using a bulk of its capital to reinvest into the business. An ongoing double-digit dividend increase and a surprisingly significant increase in share repurchasing activity this year are strong signs that the company is targeting or attracting more value and income-oriented investors. In the past three quarters, the company has really ramping up the use of cash for share repurchases and have even noted increasing borrowings to make them. Whereas the actual use of cash flow to ramp up core capex has been relatively stagnant, they have using their cash for further acquisitions although it is really tough to say if the recent acquisitions will be material enough to revive the company's growth given their small sizes.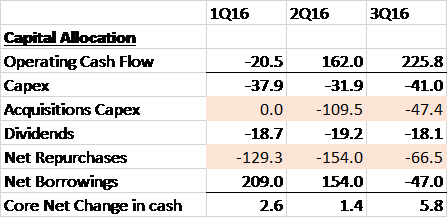 On different note, Hanebrands (NYSE:HBI) reported their Q4/16 results just recently. The much larger competitor has shown that there are ongoing struggles within the industry and set their sales guidance down. The company is a direct competitor to GIL in the Printwear space, has seen declines in traffic for similar products in their stores and overall lower inventory orders by customers on the wholesale side. However, Hanesbrands does recognize that the double-digit growth in international and online sales have been a strong support and opportunity increase sales in the future. GIL also has reported in their recent Q3 that international sales and online sales are also growing at rapid rates in the double digits. Although these two sales categories are still not material enough at the moment (combined <10% sales), these strong growth rates could eventually make for a more meaningful impact in the near future. My concern however, is that International trade may be hampered by the recent Trump administration policies in advocating domestic sales and production. Furthermore, online sales may also face issues of cannibalization on the core sales and face even higher competition against larger players such as Amazon.
Disclosure: I/we have no positions in any stocks mentioned, and no plans to initiate any positions within the next 72 hours.
I wrote this article myself, and it expresses my own opinions. I am not receiving compensation for it (other than from Seeking Alpha). I have no business relationship with any company whose stock is mentioned in this article.