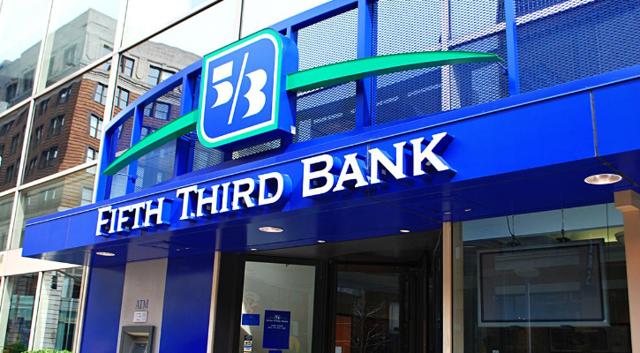 Fifth Third (NASDAQ:FITB) has rallied a bunch along with the rest of the group but, also like the rest of the group, has failed to push higher after its Q4 report. FITB has struggled in the past few quarters to remake itself into a bank that is actually growing and for that reason, I've been cautious on it. There are many banks of all sizes that are poised for lots of growth in 2017 and beyond but FITB certainly isn't one of them. The Q4 report showed yet again why FITB deserves to trade at a discount to its peers and I definitely don't see any reason why that should change anytime soon.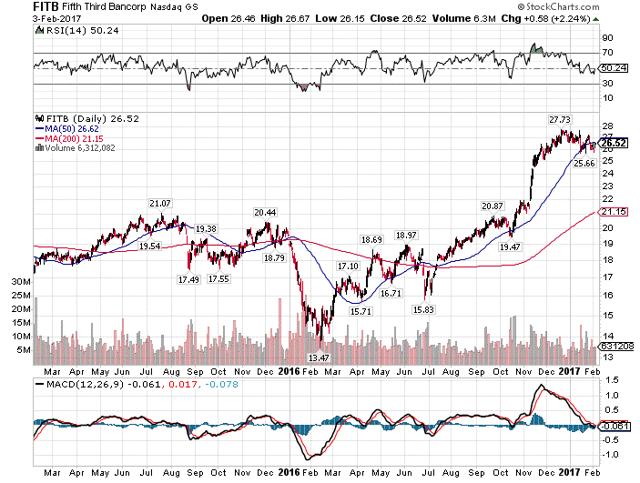 The problem with FITB is that it is simply unable to grow. This is a time of great expectations in the banking space and indeed, those expectations are being met head on by many of FITB's competitors. But FITB has proven unable to meet that challenge and that was true once again in Q4 as its metrics were weak.
All of FITB's revenue metrics were flat in Q4, starting with net interest income. That number was negatively impacted in Q4 by refunds to bank cardholders but even if we exclude that, NII was up fractionally over Q3. The same story is true of NIM, as it was down against Q3 but if you exclude the refunds, it was up fractionally. But apart from that, loans and leases were flat against Q3. They were also flat against last year's Q4, meaning that FITB continues to dawdle and remains seemingly uninterested in growth. At a time when its competitors are aggressively - but prudently - going after growth, FITB sits on its hands. That is perhaps a bigger concern than flat NII and NIM because as rates move higher in 2017 and beyond, those that chase market share will grow and those that don't, won't. FITB is firmly entrenched in the latter group and that's a huge negative when evaluating the stock.
The other thing is that FITB's loan-to-deposit ratio is already absolutely huge at around 90%. I'm not aware of another large bank with an LTD ratio that high and what it means is that, essentially, FITB is tapped out. It cannot grow its loan book because it is already very highly leveraged on its deposits. Further growth from here would require issuance of debt of some sort and regulators aren't as friendly to massively leveraged deposit utilization as they once were. FITB is going to struggle for a very long time to grow and that should be reflected in the stock price; it's inferior to its competitors and there's no other way to put it.
Noninterest expense was down 1% against Q3 and that's fine but FITB's efficiency ratio is still in the low 60s. It isn't as though FITB is a model of efficiency and there are two problems with this. First, progress has been very slow indeed in terms of improving its costs. The cryptic Project North Star presumably has some cost saving initiatives built in but details are scant. Even so, keep in mind that FITB has extremely high costs against revenue despite using $94B of its $104B in total deposits on loans and leases. I made the point that FITB's LTD ratio was very high and that it would inhibit loan growth. But it also means that despite all of this leverage, its costs are still very high and if it were to deleverage a bit - say, into the mid-80s - its efficiency ratio would almost undoubtedly rise due to lower revenue. If FITB cannot produce any sort of acceptable efficiency ratio at 90%+ LTD, what in the world is going to change that?
FITB doesn't have a buyback to speak of as its share count is usually flat, with Q4 being no exception. The thing is that 2017 earnings are going to be lower than 2016 by a high single-digit margin and that is on a decline in total sales. Remember that 2017 is the year of growth for financials via higher deposit utilization and higher rates but FITB is once again being left out in the cold. The disconnect between FITB's fundamentals and outlook is enormous against its competitors and there is simply no reason to own this stock.
At nearly 15 times earnings, FITB is a bunch cheaper than many of its competitors. The problem is that, at a time when financials are producing very high growth rates, FITB is struggling to produce even flat earnings. Its extremely high LTD ratio and slow progress on expense management mean that the road ahead is going to be bumpy in terms of earnings growth. There simply aren't any meaningful levers it can pull to impact its growth trajectory and that means FITB is a hard sell. If you want to own a bank, you can own one with a much better yield, better expense leverage and revenue growth. FITB is none of those things and should be sold immediately.
Disclosure: I/we have no positions in any stocks mentioned, and no plans to initiate any positions within the next 72 hours.
I wrote this article myself, and it expresses my own opinions. I am not receiving compensation for it (other than from Seeking Alpha). I have no business relationship with any company whose stock is mentioned in this article.