To what extent should you buy a stock on the broad capabilities of the business rather than its valuation per se? This is the dilemma posed by Chubb (NYSE:CB)
The stock isn't expensive. The PE 12-13x for 2017-2018. The yield, at 2%, is OK and a $1bn buyback facility has been approved. This will only allow the share count to reduce by around 1.6% annually, however, and therein lies the difficulty. The earnings yield is about 7.6%, and the capital return outlook is for about half of that. Consistent with the residual growth from retained earnings, 4Q tangible book growth was about 1% QoQ.
I often look for "10% economics" as an entry point to insurers, meaning a 10% ROE, 1x BV and PE of 10x. Chubb now trades above this in the medium term value frame. For this reason, I would not add to a position here but would continue to hold and not just because Chubb's earnings yield anyway competes quite well with likely returns from the SPX.
One reason is that Chubb's ROE of 10.5% in 2017 might improve near term (which means my guess on EPS might be too low). This is because cat losses were quite high in 2016, at a level CEO Evan Greenberg described as "elevated" on the 4Q earnings call, and if these costs abate the underlying picture should be a little stronger. The combined ratio deteriorated across 2016 to 87.6 from 87.3 due mainly to the cat losses. Ex-cat losses, there was in improvement: 87.1 vs 88.6
However, the main reason to hold is strategic. Chubb is the largest listed P&C insurer globally and is able to underwrite risk on a scale that few companies can compete with. This does not necessarily give Chubb stronger margins, although the company's combined ratio is the best in the business for a large P&C firm, but it gives it more options when contemplating which business it wants to write and therefore to contain margin pressure. This renewal pricing on P&C has contained price pressure to about 2%. This is important in a soft market, which persists in P&C globally, and it makes the business a likely long term winner.
By participating outside pure P&C, in A&H and crop insurance, Chubb enjoys a broader spread of business than many competitors. Crop insurance was very strong in 2016, offsetting the ongoing pressures in P&C.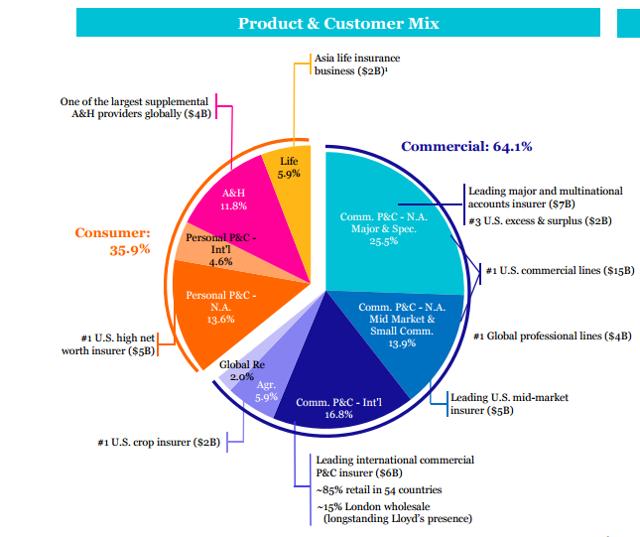 Company Data
It is also worth keeping in mind Chubb's sensitivity to higher rates given its generally short duration books. The company estimates this at 1.75% of ROE for every 100bps of investment yield or 15.9% EPS if we assume that underlying operating ROE on normalized cat losses would be 11%, which is a realistic prospect over the next 2-4 years. This is constrained to some extent by the FX impacts that higher rates would exert on Chubb, which gets about one-third of its revenue from non dollar sources and it is better not to build in either effect until the dollar has embedded its post Trump lift. It's likely the dollar will move higher at some point in a risk off move due to Trump's apparent determination to alter the terms of trade with China and ambivalence towards the European Union. The current P/B for 2018 looks to be about 1.15x. If Chubb could add 100bps to ROE by then, we would be looking at a fair value of 1.3x assuming a cost of equity of 10% and growth of book value at 4%.
CEO Greenberg made a point of saying he expects faster growth in 2017. This indicates management is aware of the valuation having crept up and now that the bulk of initial integration work is behind the merger, will look to step of the gas a little more.
Conclusion
Chubb has appreciated 79.6% over the last five years against a 71.1% gain in the S&P (SPX). The valuation is not stretched in absolute terms and is very comfortable vs. the S&P while the CEO's statement that Chubb should grow faster should also help sustain the outperformance vs. U.S. equities.
Disclosure: I am/we are long CB.
I wrote this article myself, and it expresses my own opinions. I am not receiving compensation for it (other than from Seeking Alpha). I have no business relationship with any company whose stock is mentioned in this article.