Despite uncertainty around executive-branch trade policies, economic indicators point to a strong economy and a market that still has room to run.
Investor LEI
The Investor LEI dropped slightly to .937 in January, from .952 in December, but remains strongly bullish. This indicator is designed to lead the Fed's USLEI into recessions, and attempts to avoid sources of significant revision. It ranges between +1.0 and -1.0, with positive readings indicating a strong economy and negative readings predicting recession.
The Fed's Leading Economic Index for the United States increased to 1.17 from a revised 1.13, but was revised significantly downward back to September 2016.
A chart of both indicators for the past 12 and 35 year periods are shown alongside the S&P 500 index below.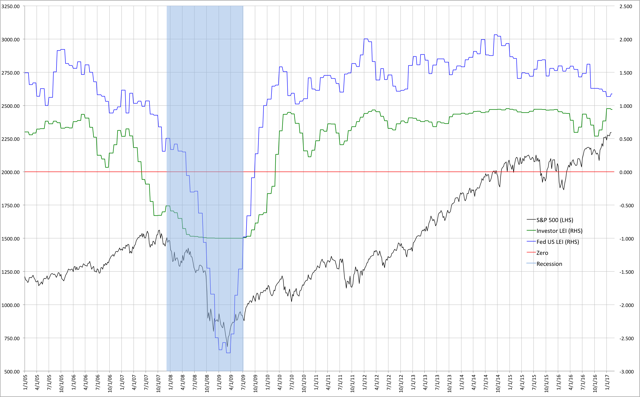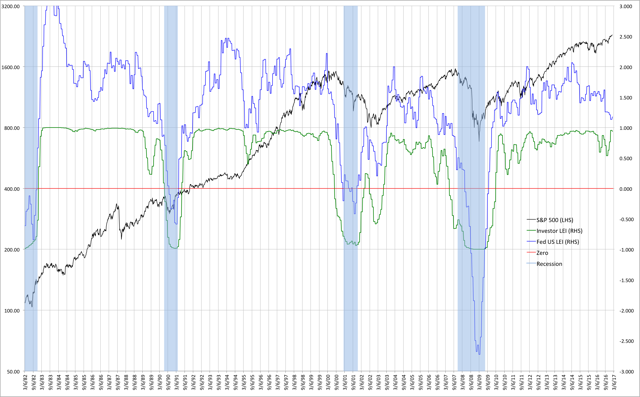 EQ Indicator
The EQ Indicator for January dripped to 1.43 from 1.49 in December, indicating that current price levels are well-supported by financial capital flowing into the economy and predicting above-average growth over the next year.
The EQ indicator tracks equilibrium between the market and financial capital entering the economy. It indicates whether the price of the S&P 500 is in-line with historical norms for current capital flows.
Indicator values below zero indicate the stock market has outpaced new money entering the economy, and the market is in dangerous territory. An indicator value of 1.0 is the average value over the past 50 years, and indicates a potential for average market growth. An indicator of 2.0 and above is a very bullish sign and indicates a potential for above-average market growth.
The charts below show the EQ indicator over the past 4 years and 23 years, respectively.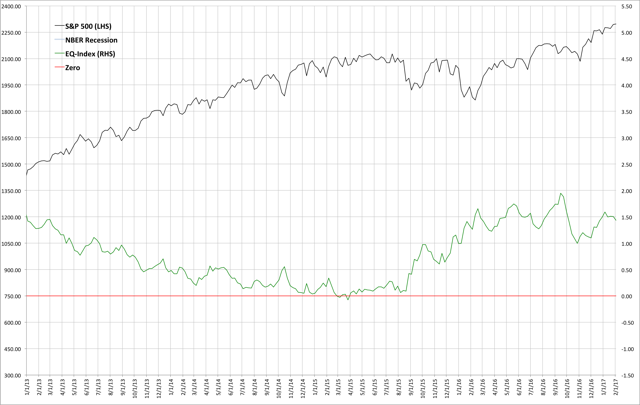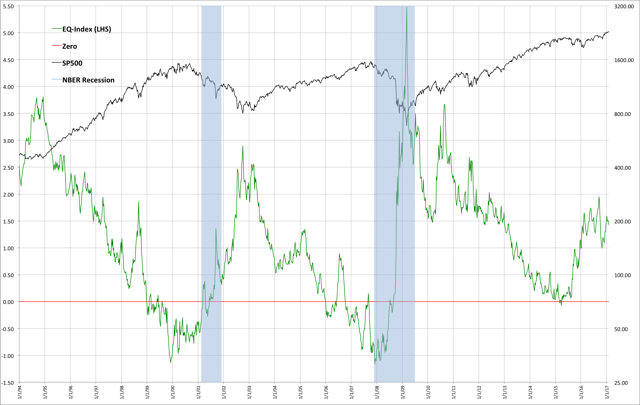 S&P Price-Channel Indicator
The S&P Index ended January at 2278.87, well within the range of the indicator (1995-2409). This indicates the index is neither overpriced or underpriced at this time, and capital flows indicate there is further headroom available from a financial capital viewpoint.
The price-channel indicator correlates (delayed) capital flows into the economy with S&P index levels. A 14-year chart of the price channel is shown below: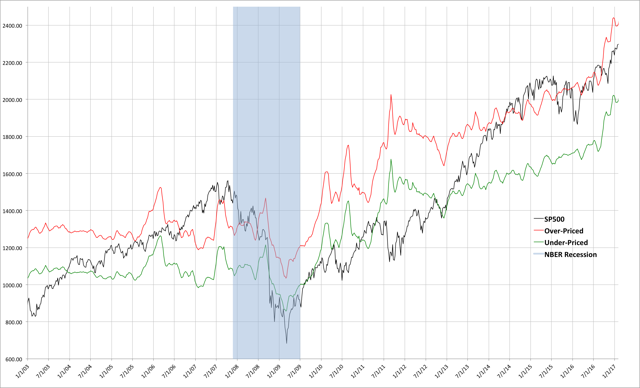 Because the indicator is based on delayed measurements, future values for the indicator can be calculated from existing data by estimating the dividend yield of the S&P 500 (approx 2.0%).
Please note the actual value of the S&P 500 index is determined by market participants, and is often outside the indicated channel. The price channel does not predict future values of the index. It merely indicates the price levels that would be supported by financial capital that has already been raised in the credit markets.
Risk-Tolerance Indicator
The Risk-Tolerance indicator rose to .882 in January from .860 in December. The indicator ranges from -1.0 to +1.0 and remains very bullish, near 16-year highs.
While not strictly an economic indicator, it is helpful to track the appetite for risk by investors. Entry into bear markets is usually preceded by a markedly deteriorating appetite for risk by market participants. The Risk-Tolerance indicator is based on the volatility spread between traditionally risky equities, and those considered to be traditionally safe. Positive values indicate that investors are exhibiting a tolerance for risk, while negative values indicate risk averseness in the market.
A 17-year chart of the Risk-Tolerance indicator is shown below.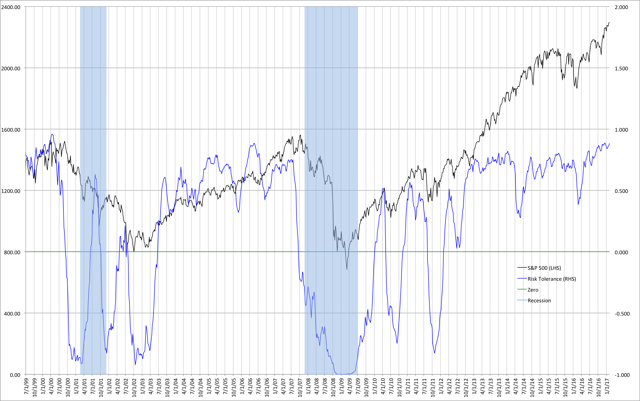 Links to current data and detailed explanations of these indicators can be found here and on my Instablog.
Sources: Author, Standard & Poors, Federal Reserve, NBER.
Disclosure: I/we have no positions in any stocks mentioned, and no plans to initiate any positions within the next 72 hours.
I wrote this article myself, and it expresses my own opinions. I am not receiving compensation for it. I have no business relationship with any company whose stock is mentioned in this article.