A number of years ago singer Meghan Trainor came into the spotlight with her song "All About That Bass." Ever since then we have been humming that song to ourselves.
The premise of the song is that the models glorified in the media are fake and it is okay to be a bit on the bigger side.
Think about this, every year there are hundreds if not thousands of new ETF and mutual fund products that come to market and try to raise capital on some new principle or investment theory. Unlike years ago when ETFs were first launching, you now have a success rate resembling the odds of winning the lottery. I would even go so far as to say that the plethora of investment products being launched are as "fake" as the models we see in the media, advertising some unattainable goal while in reality achieve far different results.
Over the years we have seen ETFs and ETNs focus on covering every index imaginable. Once every mainstream index had a few ETF products we saw the emergence of levered and inverse products. That was followed by products that chased yield which lead to the current trend of "Dynamic" and "Active" exchange traded products.
Investors believe that having many choices is great, although anyone in the sales profession will tell you that too many choices is worse.
With the ETF products what was once a benefit to having a variety of index replicating ETFs has lead to over saturation and a situation where it is extremely tough to raise equity for a new fund. As such, a new ETF following yet another index may end up being shut down because it is significantly more challenging to raise equity for a new fund, no matter how GREAT the idea and the product may be.
Levered and Inverse exchange traded products were created to serve a purpose for traders and professionals as a short term hedging strategy yet were picked up by too many retail investors who were unfortunately hurt.
That trend was then followed by ETFs that chased yield, either through some dynamic take on a broader index or simply screening for the top yielders. Unfortunately yet again you had a variety of products that were launched originally catering to professionals that were abused or used improperly by retail investors such as UBS's (NYSE:UBS) E-Tracs ETN products. Throw up an 8% yield for ETNs such as the UBS ETRACS Wells Fargo Business Development Company ETN (NYSEARCA:BDCS) and you will have investors buying it simply for the yield without realizing or looking to deeply under the hood. Put a 2x Lever on it and you will have investors chasing a 22% yield in the UBS ETRACS Monthly Pay 2x Leveraged Mortgage REIT ETN (NYSEARCA:MORL) and fail to understand the massive leverage of the underlying funds that are exacerbated by the leverage of the ETN.
Finally of course there is the issue of the product structure itself, where ETFs and ETNs are thrown into one basket yet are completely different structures, one being a product backed by underlying asset with the other, ETNs, being a product backed the by the issuer's credit.
One company that I have been following over the years and have grown to respect is Pacer Financial, the distributor of Pacer ETFs.
PACER entered the exchange traded product market as a distributor for RBS products, including their Trendpilot strategies as well as the popular, at least in my eyes, Jim Rogers managed commodity ETNs.
Even though they were great ideas, as an advisor we did not direct a lot of dollars into the funds for two reasons. First, the funds did not gain a lot of traction and failed to raise meaningful capital. Secondly, and more important for me, the funds were structured as an ETN and not an ETF. Working at UBS as an investment advisor dealing with the structured product fiasco during the Great Financial Crisis will make you think twice about fund structure and issuer risk.
Eventually RBS pulled out and PACER took it on themselves and rebranded the TrendPilot funds and brought them in-house. Sean O'Hara earned a lot of my respect when they addressed my issues and restructured the products to make them ETFs.
All About That Cash
Staying with our theme of fake models and unrealistic expectations described in the song "All That Bass," let's change the word "bass" with "cash" and you will have a song that every investor should listen to.
In the last few weeks I received a marketing piece from PACER introducing two new exchange traded products that seem to hit on all cylinders, the PACER U.S. 100 Cash Cows ETF (BATS:COWZ) and the PACER Global Cash Cows Dividend ETF (BATS:GCOW).
I would ordinarily do a deep dive into each of the funds however as fellow Seeking Alpha contributors have done so for both of these recently I will focus on these funds from a different perspective, looking at this to determine if these are viable long term investment options worthy of your consideration.
True to the theme of our song, these ETFs focus on arguably what matters most for the long term health of the investment, Cash Flow.
In the immediate past we have seen a number of mutual funds and ETFs that focused on dividends. What made them different from traditional dividend focused ETFs that screen for stocks with the highest dividends was that these new products were looking for companies that were growing their dividend, and not merely on looking at the current dividend rate.
Working as a financial planning and an investment advisor who started in the industry just a few short years prior to the Great Financial Crisis has made me a conservative investor and someone who takes nearly everything with a grain of salt. As such, even though I understand and like the premise of dividend growers, my main point of concern is that merely showing growing a dividend does not reflect the underlying strength of the company. You can surely increase your dividend payment while having lower profits by increasing the dividend payout rate. Financial engineering is everywhere, call me a cynic.
As a result of the above experiences I have come to appreciate the few funds that have focused on the underlying fundamental financial metrics that should serve to identify healthy companies for the long term.
As per Pacer:
Free cash flow is the cash remaining after a company has paid expenses, interest, taxes, and long-term investments. It can be used to buy back stock, pay dividends, or participate in mergers and acquisitions.

The ability to generate a high free cash flow yield indicates a company is producing more cash than it needs to run the business and can invest in growth opportunities.
Source: Pacer Financial
Pacer Financial has recently launched two funds to capitalize on this theme, available in both a U.S. domestic large cap and global varieties.
Fund Basics
Pacer originally launched the Pacer Global Cash Cows ETF in February 2016 under the ticker symbol PGHD. It has recently been rebranded with a new ticker symbol, GCOW.
The fund has raised over $45 million in assets and carries an expense ratio of .60%. The current yield is 3.31%.
The fund applies the cash flow screen to the FTSE 1000 Developed Large Cap Index and is a global fund.
The Pacer U.S. Cash Cows 100 ETF is a newly launched fund (12/16/16). It applies the cash flow screen to the Russell 1000 index.
The fund has raised about $4 million in the a few weeks since inception and carries an expense ratio of .49%. The dividend yield as of 12/6/2016 is 2.13%.
The Strategies
One item that bothers me a bit about ETFs are funds that employ a proprietary index methodology that cannot be replicated. Perhaps it is a philosophical issue but ETFs were built upon two premises, transparency and passive investing. ETFs with an undisclosed proprietary investment methodology simply do not sit right with me.
One thing to admire about Pacer is that while their indexes are proprietary, their methodology has been transparent and easy to reproduce, particularly with the TrendPilot line of fund such as (BATS:PTLC), (BATS:PTMC) and (BATS:PTNQ). Having a transparent methodology gives you the ability to validate the investment methodology independently.
The two new Cash Cow ETFs follow in the same footsteps... for the most part.
The first fund that I looked at was the global ETF.
Throughout the marketing material and summary prospectus you are able to clearly see the fund's investment methodology which you are be able to reproduce for yourself.
Below is a screenshot from the website where one graphic clearly explains how the equities are selected for the ETF.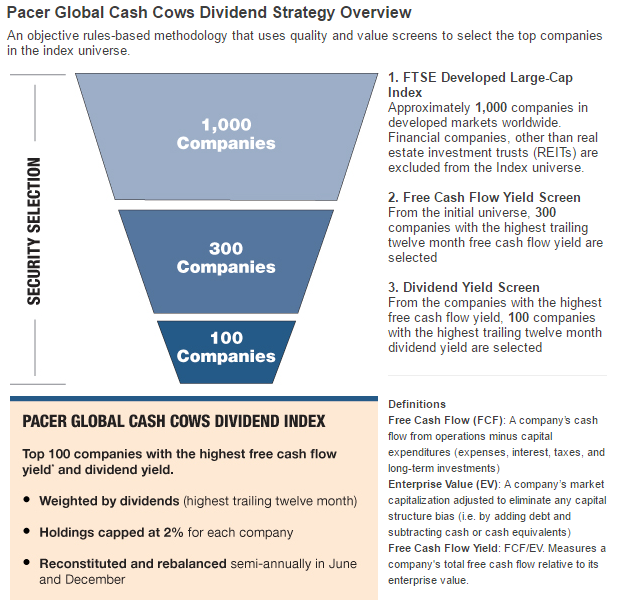 Source: PACER ETFS
While I did not have the ability to screen the specific index used, I was able to replicate the domestic names chosen for the portfolio.
Where things differentiate is with the newly launched U.S. Cash Cow fund.
Below is a snapshot of the strategy used for the domestic fund as described throughout the marketing materials.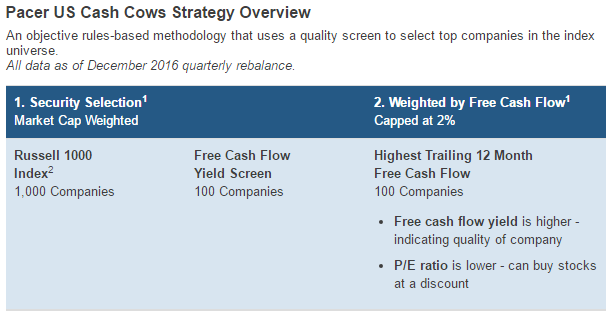 Source: PACER ETFS
Looking at the strategy for the domestic fund we know that we are starting out with the Russell 1000 Index. Where things get murky is the methodology of screening the 1,000 down to 100. In the second step we know that the portfolio is weighed based on the highest FCF of the 100 chosen, however how the 100 were initially screened is murky.
In my own trials of trying to recreate the portfolio I have thus far been unsuccessful.
Below is a screenshot comparing side by side the 100 securities I was able to screen for based on FCF and Dividend Yield sorted by FCF, next to a spreadsheet of the daily holdings of the ETF. The only names near the top that are on both the screen and holdings are Ford (NYSE:F) and Kohls (NYSE:KSS). Many higher cash flowing names such as Metlife (NYSE:MET) and Prudential (NYSE:PRU) are missing.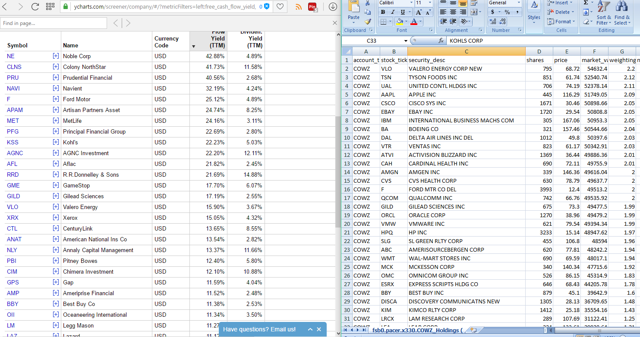 Source: YCharts & PACER ETF Daily holdings report.
Performance
I debated including this section for the simple reason that one of the funds has just launched and the other has had less than 1 year of performance. It would be difficult to justify 11 months of trading as meaningful long term track record especially in a community where we look for meaningful Alpha over longer time frames. At the end I decided to include this section anyway as it will add to the discussion.
Below is a chart comparing the performance of the Pacer Global Cash Cows ETF to the S&P 500 ETF (NYSEARCA:SPY) along with 2 global dividend ETFs, the SPDR S&P Global Dividend ETF (NYSEARCA:WDIV) and the WisdomTree Global High Dividend ETF (NYSEARCA:DEW).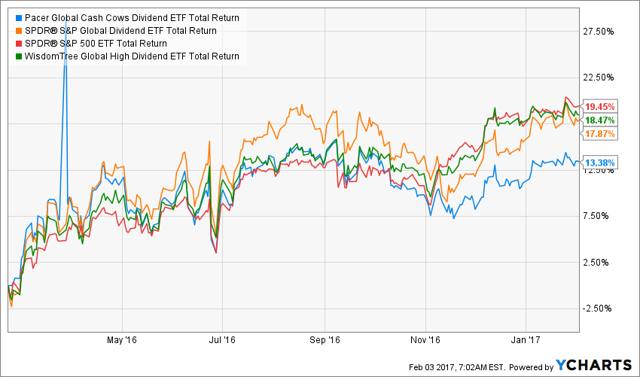 As we can see, the PACER ETF has performed right in line to slightly ahead from launch through September 2016 at which point it has meaningfully trailed through today. The spike that we see in Q1 2016 is likely a result of someone failing to use limit orders to purchase a thinly traded ETF.
The one thing take note of and that must be kept in mind is that the fund has gone through more than just a name change.
High Yield dividend ETFs are predominately focused on one thing, sorting out securities that are paying the highest distribution. As such, those ETFs would lean more towards higher yielding, lower quality securities. This is what this fund used to be at launch. This is also the reason for the creation of a number of new dividend themed funds that prioritize the growth of the dividend, and not the dividend itself.
With the reinvention of this ETF into a vehicle seeking out investments that have the greatest free cash flow and thus a higher quality balance sheet, this fund should also start to resemble a lower beta investment. That relationship would likely show up in the relative underperformance compared to higher yield, higher beta investments during a broad market run up such as what we have seen since President Donald Trump has been elected.
Conclusions and Final Thoughts
I believe it is too early to make a meaningful determination on either of these two funds. I do believe quite strongly that both of these are worth a look and deserve a place on your watch list.
Over the years I have come to appreciate PACER as a sponsor and what they are doing for the exchange traded product space. They have shown they can introduce innovative products while not being too out of the box. More importantly during the transition from distributing funds for RBS to in-house solutions, they have shown that they are willing to listen to feedback and introduce products that advisors want.
As a retail investor if there is a downside to PACER as a distributor, it is that their focus today is on distributing products through the advisor and institutional channels, therefore retail investors should not expect direct to investor outreach that you would expect out of iShares.
What I like about the funds is that they focus on solid fundamentals as evidenced through the Free Cashflow Yields. While this should not be a fund that is looked at to have market beating performance during a broad market rally, it should be a fund that outperforms over the long term through its lower beta during sideways and down markets.
Out of the two funds I would be closer to investing in the global ETF over the U.S. fund simply due to the more transparent index methodology and the ability to recreate and validate the performance. Both of these funds will surely be on the short ETF watchlist.
For more about ETF and Mutual Fund investing check out WealthyIQ.com article.
For further information about these ETFs, visit the sponsor's website at PacerETFS.com
I believe in active management that works, and I am here to help you find those opportunities. Please follow me here on Seeking Alpha as we look for those opportunities and sort out the good managers from the mediocre.Simply click the "Follow" button next to my name at the top of the article or on my profile page.
Disclosure: I/we have no positions in any stocks mentioned, and no plans to initiate any positions within the next 72 hours.
I wrote this article myself, and it expresses my own opinions. I am not receiving compensation for it (other than from Seeking Alpha). I have no business relationship with any company whose stock is mentioned in this article.