Last week, I detailed the disappointing earnings report seen from retail and technology giant Amazon (NASDAQ:AMZN). The company had a large revenue miss, while a bottom-line beat was due to some items that helped the company further down the income statement. Also, Q1 2017 guidance was a bit disappointing. Part of the reason why Amazon continues to be a highly debated stock is its extremely low overall margins, which give the name a very high P/E ratio. Today, I want to explore this situation further.
Let's first look at AWS:
I wanted to start with Amazon Web Services, because this fast-growing segment of the company is something investors love to focus on. Amazon has been giving us more and more detail on this segment's financials in recent years, providing a good picture of how things are doing. Revenue growth has slowed on a percentage basis thanks to higher base numbers, but we still saw a 47% increase in Q4 2016 over the prior-year period. The more interesting numbers come in this segment's margins, seen below.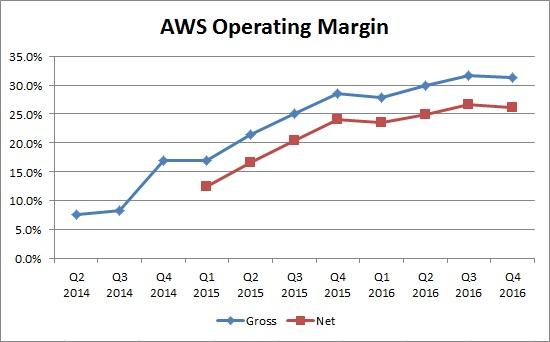 There are two different margins here, because what I call "gross" is before deducting stock-based compensation. This is the primary number Amazon originally gave us when it broke out AWS numbers originally, but now it is giving us this "net" number too. While margins are still up over the prior-year period, gains have slowed.
Stock-based compensation is now more significant. In Q4 2016, the difference between gross and net above was 5.1 percentage points, up from 4.4 points in the year-ago period. I'm curious to see how these margins fare over the next few quarters, because management talked about seven price cuts on the conference call. Those were timed for December 1, so they only had one-third of a quarter's impact in Q4. If competition from the likes of Google/Alphabet (NASDAQ:GOOG) (NASDAQ:GOOGL), Microsoft (NASDAQ:MSFT), and IBM (NYSE:IBM) force lower margins, recent gains may soon be lost.
Taking a look at the overall income statement:
The rise in AWS, combined with a shift to more third-party sales, has done wonders for Amazon's gross margin figure in recent years. Unfortunately, we're getting to the point where the biggest gains are providing the hardest comparisons. In the chart below, you can see how quarterly gross margins have improved over two years, for instance, Q4 2014 to Q4 2016.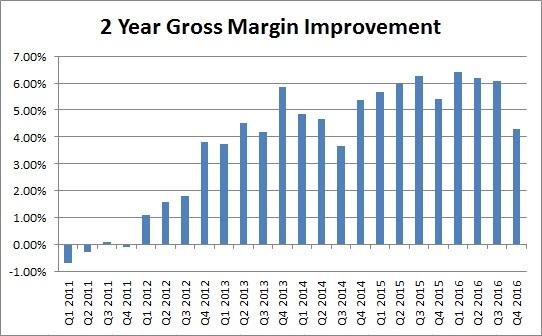 Starting in Q4 2014, Amazon saw eight straight quarters where the two-year improvement was over 500 basis points. After a while, it is nearly impossible to continue that pace, which is why, in Q4 2016, we saw the number drop a bit. If we are getting to the point where gross margin gains are quickly evaporating, it would be a big issue for Amazon. This is because, as seen below, gross margin gains have not really flowed to the operating line in recent years.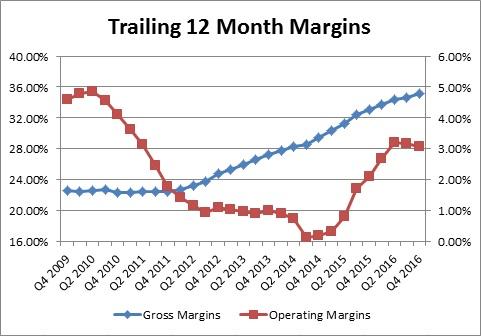 The recent increase in operating margins has stalled, and it is due to the usual suspects highlighted by the Q3 disappointment. Amazon's operating expenses continue to soar, at times much faster than the rise in revenues and or gross margins. In fact, Q4 2016 saw a 23 basis point decline over the prior year's operating margin, primarily thanks to a 43.2% increase in marketing expenses and 83.6% increase in general and administrative expenses.
This situation apparently won't improve in the near term, based on Amazon's Q1 guidance. The company is projecting operating income of $250 million to $900 million, down from $1.1 billion in the prior-year period. That's despite revenue growth projected in the mid to high teens or even low-20s, percentage wise. This is likely a result of the gross margin comparisons getting tougher as I showed above, combined with operating expenses rising at too fast a rate. At some point, Amazon has to slow down its spending or start achieving some efficiencies on scale.
Down to the bottom line:
When it comes to headline results, Amazon and Apple (NASDAQ:AAPL) provide a good case study. Most investors focus on two numbers, revenue and earnings per share. When looking at the true bottom line, we are talking about net income, because it usually is the primary driver of earnings per share.
However, take a look at Apple's most recent quarterly income statement. You will notice that the company reported a $470 million decline in net income, yet diluted earnings per share rose by 8 cents to $3.36 for the period. That's due to Apple's massive buyback, which reduced the diluted share count by more than a quarter of a billion shares over the prior-year period. Now, let's take a look at how Amazon's yearly diluted share count has fared.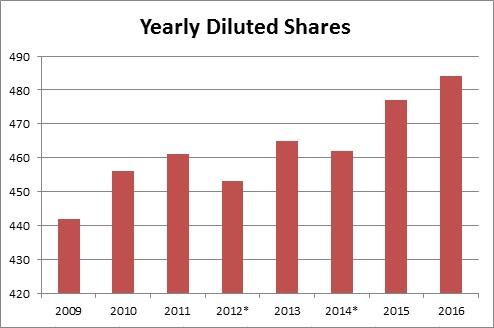 *Diluted shares exclude anti-dilutive securities during year where overall loss is reported.
Those two decreases aren't representative of the true picture since the loss years allow the company to report a lower share count. Basically, from 2013 to 2016, Amazon's yearly diluted share count rose by about 4%. That may not seem like much, but when we get to the point where analysts are looking for say $10 a year in earnings per share, you're talking about an EPS impact that becomes more than dimes and quarters. The more Amazon pays out stock-based compensation without buying back shares, the worse the EPS picture gets for a given level of net income.
There is one thing that is clear here, and that is that overall profit expectations for Amazon have come down. However, things can be very volatile quarter to quarter depending on beats/misses and guidance. The chart below shows how the average 2017 EPS estimate has changed since Amazon reported final 2015 results.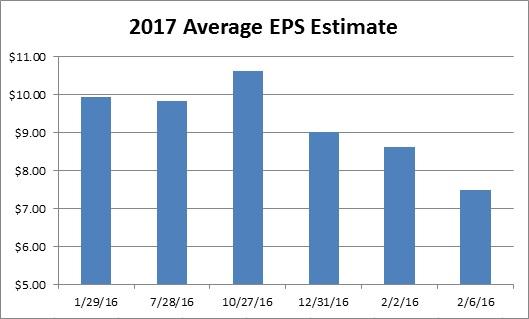 The most recent dip has to do with both the surprising Q3 2016 miss along with weak Q1 guidance. Analysts continue to see Amazon spending at a very high level going forward. With this current level of projected earnings, it's easy to see why there is such a debate over this stock that trades at more than 108 times this year's expected earnings.
Final thoughts:
Today, I tried to best explain the margin situation at Amazon, because it sometimes isn't clear how this company's results vary so much from the top to bottom lines. While gross margins have risen thanks to AWS and a rise of third-party sales, these gains don't always show up further down the income statement due to heavy operational spending. As revenue percentage growth continues to slow due to higher and higher base numbers, it will be interesting to see if investors focus more on the bottom line. For a stock that trades at a super high valuation, that's not the most comforting thought.
(Source note: All chart data taken from Amazon's quarterly results page, Yahoo Finance analyst estimates page, and SEC filings page)
Disclosure: I/we have no positions in any stocks mentioned, and no plans to initiate any positions within the next 72 hours.
I wrote this article myself, and it expresses my own opinions. I am not receiving compensation for it (other than from Seeking Alpha). I have no business relationship with any company whose stock is mentioned in this article.
Additional disclosure: Investors are always reminded that before making any investment, you should do your own proper due diligence on any name directly or indirectly mentioned in this article. Investors should also consider seeking advice from a broker or financial adviser before making any investment decisions. Any material in this article should be considered general information, and not relied on as a formal investment recommendation.