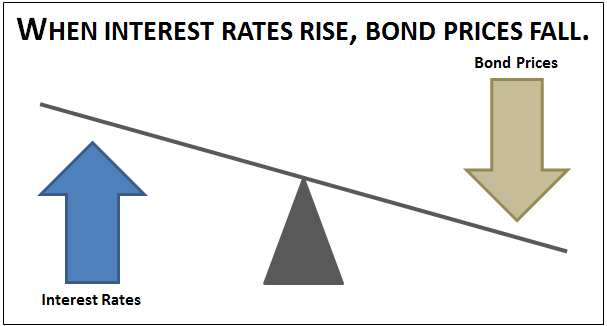 Last July I warned about a top in interest rate sensitive assets, and a bottom in interest rates. I hope that you listened to me. I almost caught the exact bottom in rates. Bonds have come down significantly since then as rates are rising.
Several weeks later, I also warned about "unprecedented risk" in the bond market. I continue to make the same claim today. This creates a real dilemma for retirees that need income.
In September I offered several solutions for investing for income in a rising interest rate environment, they have done very well since then. I run several portfolios, along with a rising rate income portfolio, here is an example of just one holding from that portfolio. It currently has a dividend yield of 7.8% and it is breaking out to new highs!
The income investor has relied heavily on bonds over the last three-plus decades. Even though rates on those bonds have been falling during that time, capital appreciation in a falling interest rate environment has more than made up for the low rates.
CD investors, on the other hand, only saw rates dry up, and did not participate in the capital appreciation of a bond market gone wild. Going forward however, they are likely to see better returns without the chance of capital depreciation in a rising interest rate environment.
Here is a chart of U.S. treasury rates over the last fifty years. Rates have gone down, down, down.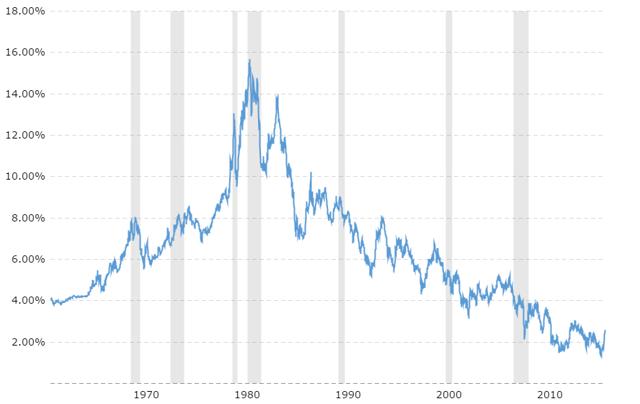 (Source: Trading Economics)
In fact, rates hit a 5,000 year low back in July of 2016!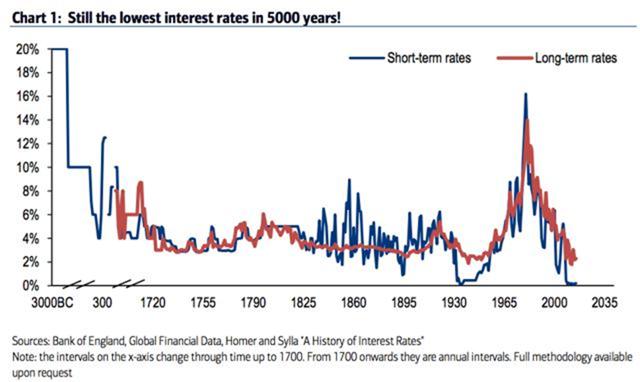 Interestingly enough, the U.S. long bond, as measured by the ETF (NYSEARCA:TLT) has outperformed the S&P 500 over the last ten years. This is an anomaly. This is not supposed to happen. Well, the bond market has had the wind at its back over the last ten years.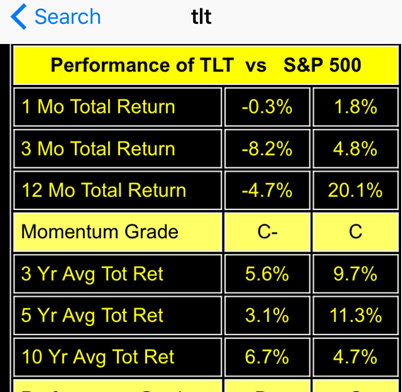 Data from BestStocksNowApp.com
No wonder that bonds have delivered "outsized" performance over the last decade. No wonder that Bill Gross became a rock star in the industry as his Total Return Fund became the largest mutual fund in the world. Interest have been going lower and lower.
That was then, this is now however. Notice how bonds have fallen far, far behind stocks recently however, as interest rates have now begun to rise. In fact, the long bond is now NEGATIVE over the last twelve months, while the market is up by over 20%! Also keep in mind that rates are now just beginning to normalize. This is a sobering thought.
Today's traditional asset allocation model recommends that a 65 year old should have about 65% of his or her assets in the bond market. This model has worked well over the last many decades. But, keep in mind that interest rates have been falling during this time.
How will this model work in a rising interest rate environment?
Not so good.
Maybe it is time to have a long discussion with your wealth manager or robo-advisor. What does he, she, or it plan on doing in a rising interest rate environment? Does the traditional asset allocation formula allow for a heavy dose of logic, or does it continue to robotically do the same re-balancing every three months that it has always done?
It would appear that rates finally bottomed back in early July of 2016. Once again, I got lucky in almost calling the exact bottom rates. At the time, I used a combination of extreme utility and REIT valuations, along with a changing mood at the Fed to make my call. I also threw in a little common sense for good measure.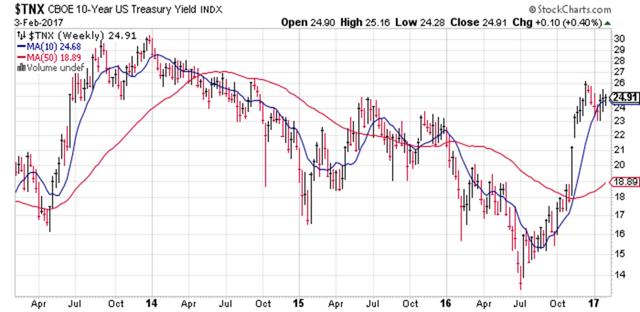 It would now also appear that rates are now beginning to "normalize." That is a very scary thought for bondholders and investors in the traditional "asset allocation" model. Fed funds rates were at 5.25% as recently as 2007! They are currently at 0.75%. In other words, we have a long way to go before rates "normalize."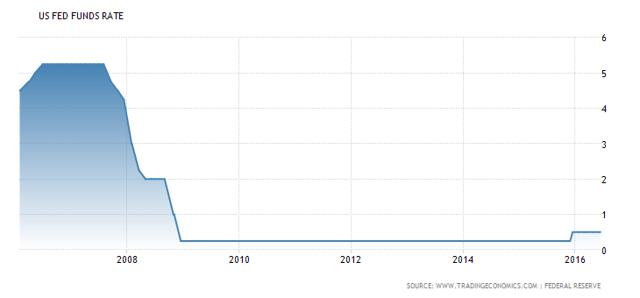 Since I wrote my warning about interest rate-sensitive investments back in July, gasoline has been thrown on the rising interest rate fire in the surprise election of Donald Trump. Why do I say that?
President Trump's pro-growth agenda is inflationary in nature. If his administration does achieve its goal of 4% GDP growth, then rates are headed much, much higher.
In addition to this, we now have a HAWKISH fed. They have signaled 2-3 more rates hikes this year and they are prepared to counter Trump's pro-growth agenda with more rate hikes.
I have a proprietary system that ranks 4,189 stocks, mutual funds, exchange traded funds, and closed end funds.
As you can see from the screenshot below, the Fidelity Spartan Long-Term Bond Mutual Fund (MUTF:FLIBX) is now at the bottom of the heap of mutual funds, yet it would be a typical holding in a traditional asset-allocation model. What are the prospects for it going forward? I will let you answer that question.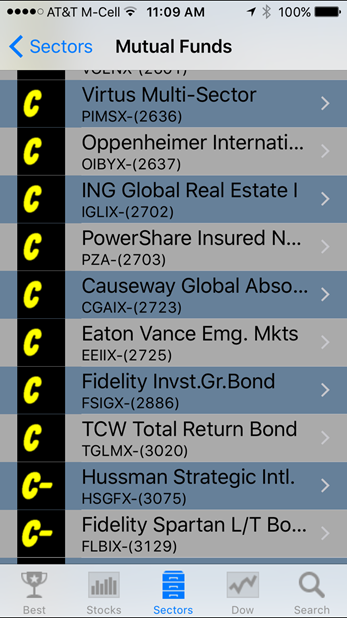 Data from BestStocksNowApp.com
The fund has gone down a whopping 17.2% since it early July 2016 high.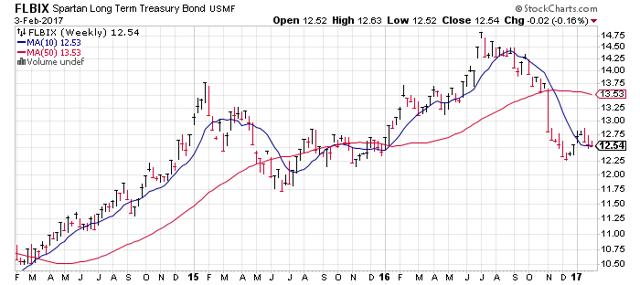 Notice how it has pretty much tracked the U.S. long-bond. This fund has also outperformed the S&P 500 over the last ten years. It has taken a beating over the last twelve months however, while the market is up over 20%.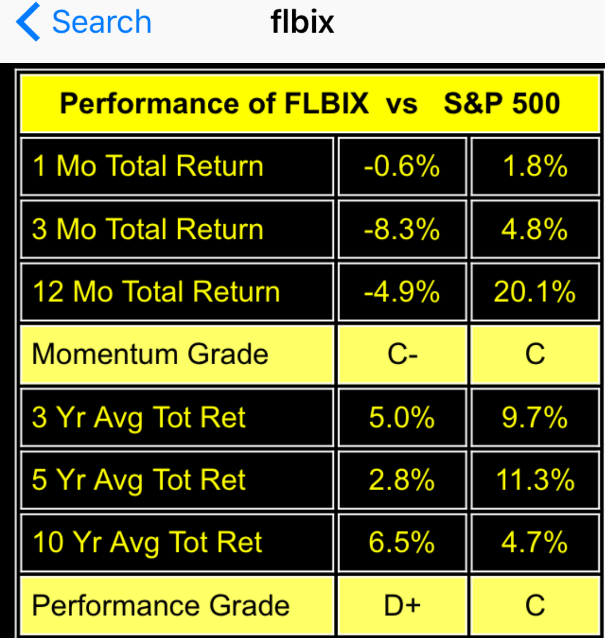 Data from BestStocksNowApp.com
Intermediate and short-term bonds have not been hit as hard as long term bonds, but they too have seen a lot of air come out of their tires. The prospect for them also looks dismal.
It would now appear that the bond market has entered into a BEAR. One of the sure signs of a bear is denial. I am seeing plenty of that on the business channels and from my fellow radio hosts. Of course many of these rising rate deniers are asset allocators and bond fund managers.
I saw this same kind of denial in the months leading up to the eventual 53% haircut that the stock market took back in 2008-2009. It is up to you if you want to keep doing the same thing that you or your advisor has been doing over the last ten years.
So where is an investor seeking income supposed to turn in a rising interest rate environment? I began addressing this conundrum with my September 3rd article. In the article I wrote about asset classes that do well in a rising interest environment. I also mentioned five specific plays.
The problem with the traditional, passive asset allocation model is that it is basically based on age, and it does not take into the account the very active changes that are taking place in the U.S. right now.
What does well in a rising interest rate environment? In my September 3 rd article I gave 5 examples of stocks that I owned in my Rising Rate Income Fund at the time.
I wrote about the Alerian MLP ETF (NYSEARCA:AMLP), BP Plc (NYSE:BP), HSBC Holdings (NYSE:HSBC), Ares Capital (NASDAQ:ARCC), and E-Tracs 2X leveraged Long BDC (NYSEARCA:BDCL). At the time they has dividend yields of 9.9%, 7.0%, 6.6%, 10.2%, and 16% respectively.
They have all done very well since that time. Along with their fat dividend yields, AMLP is up 5.4%, BP is up 4.1%, HSBC is up 10.7%, ARCC is up 4.6%, and BDCL is up 5% while bonds are down. Those were some pretty good picks for income investors.
Commodity stocks like oil stocks like a rising interest rate environment. So do banks, BDC's and a variety of other asset classes. More on that in future articles. Today I want to feature another holding in my Rising Rate Income Portfolio. This holding is currently hitting new 52 highs and sports a dividend yield of 7.8%.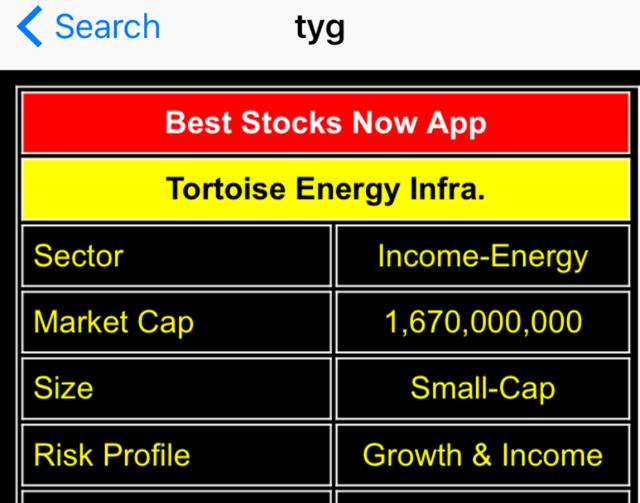 Data from BestStocksNowApp.com
Tortoise Energy Infrastructure Corporation (NYSE:TYG) is a closed ended equity mutual fund launched and managed by Tortoise Capital Advisors L.L.C. The fund invests in the public equity markets of the United States.
It seeks to invest in the stocks of companies operating in the energy infrastructure sector, with an emphasis on those companies that are engaged in transporting, processing, storing, distributing or marketing natural gas, natural gas liquids (primarily propane), coal, crude oil or refined petroleum products, or exploring, developing, managing or producing such commodities.
The fund primarily invests in securities of publicly traded Master Limited Partnerships and stocks of companies having a market capitalization greater than $100 million. Tortoise Energy Infrastructure Corporation was formed on October 29, 2003 and is domiciled in the United States.
I like to buy my MLPs in the form of ETFs or closed-end funds so that my clients don't have to file those darn partnership returns. Many years ago, I had one client whose CPA charged him $1,000 to file a partnership return!
The top ten holdings of the Tortoise Energy Infrastructure Fund are currently Magellan Midstream Partners (NYSE:MMP), Oneok Partners (OKS), Sunoco Logistic Partners (SXLP), Enterprise Product Partners (NYSE:EPD), Buckeye Partners (NYSE:BPL), Plains All-American Partners (NYSE:PAA), Western Gas Partners (NYSE:WES), EQT Midstream Partners (NYSE:EQT), Spectra Energy Partners (NYSE:SE), and Tesoro Logistic Partners (TLLP).
In addition to a rising interest rate environment, it does not hurt to have a new administration that is pro-energy. They have already announced their intentions to build both the Keystone and Dakota pipelines. No wonder that TYG is breaking out!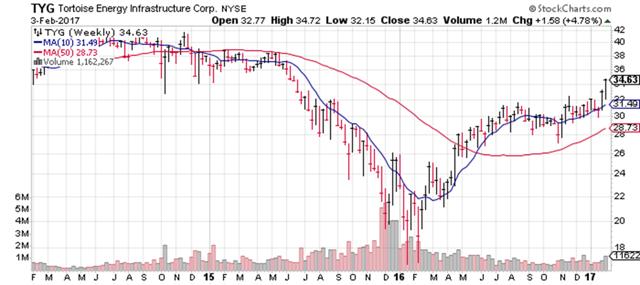 As you can see from the screenshot below, the fund has delivered some spectacular returns as the oil markets have stabilized, interest rates have risen, and a new pro-energy administration has taken over leadership of our country. The fund is up a whopping 60% over the last twelve months, but I think that it has a lot more upside potential.
In addition to this it still sports a dividend yield of 7.8%.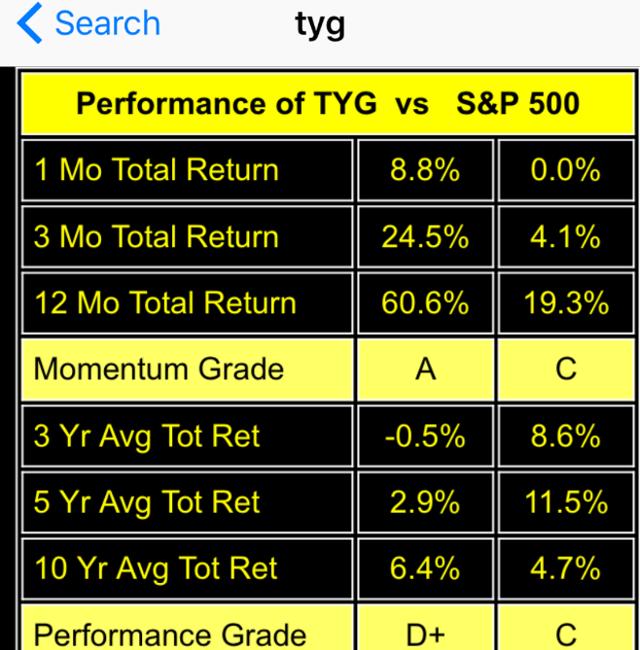 It is currently ranked number 92 out of 4,189.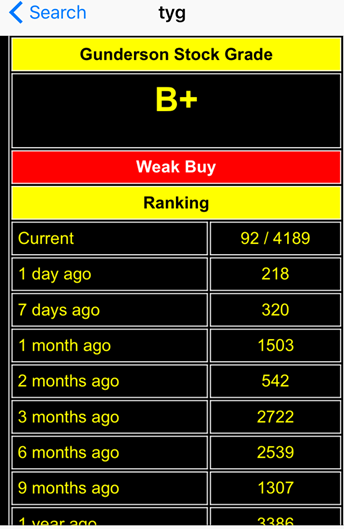 Long-term bonds anyone?
Disclosure: I am/we are long TYG, AMLP, BP, BDCL, ARCC, HSBC.
I wrote this article myself, and it expresses my own opinions. I am not receiving compensation for it (other than from Seeking Alpha). I have no business relationship with any company whose stock is mentioned in this article.