Introduction
Ralph Lauren (NYSE:RL) reported third-quarter results for its 2017 fiscal year on Thursday (February 2). While the numbers continued to show contraction on both the top and bottom lines, they were largely in line with previous guidance and consistent with the Way-Forward Plan laid out in June.
What was not expected was the announcement that the recently-hired and highly-touted CEO Stefan Larsson would be leaving the company in May. He will have been on the job for not even two years before stepping down.
"Relatively Undervalued"
I previously wrote an article on Ralph Lauren in October, when shares were trading just shy of $100. I detailed that the trailing P/E ratio often listed is misleading (too high) for RL due to its restructuring. If you adjusted for these restructuring charges, I argued RL looked cheap relative to its history and its peers. Furthermore, I thought bringing in Mr. Larsson was a smart move and he would bring what was needed for Ralph Lauren to move forward as a company.
After buying the stock, it increased first after its Q2 earnings report and then again with other retail stocks when Donald Trump was elected (that seems a bit ironic now). I sold during the run-up because I didn't see any reason for it. The only thing fundamentally the company had done was report largely in-line results.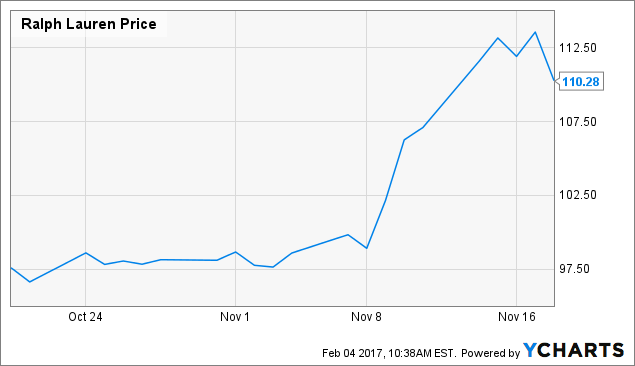 Just because results met expectations didn't change the fact that the company was still seeing sizeable declines in total revenue, income, and even comparable sales (after adjusting for store closures).
However, the share price had dropped back down below $90 recently, and I was closely watching. I knew the retail environment was tough right now, but if it kept dropping, I figured it was too cheap to pass up. Then came the announcement Thursday, and to say the least, I am disappointed. No matter how much the stock fell, I cannot invest because yesterday's report revealed the company is failing to move forward.
CEO Departure
I have not seen too many executives in my short time of investing as well respected in their industry as Ralph Lauren. He started this brand 50 years ago, and has continued to grow it into one of the most recognized fashion brands in the world today. At 77 years old, he has much to be proud of with what he has built.
I would put Stefan Larsson in the category of a top talent in the fashion industry. At 41 years old, his track record is much shorter, but it is nonetheless very impressive. He has had successful stints at both H&M and then Old Navy. When it was announced that Mr. Larsson would leave Gap (NYSE:GPS) to become the CEO of Ralph Lauren, GPS saw its share price decline 6%, while RL increased by 12%.
The idea was that this 41-year-old executive would help Ralph Lauren get back on track and adjust to the new retail landscape. Company founder Ralph Lauren would step down from day-to-day operations, but he would remain involved on the creative side of the business.
Consequences
I thought this was a good decision on two counts. One, the company was getting a top talent to lead the company. But more importantly, I was happy to see a company founder sacrifice leading the company to do what's best long term. It was clear that in the past few years, Ralph Lauren had begun to struggle relative to its peers and in its biggest and most well-known market; the U.S.
Differences over the evolution of the creative and consumer facing parts of the business were cited as the reason for Mr. Larsson's departure. Reading through the conference call transcripts was a little painful, as a few analysts pleaded for more detail. After all, with the company struggling, it's kind of important to know where things couldn't be agreed upon. However, you could tell Mr. Larsson was sticking to the script. He must have repeated the same phrase multiple times, and it was very similar to what Ralph also said.
Furthermore, the operator was very insistent upon allowing just one question and was unusually strict to move the call along.
The most painful part here was that after sitting down and working "very hard" to find a common ground, the two could not come to an agreement. In the Friday WSJ, more details came out and the source of conflict came from the fact that Mr. Larsson believed he needed access to the creative side of the business in order to execute his strategy and be accountable for its success. After all, he is the CEO. But when Mr. Lauren decided he wasn't willing to give up this control, it sounds like things hit a wall.
Giving Up Control Not An Easy Thing To Do
Now I know I need to step back and have some perspective here. Ralph is the founder and it all started back nearly 50 years ago with just him. He is the brand. I don't know the specifics of what Mr. Larsson was looking to do, but I don't need to. Because even in my 22 years, I have learned that it is simply hard to let go sometimes. If anyone has the right to have a tough time letting go, it's Ralph Lauren with the brand that he has built.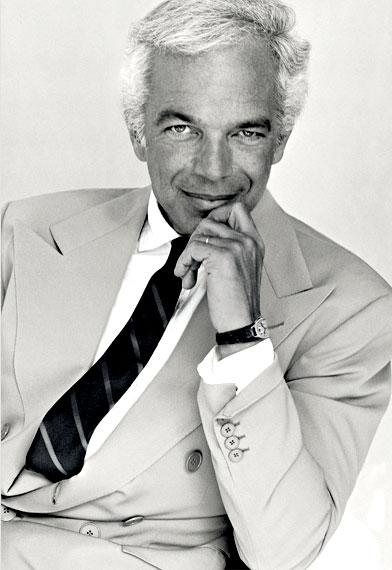 Source: Pinterest
That doesn't mean I agree it's the right thing to do. As a company founder, he also ought to be the person who cares the most about the brand's long-term success. Part of that (the hardest part, perhaps) is having the courage when it is time to let go.
Fortune just put out a great article that expressed similar sentiment and detailed the company's difficulties since Roger Farah stepped down in 2014. He and Ralph had led the company as a team the article said, much like Warren Buffett and Charlie Munger at Berkshire (NYSE:BRK.A) (NYSE:BRK.B), Michael Eisner and Frank Wells at Disney (NYSE:DIS), and Roberto Goizueta and Don Keough at Coke (NYSE:KO). Since Farah left in 2014, RL has seen a steady decline in both its stock price and business performance.
It is clear that the company has become out of touch in the past few years. As Mr. Larsson said when he became the CEO:
I realized quite soon that the brand is stronger than the business. That excites me. The brand is one of the few global iconic brands. We're going to build the business by going back to the core of what made the brand unique and original."
He evidently had a vision for the company. Unfortunately, Ralph and the Board of Directors (who reportedly sided with Mr. Lauren) did not let that vision play out.
There have been many businesses to continue to succeed after the retirement of the founder(s). I think the idea is that the culture of the company that is created over many years is more important than any one person. Although the company founder may be stepping down, that doesn't mean the company has to fail because hopefully they have built a sustaining culture. For Ralph, I think he needs to trust the culture that he has built over time.
Undervalued?
As I mentioned, even with the big stock price drop, I don't think investing is the best decision right now. I like what the company is doing in terms of closing underperforming stores, reducing inventories, and ultimately positioning itself for a return to sustainable growth. In fact, RL reduced inventory by 23% compared to a year ago.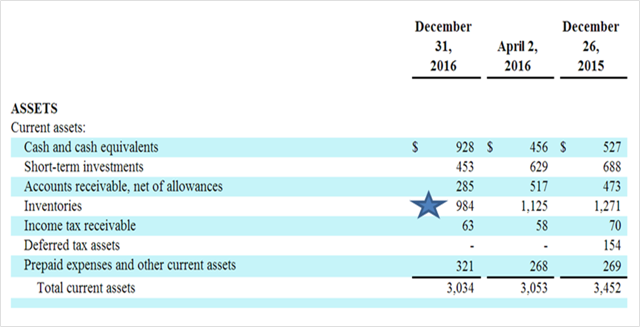 Source: Ralph Lauren 8-K
I think Under Armour (NYSE:UAA) (NYSE:UA) could do well by following suit.
Under Armour is a company with a different problem from Ralph Lauren. Under Armour has slowing growth and inventories that are increasing faster than sales in the face of high expectations, which never make for a good recipe. RL, on the other hand, is reducing inventory, but is still seeing a significant decline in sales.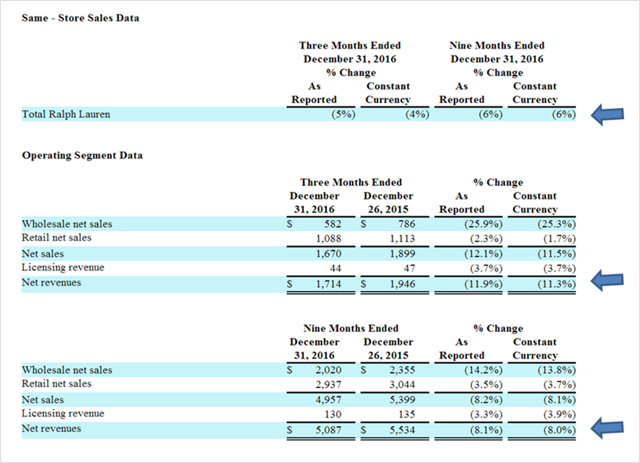 Source: Ralph Lauren 8-K
What Ralph Lauren and Under Armour have in common though, and what more investors ought to be paying attention to, is the glaring weakness in the North American retail market. While I will admit both earnings reports were not good and a stock price decline was warranted, I think not enough people realize the common denominator. Both UAA and RL are significantly affected due to their large portions of revenue coming from this market, with North America comprising about 67% and 85% of total revenue for Ralph Lauren and Under Armour, respectively.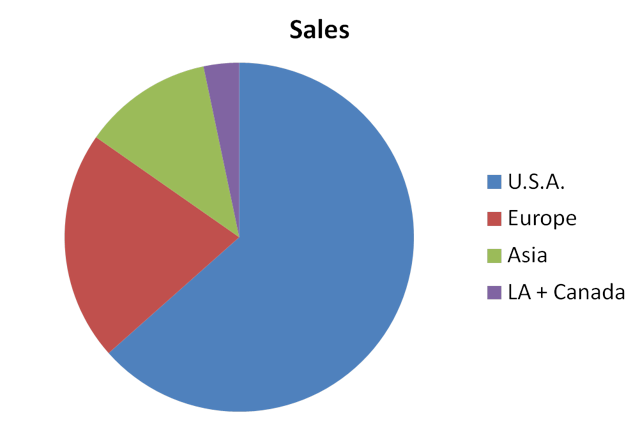 Source: Author's Work
This is the composition of RL's net revenue based on an average of the past three full fiscal years.
Other recent earnings reports confirm this trend too. Nike (NYSE:NKE), in its most recent quarter which ended November 30, reported that future orders were up 2%. In North America, however, future orders were down 4%. It has tried to take attention away from that metric due to its growing direct-to-consumer business, but no doubt it still has some significance.
Hanesbrands (NYSE:HBI), which also reported earnings Thursday, saw its shares decline due to weak guidance. But even in its record performance for the most recent quarter, it saw weakness in the North American market. Its innerwear sales decreased 8%, while its activewear sales increased 3%. From the press release:
Slower-than-expected consumer visits to retail stores in the fourth quarter resulted in retailer inventory control through reduced replenishment orders by U.S. retailers."
Executives at Ralph Lauren were more frank on their conference call:
North America continues to be our most challenged market."
Conclusion
The numbers are not very pretty for Ralph Lauren; there is no doubt about that. But I am willing to attribute a significant part of the weakness to a very challenging retail landscape, especially in the U.S.
For clothing and apparel companies right now, it continues to be a tale of two different fortunes. Amazon (NASDAQ:AMZN) is changing the way people buy things and enjoying a secular bull market in e-commerce, while discounters like T.J. Maxx (NYSE:TJX) and Ross Stores (NASDAQ:ROST) are also performing very well. On the other hand, most traditional department stores and many apparel companies who rely on wholesale revenue are struggling to find the right balance between in-store and online.
After all, the struggles of RL are reflected in its beaten-up valuation.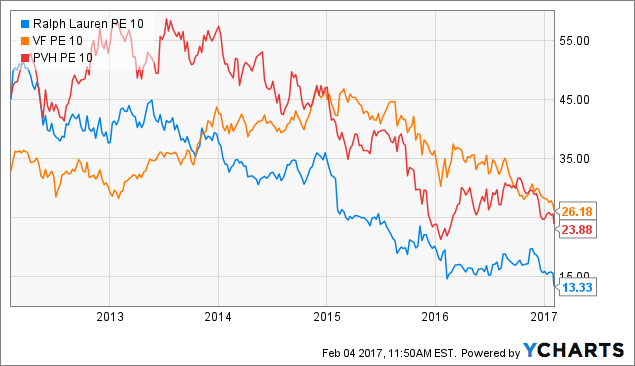 This charts the PE 10 ratios (the current price divided by an average of the past 10 years' earnings) for Ralph Lauren, V.F. Corporation (NYSE:VFC), and PVH (NYSE:PVH). The idea of the PE 10 is that it won't be swayed by a single year's earnings because it takes into account earnings throughout an economic cycle. Note that not only RL has relatively low PE 10 in comparison to competitors, but also how much the ratio has come down in the past 5 years.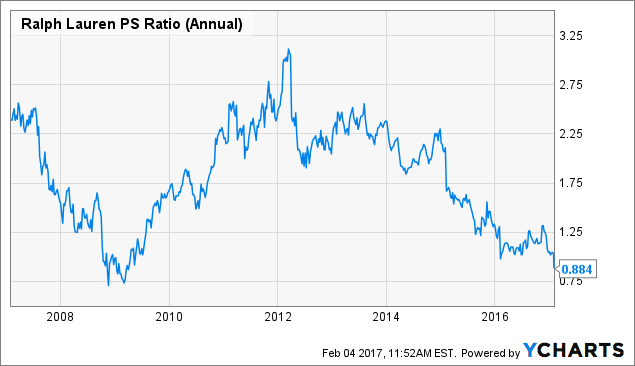 RL PS Ratio (Annual) data by YCharts
With a price to sales ratio near 10-year lows, RL could be a bargain if it was able to return to growth and recover its margins.
What's frustrating is that behind this company with a beaten-up stock is a very strong brand. It has the potential to be a great investment as it returns to being a great business. But none of that matters if the company doesn't commit to the name of its restructuring plan, "Way Forward."
While I know I don't have the answer, I know that it is possible for a company today to adjust to the changing retail landscape. There is a saying in the entertainment industry: "Content is king." I think that concept can be expanded to clothing too. No matter how dominant e-commerce becomes, companies that are able to either produce great quality clothing at a reasonable price or reasonable quality clothing at a great price should do well. It's a matter of adapting, or, evolving.
And with that, I know it is also possible for Ralph Lauren, both the man and the company, to find a balance between retaining what has made it great in the past and what it needs to move forward into the future. I am hopeful that Ralph will eventually do the right thing, and I will be looking forward to a great investment opportunity when he does.
Disclosure: I/we have no positions in any stocks mentioned, and no plans to initiate any positions within the next 72 hours.
I wrote this article myself, and it expresses my own opinions. I am not receiving compensation for it (other than from Seeking Alpha). I have no business relationship with any company whose stock is mentioned in this article.