"It's a joke!" - Leonard Koppett
The Super Bowl indicator is one of those weird things that make zero sense in theory but somehow hits the mark pretty darn well in reality. In fact, it has an 80% success rate over the last 50 years The logic behind the indicator is simple - a win for a team from the American Football Conference (AFC) foretells a stock market decline and vice versa. Because the Patriots won this year, stocks now have an 80% probability of a down year. The fact that so many people still pay attention to the indicator is ironic. Why? A quarter-century after he invented the indicator, Leonard Koppett "remained flabbergasted that anybody had ever taken him seriously".
It's hard not to feel similarly about Trump's recent attempts at jawboning the USD downward. For instance, an FT headline flashed on my Bloomberg terminal this morning - "Dollar bulls pull in their horns". I don't disagree, especially in the near term. I've long been a dollar bull but I think the USD uptrend is due for a breather now, even relative to emerging market (EM) currencies. Whenever markets look set to enter risk-off mode, concerns surrounding EM vulnerability tend to undermine their currencies. While 2016 saw the stabilization of EM vulnerability from a fiscal, cyclical and external perspective, this came in the midst of a sustained easing cycle across the globe.
Now that Trump is in office and the Fed has embarked on its hiking cycle, EM sensitivity to any rise in real yields will be high. Yields matter greatly - if US real rates start rising rapidly, externally exposed EM economies such as Malaysia, Turkey and South Africa will underperform along with their currencies.
In the meantime, EM-dedicated funds are playing a role in propping up the EM currencies. Recent inflow data has been seemingly strong on this front at ~$1.7b up to early Feb. The headline number does sound upbeat but was driven by global mandates, which contributed 78% of inflows for hard currency and all the inflows for local currency ($973m). Regional mandates saw outflows ($363m), in particular from Thailand ($381m), Brazil ($40m) and China ($21m). Equity saw almost all the inflows at $1.04bn with debt seeing small inflows of $114m.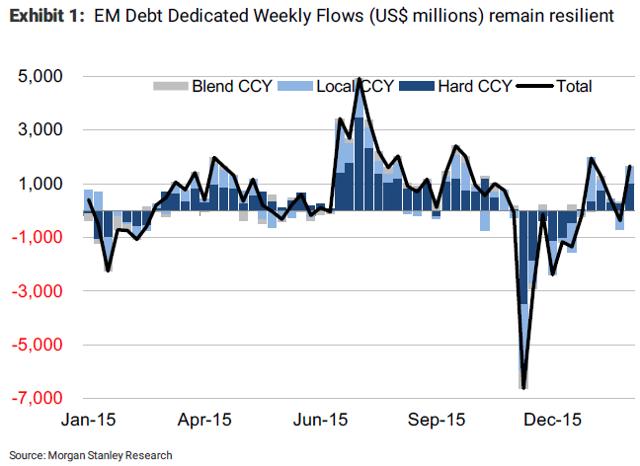 In the near term at least, USD strength may slow, certainly compared to the rate we've seen in recent months. The Fed's statement last week raised the bar very high for a rate hike. So high in fact that the Fed may well be operating behind the curve by "acknowledging that inflation 'will' reach 2%, but refusing to send a signal to turn March into a 'live meeting' ". For March to turn live, we would need to see extremely strong jobs and inflation data, perhaps even to the point of overheating (think a ~300k NFP print). Add to this the following - 1) the Fed governor merry-go round has begun, 2) the level of uncertainty Trump's presidency has triggered, and 3) Trump's support for intervention in Fed bias as well as his vocal support for proposals to audit the Fed, and we have a clear case for the Fed to remain status quo.
An overly cautious Fed will put a ceiling on USD strength for now, but the secular bull case remains intact. A look at how yields have moved relative to the USD shows an interesting development - since Trump's inauguration, there has been a split between the performance of US yields and the USD. A Trump USD discount, if you will.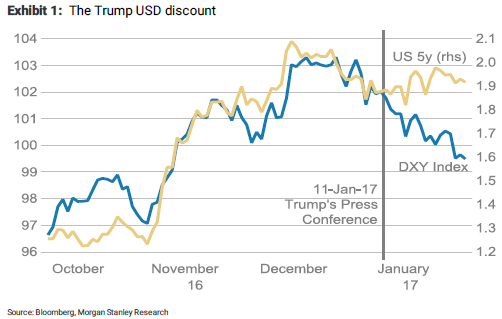 Why? The market is presumably expecting central banks around the world to be in wait and see mode with regard to Trump. Now, recall that US monetary policy is divergent with the rest of the developed world.
(Source: Kim Eng)
A pause in other central banks' easing cycles will in theory, halt the USD's rise in relation to their respective currencies. But there has been little respite in how the uncertainty surrounding Trump's presidential maneuvers continues to be reflected in yields. Even overseas, we've seen yields on the rise - Japan's 10-year JGB traded above 0.1%, despite the BoJ's strict efforts at yield curve control.
Longer term though, the USD bull case is intact. For all the talk of a Trump discount, the "Trump paradox" will also come into play eventually. The paradox states that Trump's trade-stimulative measures actually boost the USD, leading to trade weakness as a result of dollar strength. To counter this, Trump will announce protectionist measures to make the resulting policy mix more politically palatable but instead, his USD-positive policies will continue to drive the USD higher. This, along with a strengthening US economy and narrowing output gap, should prevent a long lasting USD disconnect from the global reflation trade.
Disclosure: I/we have no positions in any stocks mentioned, and no plans to initiate any positions within the next 72 hours.
I wrote this article myself, and it expresses my own opinions. I am not receiving compensation for it (other than from Seeking Alpha). I have no business relationship with any company whose stock is mentioned in this article.