Brunswick Corporation (NYSE:BC) has had an excellent couple of years, including its just-completed 2016, yet the market really didn't give the stock much credit for its performance. BC is as close to as cyclical as a stock can get, but it - and other boat plays, with one exception - declined even as the broad market rose: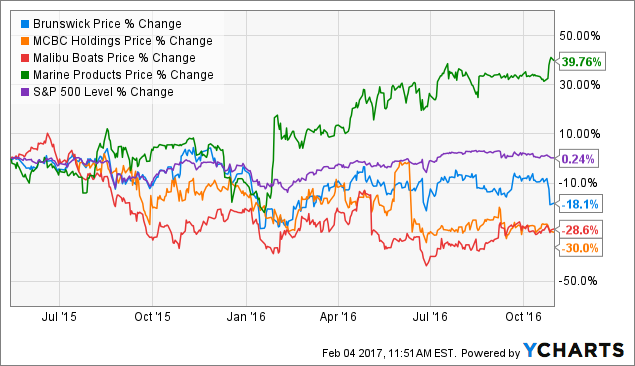 chart from January 1, 2014 to October 31, 2016
For BC, in particular, the declining stock price seemed particularly confusing. Performance, again, has been impressive; management hit its 2016 targets (laid out in 2013), came in ahead of initial EPS guidance in 2015, and nearly beat initial 2016 guidance as well ($3.48, adjusted, vs $3.35-$3.50). The market didn't like the Q3 report in October - shares fell 7% - but other than that, the weakness in BC really appears to have had little to do with the numbers.
Instead, it appeared that investors didn't quite trust the space as a whole, whether for cyclical reasons and/or because of potential secular worries (ie, a generational shift away from powerboats). Brunswick's plan to build out a fitness business, largely through acquisitions, might also raise some concerns, given what looks like a potential overbuilding of fitness chains in the U.S.
Whatever the cause, investors have come around since the election: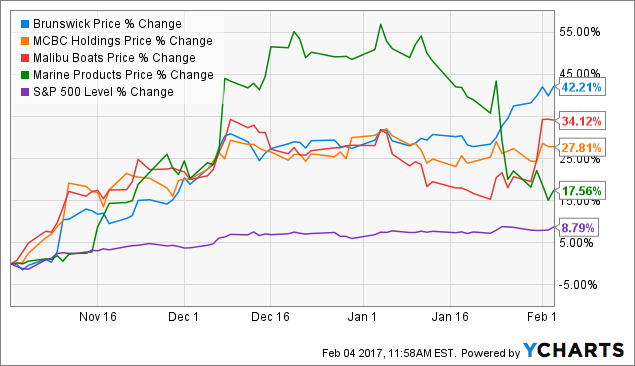 chart from November 1, 2016 to date
And at this point, I think the easy money has been made on BC. Again, I've long wondered why BC didn't get more credit, and I've bought BC shares near bottoms both in January and in early November. But with the stock now above $60, and at an all-time high, much of the good news is priced in. Even assuming further economic strength under the new administration (an assumption I'm not quite ready to make), earnings multiples now look OK, but not spectacular, the dollar isn't helping, and I do think there is reason for caution regarding the strategy in the fitness business. BC probably still works if the company continues to execute as it has, and if the macro picture cooperates. But the gap between BC and the market as a whole has narrowed significantly, which leads me to believe it's time to take profits.
The Performance So Far
Purely from a fundamental perspective, 2016 looks like a textbook year for a mature, established company. Revenue increased 9%, with a point of growth taken off by currency; half of the higher sales came from acquisitions. Gross margin rose about 15 bps; Brunswick managed to drive a bit of SG&A leverage as well (opex rose 8%). Adjusted EBIT increased 13% year-over-year, with 30 bps of margin expansion (10.4% to 10.7%), despite negative currency impacts of $3.5 million (about 78 bps). Combined with share repurchases (outstanding shares fell ~2.4%) and modest leverage, EPS increased 19% against 2015 levels, to $3.48. As Mark Schwabero pointed out on the Q4 call, that figure came in above the three-year target laid out in 2013 of $3.00-$3.40 in EPS. And while acquisitions contributed some growth, that was part of the initial plan, and the deals weren't the primary contributor to EPS gains. (Cybex, for instance, acquired in January, appears to have added ~$0.10 in EPS this year, and that was far and away the largest purchase of the last three years.)
Meanwhile, from Brunswick's standpoint, the success has been broad-based, even if the same can't be said on a geographic basis. Marine sales were up 6% on a combined basis; Fitness revenue increased 24%, mostly via acquisition. The Boat business continues to expand its operating margins, moving from a low-/zero-profit leader for the Engines segment to a (still-modest) contributor of its own, with Brunswick targeting 6-7% margins by 2018. And it appears Brunswick took share in 2016, with retail unit growth of 3% and dollar growth of 8%. A series of smaller acquisitions to build out a parts and accessories business within Engines seems on track. Cybex beat earnings targets for this year, and Fitness looks solid.
All told, at the moment, this simply seems like a very good company in a very good spot. From a market perspective, Brunswick expects modest improvement next year, with the U.S. leading the way, slight growth in Europe, and stabilization in Canada (where boat sales have been weak the last two years). 2017 guidance is for sales growth of 6-8% (5-7% organic) and a 12-16% increase in EPS, to a figure near $4 ($3.90-$4.05). Even with shares up 40%+ from recent lows, a forward P/E multiple of 15x looks pretty reasonable given a clean balance sheet (Brunswick closed the quarter with net cash) and declining pension liabilities ($200 million unfunded, or $2+ per share, guided to drop to zero by 2020). If Brunswick stays on the same trajectory it's on - or somewhere close - there seems to be more upside.
What Gets Brunswick Off Track
The most obvious concern facing BC in the near- to mid-term is a possible cyclical pullback. 2017 guidance does imply a modest acceleration from 2016 levels, with global unit boat demand rising 3-5%, in line with multi-year targets, after falling beneath that range in 2016. It's not at all clear that Canada (~7% of total marine segments) is going to stabilize, given real estate concerns in that market, and the strengthening dollar could continue to cause competitive issues in the other ~22% of revenue derived internationally. Domestically, Q4 figures were a bit light; the quarter traditionally is very low-revenue, unsurprisingly, and Brunswick, like other consumer-facing companies of late, cited some paused spending around the U.S. presidential election. But 2016 wasn't quite as good as Brunswick hoped, both in terms of the overall market and its own sales, and with incremental margins about 20%, a couple of lost points of growth can push EPS to the lower end of the guidance range.
From a broader perspective, I still think the marine business as a whole is well-positioned. In my experience, Mercury engines are well-respected (we own one as well), though opinions do vary (put five boat owners in a room, you'll get six opinions, etc. etc.) The strategy to build out a P&A business makes some sense, and provides some modest offset to cyclicality in boat and engine sales. There are some pockets of weakness in sterndrive, in particular, as well as aluminum, but those are market issues, not market share issues for BC. Looking forward, as the overall boat market goes, BC is likely to follow, perhaps a bit faster. There are secular concerns about whether an "Uber for boats" model might limit demand, or whether the oft-discussed millennial cohort will have less interest in powerboating, in particular. For now, I'm still relatively sanguine at that front; boat ownership is still far, far below pre-crisis highs as it is, which does imply remaining pent-up demand that could offset any generational shifts.
As far as Fitness goes, I understand the strategy, but I do think that industry is a concern. The explosion of low-cost chains like Planet Fitness (NYSE:PLNT) and others has goosed demand in the space; if that market is getting oversaturated (and it's starting to look that way), Brunswick's sales could decline rather sharply. The segment does have exposure to more stable areas like rehabilitation and senior living, and lower government sales of late have provided a headwind that might reverse. The segment only generated a bit over 20% of 2016 EBIT, meanwhile, though targets for $1.5 billion in revenue by 2020 (up 50%+) imply additional M&A activity there.
Again, the strategy makes some sense; after exiting the bowling business completely in 2015, fitness looked like a complementary vertical that could soften the sometimes-extreme cyclicality in the marine segments. But I do have some concerns about a potential weakening in end demand there. Should that occur, it wouldn't collapse Brunswick stock (as long as the boat business was performing well, at least). But it's the kind of risk that seems more prominent at $60 than it did at $42.
Valuation
All told, the recent move in BC stock simply has taken it out of my price range. My earnings expectations haven't moved much; though I discounted the possibility of hitting the ~$4.75 target in 2019, even a miss at $45 or so looked pretty good, to my eye.
At $60, hitting those targets probably still implies some upside, with the stock trading at about 13x the midpoint of the 2019 targets. But this is also is a cyclical stock, and one would think that alone would imply some type of narrowing multiple as we enter year eight of an economic expansion. Free cash flow numbers aren't quite as strong, either; capex has been elevated of late and even backing out excess pension contributions, 2017 FCF guidance of $325 million-plus implies a 16-17x forward multiple.
I wouldn't be surprised to see BC continue to gain over the near- and the mid-term, particularly if the broad markets and macro situations cooperate. But I'm not sure there's really the same explosive upside left in a bull case, and I doubt there's enough to compensate for downside risk. Personally, I'm not terribly thrilled to take on cyclical risk at the moment; and BC at the moment seems like the first stock to tumble if overall sentiment changes in the least.
BC is still worth watching, and I'll be hoping for a pullback to re-enter the stock. My general range of late has been ~$48 or so; given commentary that implies a better FY18 (after investments this year are digested) and more confidence in a $5+ EPS figure by the end of the decade, I think the low $50s is probably OK (again, assuming the broader picture cooperates). But at $60+, the upside that seemed there the past eighteen months has been priced out. For now, it's time to move on.
Disclosure: I/we have no positions in any stocks mentioned, and no plans to initiate any positions within the next 72 hours.
I wrote this article myself, and it expresses my own opinions. I am not receiving compensation for it (other than from Seeking Alpha). I have no business relationship with any company whose stock is mentioned in this article.