Southwestern Energy Company (NYSE:SWN)
The misperception about a commodity is that it is the same everywhere. True, in its final form, users are agnostic from where or from whom. But that paradigm ends pretty quickly when you are an investor or trader. A commodity does matter considering its source, destination and importantly from 'who.'
Earlier, I wrote about natural gas. It was a long wager on the rising demand of the commodity, but not due to the typical weather watchers, forecasters and/or the laypeople who are usually wrong, but I digress. I also try to limit credence among prognosticators (fortune tellers) of what tomorrow may be buried underground, aka storage injections or withdrawals. Each of these forecasts, while entertaining, only rhyme with reality. Less understood now and before, is the globalization, infrastructure, and movement of natural gas and why second level thinking as articulated in the above-mentioned article warrants going long.
The challenge is selecting 'who,' i.e. what company, is largely about dividing, conquering and diversifying the portfolio amongst a myriad of players. Choose wrong, hedged or not, and precious capital would have been better served on a table in Vegas. Think MEMP, the latest to declare bankruptcy in spite of a significant hedge program.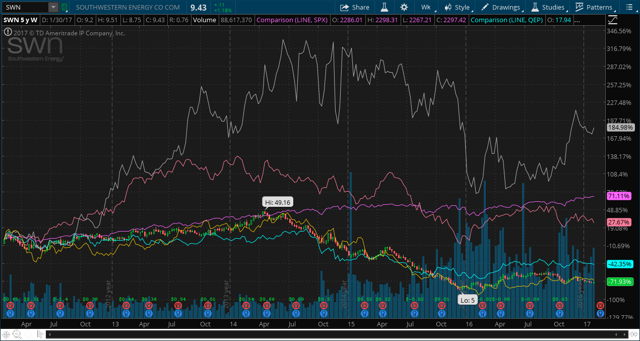 Pictured above is SWN (candle) vs. my current portfolio of nat gas E&Ps. The opportunity in SWN is that it hasn't responded to either better Natural Gas price regionally or nationally and has so far lagged behind other equities.
Buying what has more value, among the contenders for new money is among the long reasons to add Southwestern Energy Company. SWN is an independent US-based natural gas and oil company. SWN trades relative to its E&P operation, but it also has a modest midstream operation (2,044 miles of pipelines in Arkansas and 16 miles in Louisiana). Unfortunately, its near 90-year history nearly met its undoing after its poorly timed acquisition in the Marcellus Shale. Memories will make any long investor heave.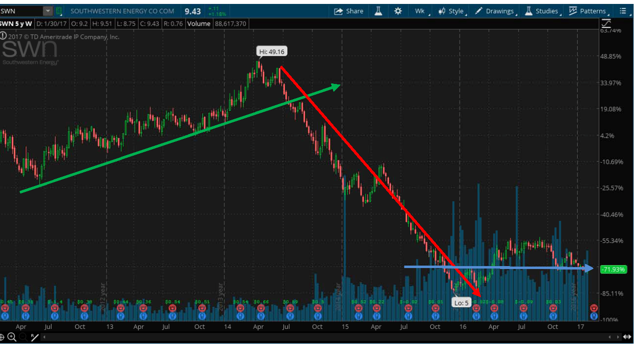 A quick glance and you'll see SWN really hasn't lived up to its expectations, yet. In fact, it's gone nowhere. I have written before about whether the name warrants patience and persistence. I then pounded the table it's all about takeaway. This transforms which markets the commodity can be sold into and hence the ever growing globalization for Nat Gas. The premise is highlighted in an earlier recommendation: REX Energy (NASDAQ:REXX). Access to Henry Hub vs. local locked markets are delivering a transformative effect on REXX realized revenue for its production. Have a read on the idea that is still viable here.
Currently, SWN remains landlocked, but there's good explanation. The vast coming infrastructure was not yet due to come on line and the previous administration - the White House, EPA, etc., - was less than friendly to fast track fossil fuel anything.
Under the Hood:
The delays of the Algonquin expansion project operated Spectra Energy (NYSE:SE) had been documented but now abating. Insight here. And this article was just funny to read. You will recall from my earlier article on SWN, the project transporting 342 MMcf/d wasn't scheduled until November 2016.
The Constitution Pipeline, operated by Williams Companies (NYSE:WPZ), will have the capacity to transport up to 650 MMcf/d of natural gas from the Appalachian Basin to the Iroquois Gas Transmission and Tennessee Gas Pipeline systems in New York, which will provide access to markets in the Northeast and New England. The project is still due to come on line in Q3 2018. The latest can be read here.
Gulf Markets Expansion, 650 MMcf/d of increased capacity (up 7.7%) from the Marcellus and Utica basins. Project completion dates for phase one was ahead of schedule in September 2016 and phase 2 isn't due until August 2017. Importantly, not even half of the capacity is yet operating; The project's first phase is approx 250 MMCf/d and the overall capacity will be 640 MMcf/d
PennEast Pipeline, also from Spectra Energy 100-mile pipeline, from Pennsylvania the pipeline is now forecast to be operational in 2017. The capacity will deliver 1Bcf/d from the Marcellus to the nations' north east
Atlantic Sunrise was just approved as of this writing (Feb. 3rd), will add 1.7 Bcf/d of new capacity to the Transcontinental pipeline. This project links the Marcellus the Transco mainline, forecast full operations delayed for summer 2018
Atlantic Coast, scheduled now for late 2018. The pipeline will have a capacity of 1.5 Bcf/d.
More Under the Hood:
Management cautioned investors during the latest 10Q report:
"Our natural gas and liquids production decreased to 211 Bcfe for the three months ended September 30, 2016, down 15% from 249 Bcfe for the same period in 2015. The 38 Bcfe decrease was due to a 29 Bcfe decrease in net production from our Fayetteville Shale [whereas] Southwest Appalachia properties [Marcellus] remained approximately flat, compared to the same period in 2015.
During the conference call, CEO Way explained,
"The average price realized for our gas production, including the effects of derivatives, decreased 22% to $1.73 per Mcf for the three months ended September 30, 2016." [None of the midstream yet became operational so the pricing will improve each quarter ahead]. Way continued, " let me reconfirm that the maintenance capital required to hold 2017 annual volumes flat at 2016 levels is only $700 million". The company anticipates its total company discount to NYMEX for the year will be at the high end of guidance range or about $0.83 per Mcf.
Now here is the light at the end of the tunnel,
"We do believe that the current challenges facing the Appalachian basin are a short-term issue. And that the quality and quantity of our transportation portfolio in our Appalachian basin businesses is robust and allows us both strong access to markets and growth opportunities this year and beyond. Over the long-term, our view on improving regional basis to differentials has not changed. And we expect the projected capacity additions out of the greater Appalachian region to come on line over the next few years. [Bold for emphasis is mine]
On balance sheet repair, CFO Owen commented,
"net debt as of September 30th, it was $3.2 billion, down from $4.8 billion at the end of the second quarter… We have made great strides to strengthen the balance sheet this year and expect net debt to EBITDA for 2017 to be in the high twos assuming current price."
The Trade and How to Express Your Opinion:
A longer-term investor who wants to build value could buy SWN and hold it for the duration, add on dips, sell into strength. Doing so over the last year has delivered positive returns but lots of churn. The fundamentals, however, are more relevant today, given the midstream infrastructure. Time could be measured in weeks should winter affect short-term pricing. Similarly a hot summer would do the same, but in light of the coming wave of infrastructure and commitment of SWN, you may find SWN revisiting its previous 'mid-century' priced glory. Buy, sit tight for the ride and enjoy gains later.
As an options strategy, I also like put leaps (long dated) which allow the fundamental story to play out and also maximize the potential for gains. Gains when writing options are limited to the premium collected; the further out in time we sell and the higher strike, both yield more premium. More premium translates to greater profit potential. Important to keep in mind, I am happy to accept an assignment so the total premium received is more important than the intrinsic verse extrinsic ratio. Writing an ITM Put delivers cash into my account at the time we write the option verse spending money from my account to buy and hold. If you have questions on this, please ask in the comments section.
Here I like the $12 strike for the January 2018 put. It delivers $3.80 (use limit order even though the spread is reasonable) or $380 in cash to your account for each contract. Remember you may need to come up with $1200 for each contract to own these come next January, but I'm thinking we may wish we wrote an even higher strike by then because we'll be far OTM and the contracts will have expired worthless leaving us with just the $380 in profits. A consideration, however, to keep in mind is the 'if put' cost basis is $8.20… That's a $1.23 discount (13%) from the closing price on Friday, Feb. 3.
Note: To get these and more articles on options and equity opportunities as soon as they are published, click on my profile and hit the big orange "Follow" button and choose the real-time alerts option.
Disclosure: I am/we are long SWN.
I wrote this article myself, and it expresses my own opinions. I am not receiving compensation for it (other than from Seeking Alpha). I have no business relationship with any company whose stock is mentioned in this article.
Additional disclosure: Short SWN Put Leaps
Editor's Note: This article covers one or more stocks trading at less than $1 per share and/or with less than a $100 million market cap. Please be aware of the risks associated with these stocks.