Ares Capital (NASDAQ:ARCC) $17.14, 8.87% yield, is one of the most attractive plays in the BDC asset class with a reasonable valuation and a number of positive tailwinds. We expect that over the next six months, Ares will boost its dividend as it sees higher net income resulting from its recent acquisition and higher short-term interest rates. A recently placed convertible bond is a huge vote of confidence from institutional investors. At a roughly 9% dividend yield, Ares is extremely attractive given its diversified portfolio, low-cost fixed rate funding and large loan book.
Ares Capital Funding Profile
It's important to realize how much of a competitive advantage Ares enjoys in the BDC space as a result of its access to low-cost fixed and floating rate financing. In fact, as a result of this, Ares can be highly selective in the types of companies it seeks to provide financing to. I suspect many of Ares's rejects have landed in other BDC portfolios.
In conjunction with the closing of the ACAS merger, Ares Capital increased and extended the maturity of its senior secured credit facility with a syndicate of banks increasing total commitments from $1.265 billion to $2.095 billion. Including these debt facilities, Ares Capital now has $3.5 billion in total senior secured debt capacity with a blended stated interest rate of LIBOR plus 1.90%. In addition to increasing the availability under these debt facilities, in September 2016, Ares Capital issued $600 million in senior unsecured notes due 2022 with a stated interest rate of 3.625%, and just last week, Ares began to market a $250 million convertible bond that was upsized to $350 million due to the enormous demand from institutional investors.
I think it's extremely important to point out that last week's convertible bond was NOT placed with traditional convertible arbitrage accounts which typically short the stock against a bond purchase, but rather long-only convertible buyers who are looking for long exposure to Ares. This is truly a positive event for Ares longs.
Versus its peers, Ares Capital's performance has been nothing short of phenomenal.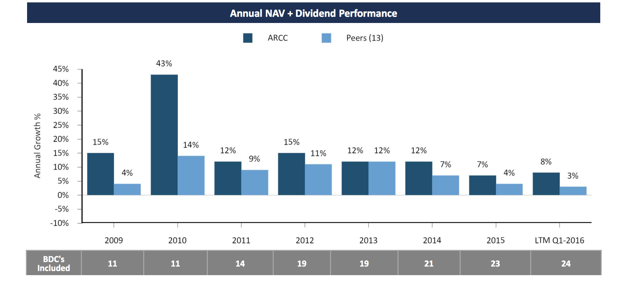 Source: Ares Capital
Given today's extremely low risk-free rates today, return on equity from core earnings is particularly attractive having ranged between ~9% and 12% over the last 10 years.

Source: Ares Capital
Ares's portfolio a solid credit profile for its pricing and fairly conservative loan to value ratios. We are particularly comforted by its strong weighted average interest coverage of 2.5x.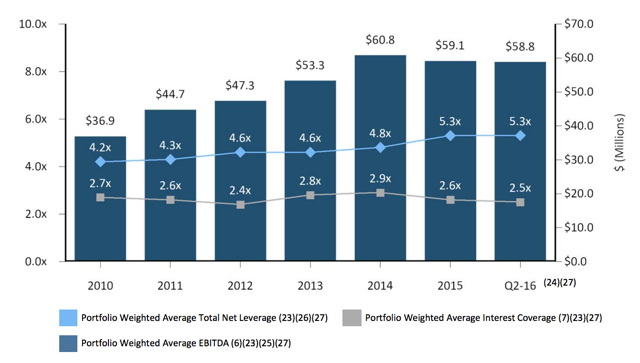 Source: Ares Capital
We find the portfolio is well diversified with low exposure to the volatile oil and gas sector (~3%). Highly attractive is the fact that 81% of Ares portfolio is secured in the form of first or second lien debt.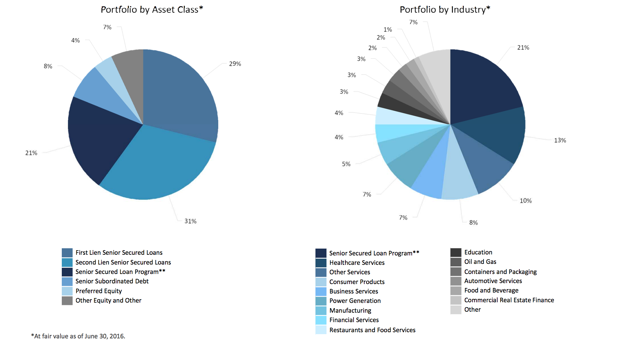 Source: Ares Capital
Summary
We believe that with an almost 9% dividend yield, Ares is one of the most attractive plays in the BDC sector with an additional 10% upside move possible in the next nine months. Get paid while you wait. Supporting this view is its diversified, high-quality floating rate portfolio, supported by mostly low-cost fixed rate funding. Ares's recent acquisition of ACAS should be accretive to the bottom line, which should allow for a raise in the dividend. We think there is a 25% chance Ares will raise its dividend for the quarter ending 3/17 and over a 50% chance it will raise for the quarter ending 6/17. The company's recent placement of a $350 million convertible bond with long-only institutional investors is a strong positive signal from a typically conservative investor base.
Disclosure: I am/we are long ARCC.
I wrote this article myself, and it expresses my own opinions. I am not receiving compensation for it (other than from Seeking Alpha). I have no business relationship with any company whose stock is mentioned in this article.