Two big pharma giants Merck (NYSE:MRK) and Bristol-Myers Squibb (NYSE:BMY) could be getting ready to square off in a bidding war for a Galectin Inhibitor that they know little about. The stakes could be the future of their respective immunology franchises. On February 7, 2017 at the GTCBio 9th Immunotherapeutics & Immunomonitoring Conference Dr. William Redmond is set to release human data on the increase in survival of both Keytruda and Yervoy in combination with GR-MD-02 as well as the extent of the increase in anti-tumor activity.
Both of these companies have been engaged in a fierce competition since 2014 targeting the checkpoint blockade inhibitors CTLA-4 and PD-1. This brief history will demonstrate the back and forth fight to stay in the lead. Yervoy, a CTLA-4 blocker was first approved for use in late stage melanoma on March 28, 2011. Keytruda a PD-1 blocker by Merck enters won FDA approval on September 4, 2014 for advanced Melanoma. Shortly after Merck's Keytruda announcement BMY with its PD-1 blocker called Opdivo received accelerated approval for unresectable (cannot be removed with surgery) metastatic melanoma on December 22, 2014.
Almost a year later, on October 2, 2015, Keytruda expanded use of their PD-L1 blocker for the non-small cell lung cancer (NSCLC) indication. Then on October 28, 2015 BMY expanded use of Yervoy for Stage III melanoma patients undergoing surgery. On January 23, 2016 BMY narrowed the gap with Opdivo in combination with Yervoy for unresectable metastatic melanoma. On August 8, 2016 Keytruda expanded its indications to head and neck cancer.
Right now Merck seems to be in the lead, but not by much when you look at sales comparisons. So now the stage is set for another round of battle this time with neither company having a stake in the target company. Here are the stakes, if BMY can lock up GR-MD-02 and do a trial in combination with Yervoy and Optiva then their survival rate should increase over Keytruda alone. If Merck can lock up GR-MD-02 then they can potentially squelch any momentum BMY's combination therapy is getting.

From this chart you can see the back and forth change in leadership from blue to green with a concentration of events in Q4 2015. It appears as though they actually timed the completion of their studies in order to compete with one another.
What makes the potential of a bidding war so real is that besides the dueling clinical trials these two companies are constantly attacking each other. On January 20, 2017 Merck settled its patent infringement suit with BMY and Ono Pharmaceuticals related to the use of the anti PD-1 antibody for the treatment of cancer. Merck had to shell out $625 million and 6.5% royalty on Keytruda sales through 2023. Striking a deal with the manufacture of the galectin blocker might be a way for Merck to retaliate for the litigation and boost their bottom line. Combination therapy would allow them to inflate the cost of GR-MD-02 and lower the cost of Keytruda thereby lowering the effective payout to BMY.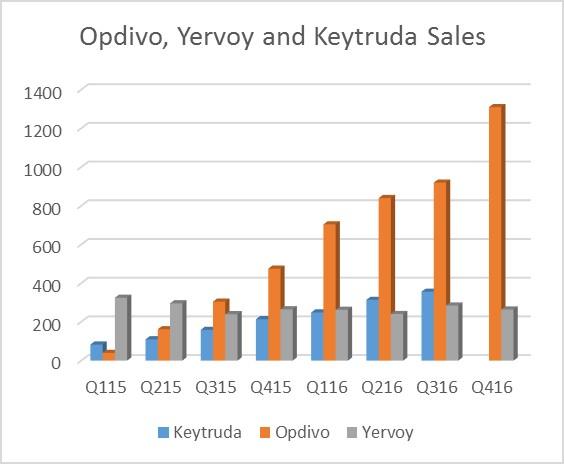 We need to recap on how the drugs stack up against each other. There are no complete head to head comparisons so we have to interpolate the data. The results as you will see are a mixed bag but based on market reaction Merck is in the lead after BMY failed to meet it endpoints on NSCLC. BMY blamed the failure on the trial design as they were swinging for the fences trying to get this approved for any lung cancer patients in contrast to Merck's drug which requires a test of the PD-L1 protein.
If you look at sales then BMY is still in the lead but losing share. Before BMY's news hit, the perception among doctors was an even split with the tying factor going to BMY since use of Opdivo didn't require testing. Analyzing the ORR of the drugs the trend becomes apparent. It's increasing and the next combination to market will likely overtake Opdivo and Yervoy and that will be of extreme interest to both companies.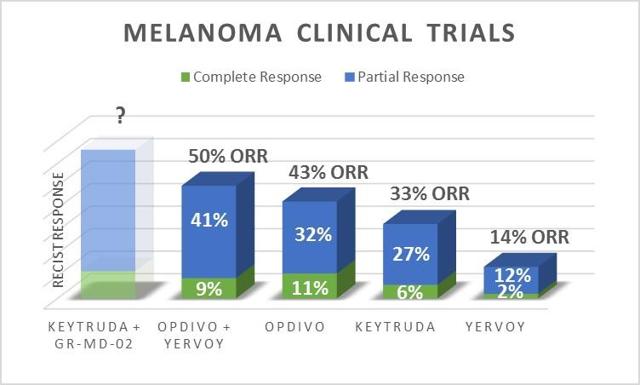 What's interesting to note is that MRK and BMY have already placed their bets on galectin blocker. In 2012 MS Ventures invested in a small development stage biotech called Galecto Biotech. Galecto Biotech has an experienced team scientists and researchers that have developed a patent portfolio and currently developing their Galectin-3 inhibitor TD139 for the treatment of patients with idiopathic pulmonary fibrosis (NYSEARCA:IPF). Their first in human trial results from Phase I were well tolerated using an inhaler.
The Phase Ib/IIa trial ended recruitment on January 4, 2017. No date is set for the release of data but when it is released we should get insight into the Pharmcokinetic (NYSE:PK) profile of the drug and a key biomarker that will measure the concentration of alveolar macrophages before and after treatment. This could be exciting news for BMY because in November 2014 they entered into an option agreement to buy Galecto and worldwide rights to TD139 for $444 million in milestone payments corresponding to milestone on the clinical and regulatory front.
It is unclear if the option has lapsed or is still in effect because the press release stated "BMS can exercise the option to acquire Galecto at any time following the execution of the transaction agreement but no later than sixty days following completion of the Phase 1b trial." It is not known what constitutes the completion of the Phase 1b trial and the company declined to comment.
The ultimate prize for these drug giants is a Galectin-3 inhibitor because it's a universal target in Immuno-Oncology (I-O), a target in organ fibrosis, and even implicated in the cause of type 2 diabetes. Dr. Will Redmond is making his case at the GTCbio 9th Immunotherapeutics & Immunomonitoring Conference regarding the increase in survival benefit of combination therapy with a Galectin inhibitor and improving anti-tumor activity. His clinical trials involved GR-MD-02 in combination with Yervoy and Keytruda for the indications of Melanoma, Head and Neck, and NSCLC.
It appears from the title of his presentation, "The Combination of Immunotherapy Plus Galectin-3 Inhibition with GR-MD-02 Improves Anti-Tumor Immunity and Survival: Insights From Mice and a First-in-Human Phase I Clinical Trial," that the combination therapy made both drugs better and in line with the preclinical results. What's basically coming in the presentation is human trial data that validates the preclinical studies. This could be a spark that starts the great bidding war because this data along with all the other data on cancer, psoriasis, atopic dermatitis, diabetes, and organ fibrosis collectively shows the coming renaissance in biotech.
Two Reasons Data Will Be Great And Market-Forming: History and Current Skin Data
This isn't the first clinical trial of a Galectin-3 inhibitor. Pro-Pharmaceuticals first used a Galectin blocker, known as "DAVANAT" as early as 2004 in clinical trials. Almost $20 mil was invested in clinical trials and over 100 patients were dosed for cancer related indication before funding ran low. In 2009 the company was unable to fund a Phase III trial for colorectal cancer using DAVANAT + 5FU and AVASTIN because the price of AVASTIN was so high. What's interesting to note is that the Phase II studies revealed that DAVANAT in combination with 5FU and AVASTIN virtually eliminated the Severe Adverse Events (SAE's) associated with AVASTIN.
The theoretical Mechanism of Action (MOA) behind this reduction of side effects was the targeting nature of DAVANAT. DAVANAT would bind with the 5-FU and AVASTIN on one end of the long carbohydrate chain and then transport it to a Galectin-3 receptor which is overexpressed on the tumors and bind to in with the therapeutic payload in tow. It's quite sad that Genentech didn't bite off on partnering to make their drug safer because the clinical trial results were robust and warranted a Phase III trial.
In 2009, CEO David Platt commented "In a Phase II trial for end-stage colorectal patients, DAVANAT extended median survival to 6.7 months with significantly reduced side effects, as compared with 4.6 months for the best standard of care." Putting this in perspective survival increased by 46% over the best standard of care.
That was a big accomplishment back in 2009 that went virtually unnoticed but that doesn't mean a Galectin inhibitor didn't work. It just meant that market conditions were not right to pursue that indication. After the trial finished there we at least 12 compassionate use trials for all sorts of cancers which is a very high percentage given the small patient population. This is anecdotal evidence of a positive outcome.
The current trial results on Galectin-3 inhibition are compelling and show clinical evidence of the biological activity that GR-MD-02 has on the Galectin-3 pathway. This can be seen in robust results in the plaque psoriasis trial. Galectin was quoted in November 2016, saying, "All five patients had significant clinical improvement (mean of 52% improvement) as measured by an objective measurement, the PASI (Psoriasis Area and Severity Index). The fifth patient, who also has the most severe baseline disease, has a 72% PASI improvement after the full thirteen infusions (24 weeks)."
The true communications failure was the company said it failed to meet it endpoints when in fact it simply failed to recruit enough patients. In a 10 patient trial they only managed to recruit 5 patients and all those patients had over a 50% response. The trial size also prevented them from investigating the proper therapeutic dose and how often it should be administered. The dosing regimen was actually less than the NASH Liver FX trial and from the graph below you can see a slight flattening of the curve once you got to the 7th infusion. On a logarithmic chart the flattening would have been more apparent but what is clear is that a higher dose level or more frequent dosing would have likely pushed the efficacy results into the approvable range.
The company Galectin Therapeutics (NASDAQ:GALT) is seeking a partner and when the potential partners look at the safety profile of this drug compared to the biologics like Humira manufactured by Abbott Laboratories (NYSE:ABT) and Otezla manufactured by Celgene Corporation (NASDAQ:CELG) that can cause different types of cancer or suicidal thoughts the safer choice will be apparent.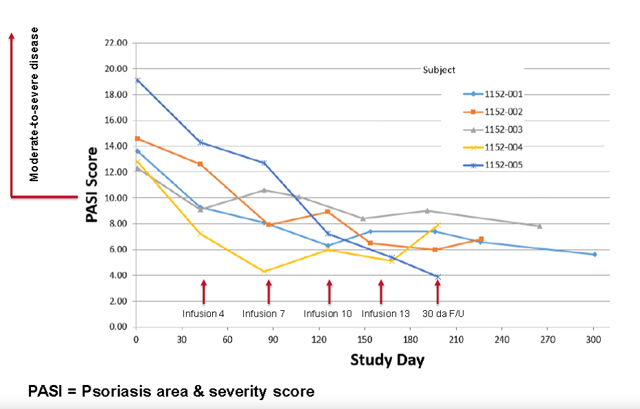 Galectin Therapeutics 2016 Annual Shareholder Meeting
In skin disease especially, we are seeing confirmatory anecdotal results in atopic dermatitis. "The early clinical results in two severe skin diseases and the lack of significant adverse events with GR-MD-02 is very encouraging, and we plan on presenting complete data at a scientific meeting in the future," said Simon A. Ritchie, M.D., staff dermatologist, chief of phototherapy and tele-dermatology at San Antonio Military Health System and principal investigator of the studies. "It is uncommon for patients with moderate-to-severe plaque psoriasis to spontaneously improve without treatment, and the patient with atopic dermatitis had not improved previously on multiple medications. I view continued development of this therapy as potentially important for patients with these skin diseases."
Dr. Ritchie had one male patient with a 20 year history of atopic dermatitis and failed topical steroids, methotrexates, mycphenolate mofetil, phototherapy, Xolair, Xeljanz, and Otezla. After four doses on GR-MD-02 every other week, he showed remarkable improvement and his eczema area and severity index (Pending:EASI) improved 65% and the severity scoring of atopic dermatitis index (SCORAD) improved 56%.
The key quality of life issues were that his itching was nearly resolved and he was sleeping better at night and his eyebrows were re-growing. Interim results confirmed the significant clinical activity and dose escalation had a direct effect on response. What is so encouraging is that literature shows us that the Galectin-3 is responsible for this disease and clinical trial results are confirming the findings.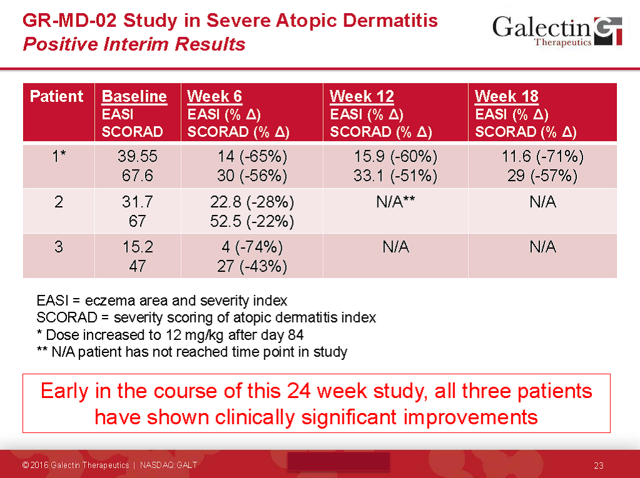 The only other public companies technically in the space are La Jolla Pharmaceuticals (NASDAQ:LJPC) and GlycoMimetics, Inc (NASDAQ:GLYC). LJPC used to have a compound called GSC-100 with was derived from modified citrus pectin that had favorable results but the toxicity was the problem and they eventually moved on to other technology. So they could be in play but highly unlikely given the poor clinical trial performance. But it would not be prudent to count them entirely out of the race, either, because they could use this catalyst to revive their pipeline and go after some of the other new targets of Galectin- 3 like Type II diabetes. GLYC is doing preclinical testing in Fibrosis and cancer but its too early to see if they even have a drug yet.
There is so much research implicating the Galectin-3 in most of the chronic diseases that are plaguing our aging demographic. Both MRK and BMY understand how important this technology is and the future role it will play in their respective pipelines. There are few legitimate contenders that have Galectin inhibitors so it's really unknown how this is going to play out.
Will the market grow with a flood of new entrants? Will a bidding war ensue for the companies already in this space or will the companies ignore this new technology? The clock is ticking and the buzzer might sound any time this year as trial results are released. This could be the hottest space in biotech this year because Galectin inhibitors appear to work.
Disclosure: I am/we are long GALT.
I wrote this article myself, and it expresses my own opinions. I am not receiving compensation for it (other than from Seeking Alpha). I have no business relationship with any company whose stock is mentioned in this article.
Editor's Note: This article covers one or more stocks trading at less than $1 per share and/or with less than a $100 million market cap. Please be aware of the risks associated with these stocks.