For the past several years, Nuveen Floating Rate Income Fund (NYSE:JFR) has been a core holding in my CEF portfolio. It has, since 2013, consistently traded at a discount to NAV on an average of about 7.6%. I initiated my position while it was trading at a 10% discount and watched it bounce between a 12% and 6% discount, adding at times when it breached the 10% level.
As of last week, I've completely liquidated the position as a result of its current premium to NAV of almost 4%. While JFR has in the past traded as high as 6.77% above NAV, there is no reason to try to play for these few remaining percentage points.
If you are a believer, like I am, that no CEF deserves to trade at a significant premium and those that have nicely traded up will likely mean revert to their historical discounts, then JFR is most definitely a sell.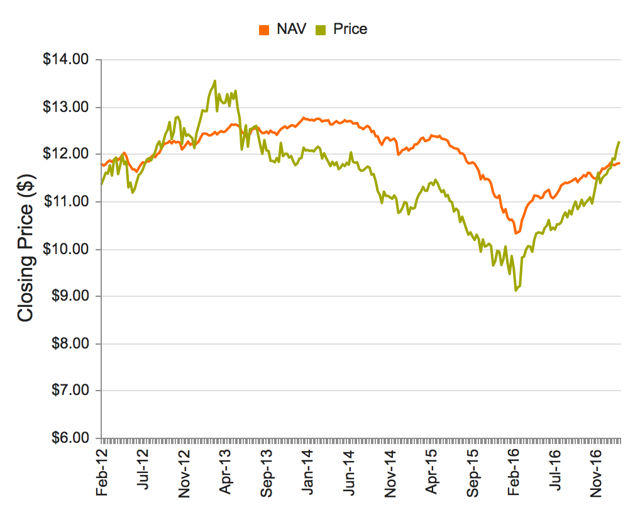 Source: CEFConnect
JFR's Z statistic of 2.52 is a screaming sell signal. What does it mean? Basically converted to a probability, we would expect to only see the current premium level 0.59% of the time. You read that right, less than 1%!
I cannot think of anything that has changed since I've owned JFR to provide an explanation as to why it's suddenly trading at a premium. I can venture a guess that its diversified portfolio of floating rate bank loans have suddenly come into vogue.
Whoever is buying on this assumption, I believe, has an asymmetric return profile that is skewed towards the downside. There is no reason to believe that JFR will spend any meaningful time trading at a premium to NAV and every reason to believe it will mean revert back to its standard 7.6% discount, a whopping 11% below where it's trading now. There is no reasonable investment thesis that can justify owning JFR at these levels - particularly, when you can find a suitable alternative.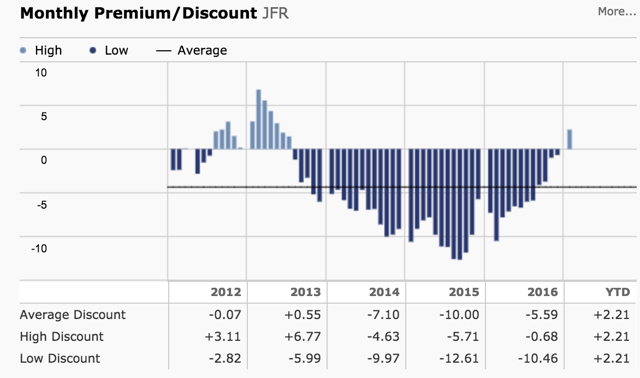 Source: Morningstar
As you can see from the chart below, over the last three months, the NAV has increased only 2.43% while the market price has risen 11.27%. Couple this with a crossover into premium territory and the alarms start to go off.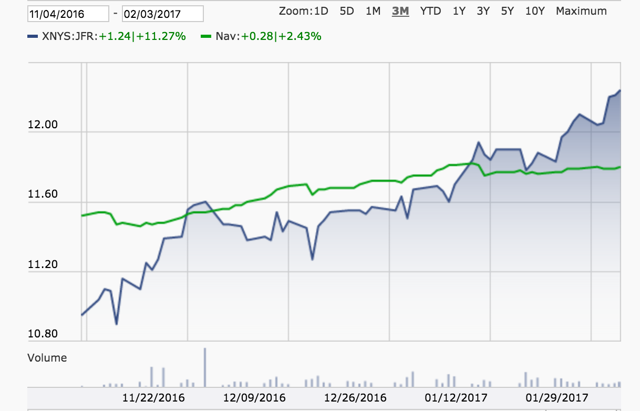 Source: Morningstar
There are some very reasonable replacements for JFR that have similar investment profiles and distribution yields but continue to trade at a discount. I refer you to a piece of research by Anthony Ruben.
Those who intimately follow the CEF asset class know there are opportunities to enter and exit various CEFs that are on our respective radars. The key to making money in this space is not only owning well-managed funds but buying these funds when they are at attractive prices and exiting when they are no longer attractive.
My radar beeped and blinked last week, signaling JFR was an exit opportunity, and I did just that. I suggest you do the same.
Disclosure: I/we have no positions in any stocks mentioned, and no plans to initiate any positions within the next 72 hours.
I wrote this article myself, and it expresses my own opinions. I am not receiving compensation for it (other than from Seeking Alpha). I have no business relationship with any company whose stock is mentioned in this article.