Introduction
The credit card industry is structured as an oligopoly, with three firms, i.e., Visa (NYSE: V), Mastercard (NYSE: MA) and American Express (NYSE: AXP), dominating the market.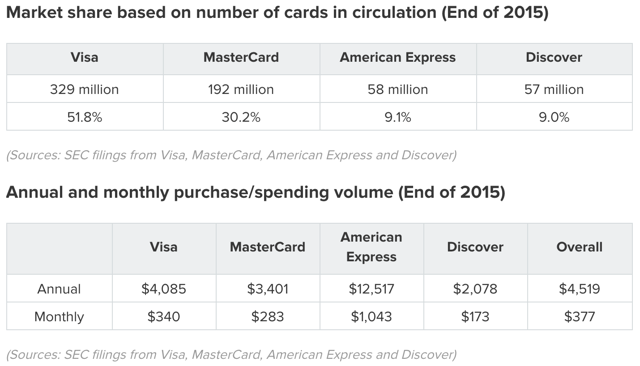 Source: wallethub.com
Overall, Visa has far more cards in circulation than Mastercard and Amex combined, however Amex cardholders on average are bigger spenders. In addition, Visa and its, at least for the present, second fiddle Mastercard use an open-loop network business model, which is driven by transaction volumes, while Amex employs a closed-loop network business model, which focuses on spend rather than transaction volumes, as explained in a Forbes article.
As competition in the industry intensifies, investors face higher than ever analytical risks in picking the future winner from these three juggernauts. To invest intelligently, we need to keep an eye on the shift of their relative market positions. Currently, there is a plethora of excellent essays covering this topic, e.g., Manole, Lucinda, Dorador and Bern. However, there are still a lot of work to be done to further our understanding of their competition in the international domain, particularly in emerging markets, in spite of a few previous commentaries such as Williams and Adelphi.
The international markets are important to the credit card industry because that is where the fastest growth is. As Visa stated in its 2016 annual report, "almost half of our operating revenues are earned outside the U.S. International transaction revenues represent a significant part of our revenue and are an important part of our growth strategy." Its international segment expanded much faster than the domestic; for the 12 months ended June 30, its total nominal payments volume grew 22% in the international segment, as compared with 10% in the U.S.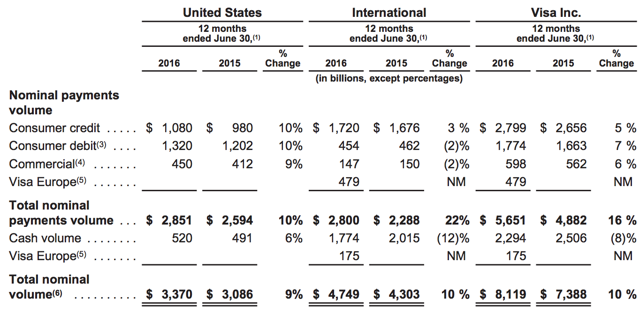 Source: Visa 2016 annual report
In 2016, Mastercard GDV (i.e., purchase volume plus cash volume, including the impact of balance transfers and convenience checks) for all credit, charge and debit programs grew 6.1% in the U.S., not bad, but it expanded at a good clip of 10.6% outside of America. Fastest growth were found in Latin America (14.5%) and APMEA, that is, Asia Pacific/Middle East/Africa, (10.6%).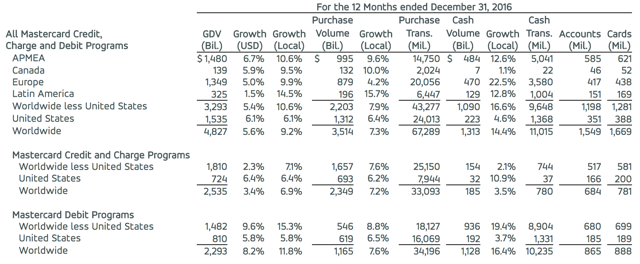 Source: Mastercard news release
For Amex, total international business has beaten worldwide (i.e., international plus the U.S.) hands down in every single quarter since 4Q2014 in terms of yearly growth of Forex-adjusted billed business.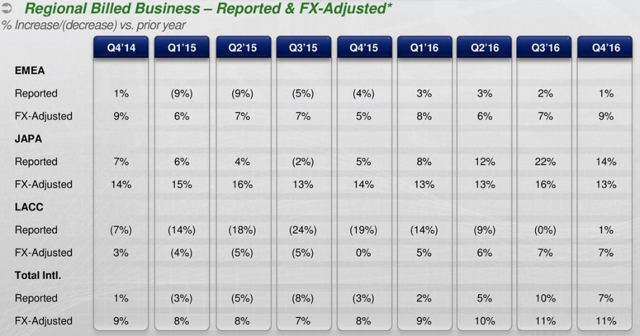 Source: Amex presentation
In this article, we intend to present some unique data, which may shed light on the shifting market positions of Visa, Mastercard and Amex in one Latin American country - Colombia.
The Data
While conducting research on Bancolombia (NYSE: CIB), we encountered by chance some statistics concerning the Visa, Mastercard and Amex credit cards issued by this bank. The information has been irregularly reported by CIB in form of tables as exemplified by the one shown below.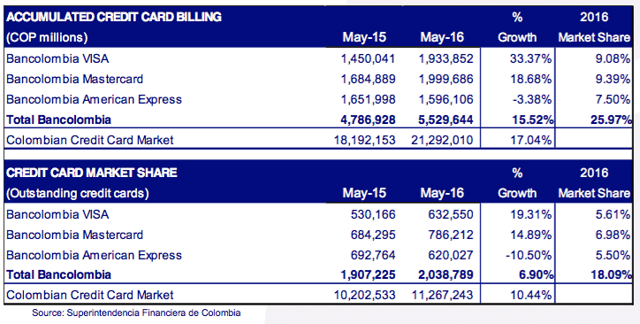 Source: Bancolombia 6K Form
We looked in every nook and cranny of Bancolombia financial reports dating back many years, and found that such tables sparsely scattered over hundreds of 6K and 20F forms. The earliest month of this information being reported, per our search up to this point, is February 2013.
After we arranged the collected information in temporal sequence in a single table, we found that the numbers of Bancolombia-issued credit cards exhibit gradual changes along with time, but the data as to the accumulated credit card billings show wild fluctuations from month to month between figures sourced from different financial reports. However, data within the same table in the same report seem coherent. This data inconsistency puzzles us because it seems impossible to be explained away by some seasonal gyrations of shopping behaviors of the Bancolombia cardholders. It is possible that writers of financial reports for different quarters might have used different Forex parameters. Nonetheless, we do believe that the year-over-year percentage increase figures as given in the original tables are credible, because they were also referenced in management discussions, and because some of them actually withstood the Big Four accounting firms' intra-report data congruency test during the auditing.
Part of the data are presented below, followed by discussions.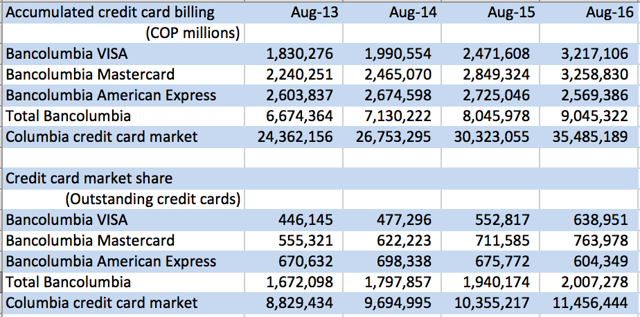 Source: The authors' compilation of Bancolombia 6K and 20F reports
Market share of Bancolombia credit cards
From the table above, we calculated the market share of all Bancolombia-issued credit cards in the Colombia market, with results shown below.


Source: Authors' calculation based on CIB data
We found that the total billings of all the Bancolombia credit cards accounted for on average 26.52+/-0.78% of the national billings and that Bancolombia had issued on average 18.43.52+/-0.63% of all the credit cards in the country. Bancolombia seems to be a leading credit card issuer in the Colombian market.
We need to remind ourselves in further analysis that the data presented herein, regardless of their rarity, are only sourced from one issuer in one country. The significance of any implications drawn from these data should be taken with a grain of salt before confirmations are attained using data from other issuers in Colombia or in other Latin American countries.
Changing market shares of Visa, Mastercard and Amex
The 48.748 million Colombian people appear to be quickly adapting credit card as a way of payment. Nationwide, credit card billings grew at a CAGR of 13.36% per year, and outstanding credit cards increased at a CAGR of 9.07% per annum. This has something to do with the fact that, as of 2016, every 100 Colombians only owns an average of 23.5 credit cards, a figure rather low compared with the number of cards in American wallets (see chart below). If we assume one person only holding one card, and further assume that the Colombian credit card ownership reaches half of the level of the Generation-X gringos, then outstanding credit cards in that country will quadruple and then some. There seems to be a huge headroom for growth for Visa, Mastercard and Amex in that market.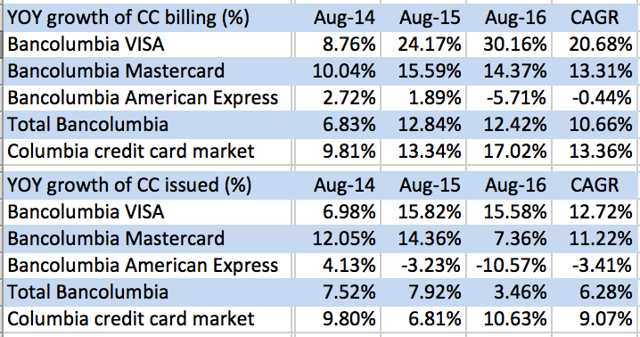 Source: Authors' calculation based on CIB data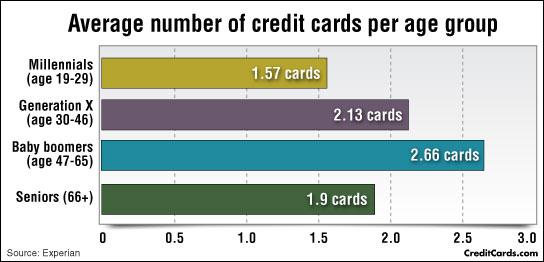 Source: creditcards.com
Even when the Colombians were eagerly signing up for credit cards, they favored the three credit card companies in vastly differently degrees over the last three years. Visa did the best, with its credit card billing at Bancolombia rising at a CAGR of 20.68%, and card issuance increasing at a CAGR of 12.72% per year. Mastercard clocked slightly lower growth rates but not much behind Visa. In contrast, Amex saw the Colombians having been giving up their centurion-decorated cards at 3.41% every year, and those holding on to their Amex cards have been spending 0.44% less each year too. Apparently, Amex was not just doing badly in America these days.
Examine the charts below. Amex began with leading market positions in terms of both card ownership and total billing, but in three years it fell to the lagger position. As Amex faltered, Mastercard claimed market leadership by 2016. The growth of Visa has been even more impressive; while it more or less danced to the tune of Mastercard in card issuance, its cardholders seemed to be much readier to swipe their credit cards. Therefore, Visa must have done something right in Colombia in attracting a certain group of people - this we shall explore in the next section.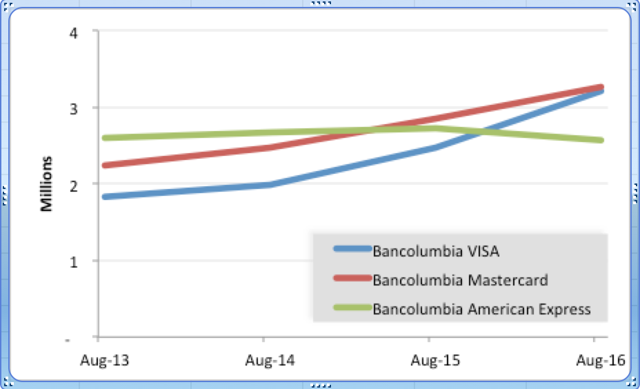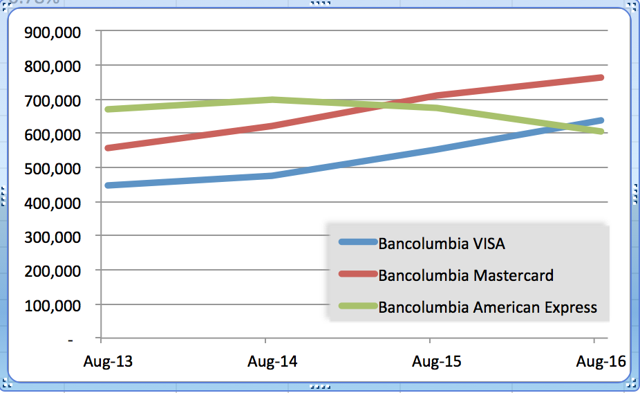 Source: Authors' charts based on CIB data
Differing spending behaviors of Visa, Mastercard and Amex cardholders
By dividing credit card billings with outstanding cards, we arrived at the average spending for each of the three brands of credit cards. The results are shown below.


Source: Authors' calculation based on CIB data
The average Bancolombia cardholder spent COP4,152,717 in local currency, which would exchange to approximately US$1,428. Either Bancolumbia customers tended to be profligate consumers as compared with the average Colombian, or frugal people tended to gravitate towards the other issuers, because the average Colombian spent 30% less than those holding Bancolombia cards. Somehow, either Bancolombia chose who deserved its cards or its cards tened to be chosen by wealthier Colombians.
Among the three credit card brands, for every COP spent by the average Colombian, Visa cardholders spent COP1.54+/-0.06. Maybe they simply pulled in more money or perhaps they were a bunch of spendthrifts; in either case, Visa must have projected an image of affluence to these people. Mastercard and particularly Amex seemed to have created much less buzz in this regard. This is a startling revelation for those of us hailing from America. Over here, we seem to subscribe to the myth that Amex is the card for the rich or those spending from corporate accounts - and, of course, Discover is poor man's Amex - while Visa and Mastercard are for average Joes, as can be seen in the first table in this article.
Conclusions
Our analysis above implies that, at least among the bigger spenders in Colombia, Mastercard and particularly Visa have been pulling ahead in taking the rapidly growing market. Visa appears to have been doing an excellent job in creating an upscale image among the Colombians.
On the other hand, Amex has been losing ground in the contest for market share. This occurred in a country where the executives of the storied firm neither had a Costco break-up nor had a Forex distress to cast blame upon. This had us wonder whether there might have been more to Amex's troubles than meets the eye. To ascertain this prima facie grim impression, a lot more in-depth investigation is required in other international countries.
Disclosure: I am/we are long V, CIB.
I wrote this article myself, and it expresses my own opinions. I am not receiving compensation for it (other than from Seeking Alpha). I have no business relationship with any company whose stock is mentioned in this article.