Rogers Communications (NYSE:RCI) recently announced 4th quarter earnings, and while there were some positives such as revenue growth, strong net additions to wireless and positive cable total service net additions, dividend growth investors were once again left disappointed. For the ninth straight quarter, Rogers has chosen to keep its dividend steady at C$0.48 per share. By comparison, the other members of Canada's "Big 3" telecom companies have showed steady and consistent dividend growth over the same period (last 9 quarters).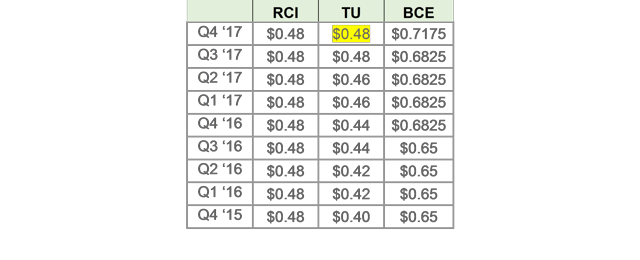 Source: Company websites
While Rogers has stagnated, both Telus (NYSE:TU) and BCE (NYSE:BCE) have continue to raise their dividends and have set themselves apart as reliable DG companies. Of note, Telus releases earnings February 9th, and as such Q4 (highlighted in yellow) is an estimate that was made based on Telus' reliability and trend over the past few quarters.
Dividend Contender
Rogers is a Canadian Dividend Contender if you follow David Fish's expanded definition to include companies that have paid out higher dividends in every calendar year without having necessarily increased their quarterly rate. To demonstrate, here are Rogers' dividends paid since 2005: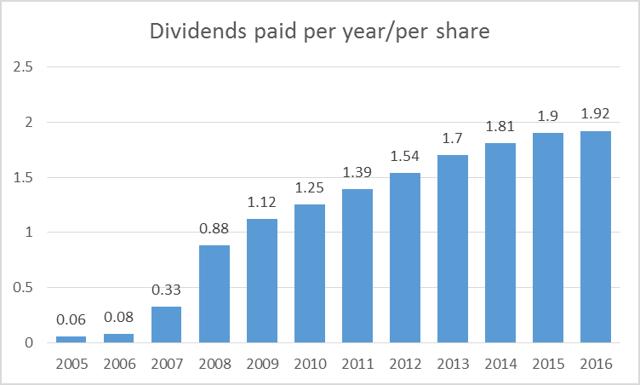 Source: Company website
As you can see, despite not raising its dividend since March 2015, Rogers has still paid out more in total dividends each of the past 11 years. So far, it has paid out C$0.96 in 2017 and is thus in danger of losing its status as a Canadian Dividend Contender should it not raise its dividend over the next two quarters.
Key DG Metrics
When analyzing a company's ability to grow dividends I like to look at a number of metrics such as earnings per share, patio ratio and cash flow. Unfortunately for Rogers, its EPS has deteriorated from a high of C$3.45 per share in 2012 to a low of C$2.88 in 2016 based on their Q4 report. As such, their payout ratio has also ballooned over the same period from approximately 45% in 2012 to a rate of 66.7% in 2016.
That being said, the news is not all bad as Rogers has appeared to have turned the corner when it comes to FCF. After a couple of years of decreasing FCF, 2015 saw a return to growth: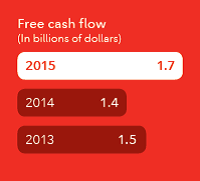 Source: 2015 Annual Report
As per its most recent quarterly results, Rogers met guidance and increased cash flow 2% YOY:

Source: Company 2017 4Q Presentation
Growth ahead?
The question DG investors are asking themselves is will Rogers raise its dividend within the next couple of quarters. Should Rogers achieve the forecasted growth below, I believe investors could potentially expect a dividend raise within the next couple of quarters. It will, however, be a minimal increase.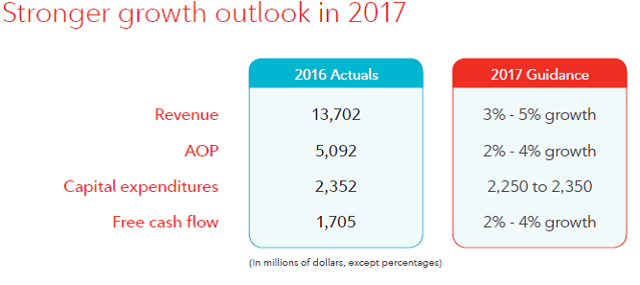 Source: Company 2017 4Q Presentation
Should Rogers be successful in raising its adjusted operating profit and free cash flow by the expected 2-4%, it will represent a third consecutive year of growing cash flow. As such, investors could expect an increase in line with this growth in the 2-4% range.
Telecoms - Expect low growth
Despite the potential for a raise in the next quarters, unless Rogers returns to higher growth, investors should expect low single-digit growth at best. It appears that after years of raising dividends at impressive rates, Canada's telecom companies now find themselves in low-growth mode. As indicated in one of my previous articles, Telus is also under pressure with slowing dividend growth, and BCE has the highest payout ratio of all three telecoms at approximately 82% or 71.5% of FCF. Although I expect Rogers to increase its dividend, investors need to have tempered expectations moving forward. Enjoy the high yield, but don't expect high growth.
Disclosure: I am/we are long TU.
I wrote this article myself, and it expresses my own opinions. I am not receiving compensation for it (other than from Seeking Alpha). I have no business relationship with any company whose stock is mentioned in this article.