Investment Thesis
Our thesis has three parts:
1. A glut of used vehicles due to the a) onset of the off-lease cycle and b) number of repossessed vehicles being brought to market will drive down average selling price of used vehicles and make achieving revenue targets challenging.
2. CarMax (NYSE:KMX) will resort to increasing the proportion of vehicles sourced through auctions in order to meet industry averages and sales expectations. The resale of vehicles sourced through auctions is less profitable than the resale of vehicles sourced through trade-ins.
3. Competent competitors (car companies and other dealers) have caught on and made significant expansions into the used vehicle business that will eat into CarMax's margins.
Thesis 1: The onset of the off-lease cycle and the glut of cars
The first quarter of 2016 witnesses leasing at an all-time high of 31.1% of new vehicle transactions​. Given that 75% of new lease originations last between 25 and 36 months (2/3 year delay in used car supply), millions of off-lease vehicles are expected to hit the market in the next three years​. In accordance, the average selling price of new vehicles is expected to decline by 2-3% in 2017​. Consumer preference for leasing indicates simultaneous decrease in demand for used vehicles and increase in supply of used vehicles (off-lease vehicles). Auto repossessions reached 1.6 million in 2015 with an estimated 1.7 million in 2016​. We believe that it should increase by ~150,000 vehicles to recession level highs of 1.8-1.9 million in the next two years​, further increasing the supply of used vehicles.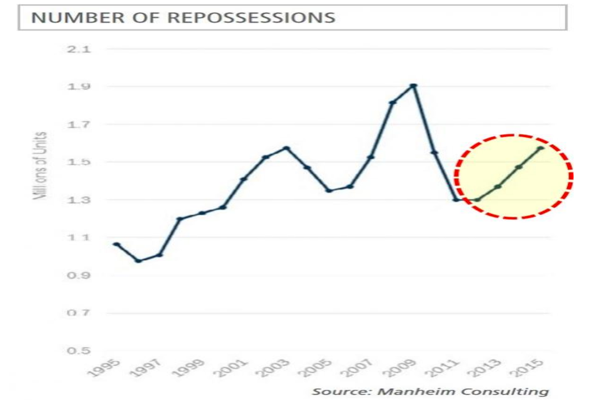 Source: IHS 2016 Market Report
Thesis 2: Shift in sourcing
CarMax has two sources of used vehicles: Trade-ins/appraisals (high margins) and auctions (significantly lower margins). CarMax's best-in-class appraisal policy has traditionally given it a significant edge, and the overall business model has maximized the number of profitable trade-ins. However, the prominence of leasing will result in a higher proportion of sourcing from less profitable auctions, which will decrease gross margins. Leased vehicles are returned to financers/lenders (including financing arms of car companies), not consumers, and will increase the number of young, used vehicles brought to auctions. We believe that the number of trade-ins will stay flat/decrease, but KMX will be forced to increase the proportion of vehicles sourced through auctions to meet industry revenue growth expectations.
Thesis 3: Competitors
Car manufacturers and other dealerships are focusing more on their used car segment, which will increase competition at auctions and result in higher bid prices and further gross margin compression. Car manufacturers already sell their own off-lease cars through certified pre-owned (CPO) sales, which reached a record 2.55 million in 2015. CarMax's gross margin of 10.9% is over 300 bps higher than the average competitor gross margin of 7.8%, allowing other dealerships to bid higher prices at margins lower than KMX is used to. Indicator: KMX's wholesale YoY profit margins have been squeezed for five consecutive quarters.
General Motors (NYSE:GM) expanded its used car operations by launching its "Factory Pre-Owned Collection" through its website and dealers in Feb. 2016. Penske Automotive Group (NYSE:PAG) (dealership) is committed to "grow the used car business" (Source: Company Filings). AutoNation (NYSE:AN) is also copying the CarMax business model by opening five stores, retailing only used vehicles in 2017, with 20 more projected in the next few years. AutoNation introduced "One Price" model of negotiation-free used vehicle pricing. These are all moves to copying CarMax's business model.
Valuation
We used a five-year DCF model with a bull, base, and bear case to arrive at our weighted price target of $47.56, with an upside of 27%.
Price Target

Probability

WPP

$47.59 (+27%)

Bull

$72.34

20%

Upside

+47.9%

Base

$43.86

60%

Downside

-10.6%

Bear

$34.04

20%

Reward/Risk

4.5x
Key Assumptions
Assumption 1

Assumption 2

Exit EV/EBITDA

Bull

2017-2021 same-store used vehicle unit CAGR of 6.5%

No change in used vehicle gross margin (remains at 10.9%)

20.0x

Base

2017-2021 same-store used vehicle unit CAGR of 5.5%

Used vehicle gross margin decrease of 0.5% (from 10.9% to 10.4%) by 2018, which flattens to 2021

17.0x

Bear

2017-2021 same-store used vehicle unit CAGR of 3%

Used vehicle gross margin decrease of 0.5% (from 10.9% to 10.4%) by 2018, which flattens to 2021

16.0x
Assumption #1
The same-store used vehicle unit growth can be directly compared to historical and consensus estimates. The base case of 5.5% is equal to consensus estimates and last quarter's surprising growth rate, and is higher than the industry average. The bull case assumes a unit CAGR not seen since 2013. The bear case is the average CAGR KMX has experienced for the previous two years.
Assumption #2
KMX's used vehicle gross margin is currently 10.9%, a decline of about 4 bps from 11.0% in the previous comparable quarter. These margins are over 300 bps higher than the average competitor gross margin of 7.8%. Our bull case assumes that KMX is able to maintain its margins going forward despite recent weakness, increased competition and negative cyclical trends. Our base case assumes that gross margin will decrease 50 bps over the next four quarters and flatten through 2021. To be conservative, our bear case assumptions for gross margins are unchanged in the bear case.
Exit Multiple
KMX's EV/EBITDA is currently 19.8x, so the bull case assumes EV/EBITDA remains about the same (no change in expected growth five years from now), which is much higher than its five-year historical EV/EBITDA average of 18.7x. Base case assumes a discount from its current EV/EBITDA and its five-year historical EV/EBITIDA average toward somewhere closer to its average competitor EV/EBITDA of 11.8x and KMX's 2012-2013 average EV/EBITDA of 14.9x as a result of lower growth and lower margins due to increased competition. Our assumptions still assume that KMX still trades at a significant premium to its competitors, but smaller than historically observed.
Hard Catalysts
● CarMax Analyst Day (1/12/17)
● Q4 Earnings/Guidance - April 2017
● Continued weakness in auto credit (soft catalyst)
Investment Risks
● Competitors opt to grow market share through trade-ins and not compete in auctions
● Competitors are unable to grow demand as quickly as CarMax
● Subprime loaning strengthens
Conclusion
While CarMax is undoubtedly a strong company and the industry leader in the used car retail industry, pressures from both industry-wide cycles and competitors will cause an imminent compression in its margins. Over time, this change should be reflected in the equity's valuation, and we project that it will do so in the next year.
Disclosure: I am/we are short KMX.
I wrote this article myself, and it expresses my own opinions. I am not receiving compensation for it. I have no business relationship with any company whose stock is mentioned in this article.