What part of balance sheet repair includes the payment of preferred dividends? The answer is none. For a company like Chesapeake Energy (NYSE:CHK) that has inadequate cash flow for quite some time plus management is selling assets to pay down debt, the restoration of preferred dividend payments seems like a luxury that the common shareholders cannot afford.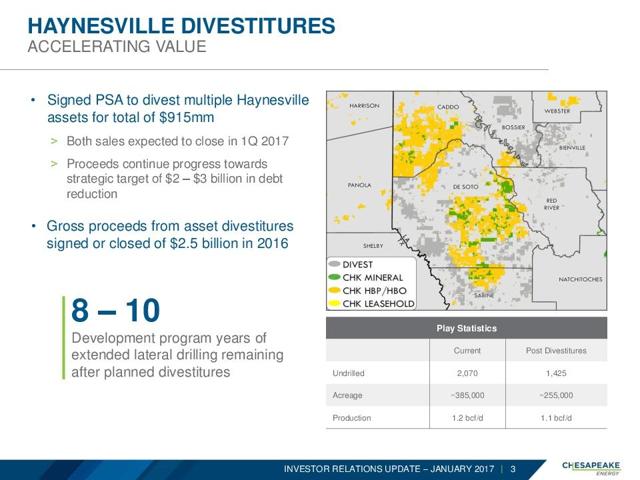 Source: Chesapeake Energy Investor Update January, 2017
On the one hand the company is selling some very material assets to reorganize the balance sheet and fund part of the operating budget. So why management wants to increase the gap between cash flow and cash spend defies common sense thinking. Sure, the balance sheet has gotten better and operations have showed improved results. But this company is still pretty far from profitability. It is also about a year away from any form of cash flow self-sufficiency. Many key financial ratios are in awful territory. Others are sustained by property sales. Spending money on preferred dividends should have been very low on the list of priorities. Survival of the company comes first, and this company is not yet positioned to survive in the long term future of the industry.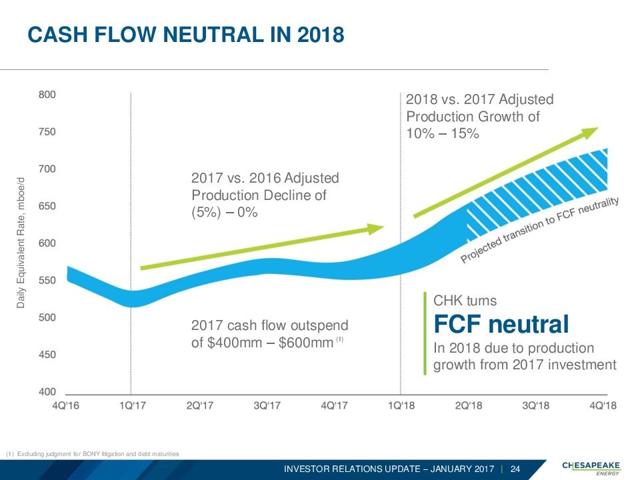 Source: Chesapeake Energy Investor Update January, 2017
That cash flow gap shown above is very significant for a company of this size. Commodity prices have to cooperate at least a little for the proposed scenario to unfold. But commodity industries have relatively low visibility futures. Plus the industry keeps reporting operational improvements that are likely increasing the commodity supply at key pricing points. So not only may commodity prices not rally, they could go lower in the future. This company does not yet have the financing or the profitability in place for a lower commodity price future.
Management is definitely working on that possibility and has reported some significant operational improvements. But this company also has some catching up to do. Profits are clearly not where they should be for an industry leader with great acreage. Cost cutting remains a priority and some bad deals previously made remain challenges.
So far both the lenders and the market have stood by the company as assets sales have progressed and operational improvements have been reported. While that is commendable, a change in attitude is not out of the question for either lenders or investors. Hopefully that does not happen. Commodity prices could cooperate and allow the company time to implement enough improvements to restore both profitability and staying power. But counting on that outcome is another matter entirely.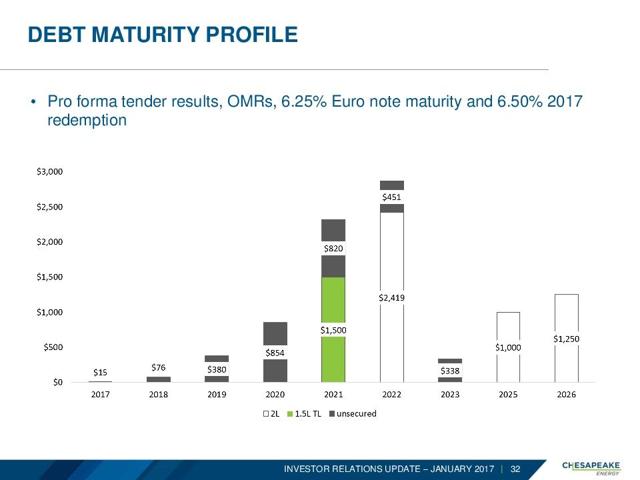 Source: Chesapeake Energy Investor Update January, 2017
The company has made considerable progress in rearranging its debt profile. This is a far more manageable debt profile than it was a year or two back. Management is to be congratulated on this achievement. But it needs to keep going after it "celebrates the moment." Now is not the time to worry about preferred stock dividends. Management should get the financial house in order and cash flow restored first. The debt shown above must eventually be paid. Hopefully it will not be paid with more asset sales. Sooner or later the onus must return to operating cash flow and profits.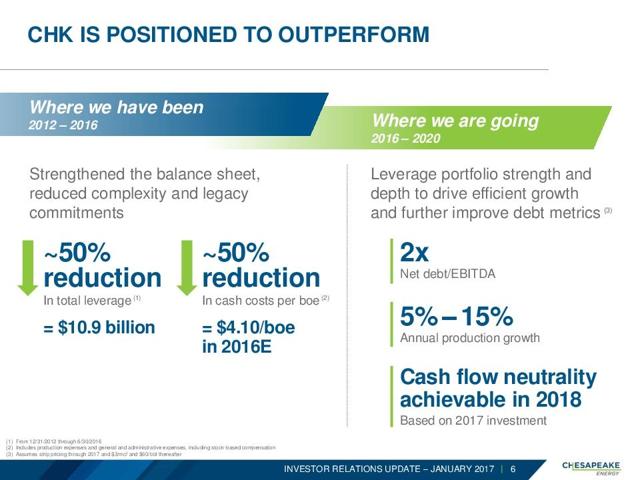 Source: Chesapeake Energy Investor Update January, 2017
Cash flow still needs to meet the reduced debt shown above. Cash flow from operations has been negative a good part of the year. The fourth quarter report will unlikely change that scenario significantly. Cash flow from operations may turn positive. But the cash flow figure is unlikely to approach the necessary roughly $3.5 billion minimum needed to support the reduced debt load shown above. $5 billion in annual cash flow would be a lot better, but that is likely to be years away.
The net debt to EBITDA ratio can probably be ignored when a company has insignificant cash flow. Cash flow from operations is very important. So companies that report income without the proper cash flow to back up that income in any form should be avoided.
But this whole discussion means that there is unlikely to be enough cash flow to sustain the common stock price for a significant amount of time. Therefore price movements will probably be based upon significant announcements and stock price momentum. Value players may be attracted by the potential assets values here currently. That value of the assets should generate a residual value that remains after the balance sheet is properly reorganized. Still this company has yet to demonstrate that it can make a profit of any kind with these superior assets. So questioning the value of these leases is more than proper. Conservative investors may want to wait for an appropriate track record. There are a lot of companies that have gone bankrupt or merged for a "song" with great and very valuable assets. While this company has clearly made progress, it has not yet left that group of distressed companies.
From a fundamental viewpoint, this stock really has no value. There are no foreseeable dividends on the common stock for the near future. Probably there are no dividends on the common stock in the five year horizon. Nor is there likely to be anything approaching sufficient cash flow. Still there are definitely ways to make money on the common stock. An asset approach may work but is clearly risky. Profit will not be from operating fundamentals for the time being. That time being could be a few years. As such this stock should still be avoided by all but those experienced in special situations of this kind. One slip by management or another industry downturn could turn this common stock into an excellent short sale candidate. Traders could have a field day with this stock.
Disclaimer: I am not an investment advisor, and this article is not meant to be a recommendation of the purchase or sale of stock. Investors are advised to review all company documents and press releases to see if the company fits their own investment qualifications.
Disclosure: I/we have no positions in any stocks mentioned, and no plans to initiate any positions within the next 72 hours.
I wrote this article myself, and it expresses my own opinions. I am not receiving compensation for it (other than from Seeking Alpha). I have no business relationship with any company whose stock is mentioned in this article.