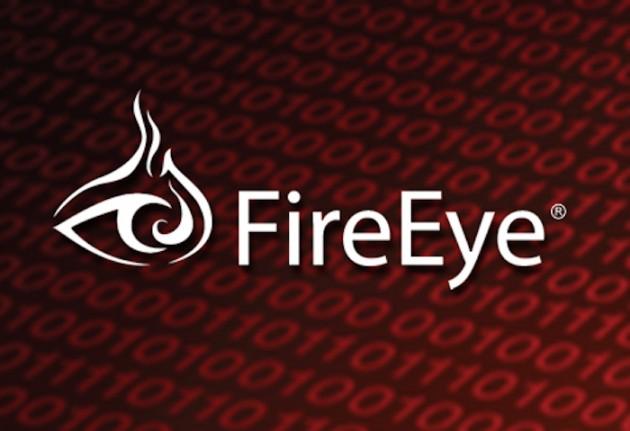 Drags On Share Price
Exceeding analysts' earnings estimates two quarters in a row has not pulled cyber security company FireEye, Inc. (NASDAQ:FEYE) out of a determined downward slope. An adjusted loss of 3 cents a share outperformed estimates by more than 400%, but saw the stock gap down to close more than $2 lower the day after Q1 earnings were announced.
Among drags on share price are the departures of both the former CEO, David DeWalt, and the CFO, slowing growth in sales to last year's anemic 14.6%, and billings coming in lower than estimates. FireEye is also straddling a midstream transition to a cloud model of software delivery on a subscription basis. The company has been knocked from top position in 2015 to ninth in the past year on the Cybersecurity 500 list of Cybersecurity Ventures. Cisco Systems, Inc. (NASDAQ:CSCO) and Palo Alto Networks, Inc. (NYSE:PANW) have claimed market share from FireEye.
With Wall Street showing such a thumbs down, what rationales then could redeem FireEye as a stock to buy? Here are seven ways FireEye shares can make you money in 2017. They are not currently priced in.
1) Benefits As A Trader's Stock
With a downward recent history, FireEye is a cyclical stock, presently near the bottom of its current cycle. Shorting this last major down cycle from June 2015 to February 2016 showed a profit of $35.60 per share in nine months. In a consolidation range since that time, on a cyclical basis, FireEye is due to show an upturn in coming months. This upturn should then attract technical range traders to augment upward momentum.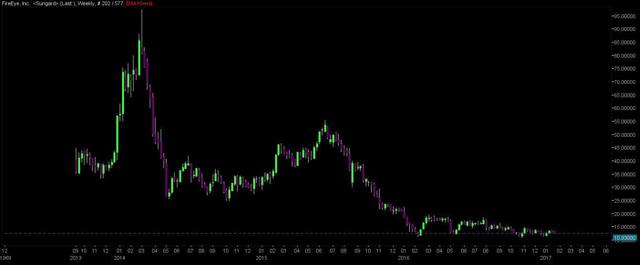 (Source: NASDAQ)
2) Offers Good Asymmetric Reward
Risk is proportionately low. After losing in excess of 40% of its value last year, and now near its cycle lows, FireEye offers a good risk/reward profile upon commencement of an upturn in coming months. A retracement of just 35% of the previous cycle would see the present stock price of $10.93 more than double, and that order of magnitude of retracement is statistically probable.
3) Improves Free Cash Flow
A key factor, and an important consideration for activist shareholders, is the reduction of FireEye's stock-based remuneration, which has significantly undercut profitability. The August 2016 announcement of 350 layoffs has gone some way to address this issue, which should be further examined by the company. This is essential to a determined future focus on profitability.
4) Restructures Sales Force
FireEye went for months last year without a head global sales person, a position which has now been filled. Underperformance in billing and revenue in the period resulted, and clearly, an audit of sales operations is a top priority. Lackluster foreign sales is a feature. Bill Robbins is now executive vice president of global sales. Robbins was formerly with Symantec Corporation (NASDAQ:SYMC), and brings a depth of experience. Using third-party distributors, as did Palo Alto Networks, should boost international revenue. A further review of the structure and compliment of sales operations could enhance sales, revenue and share price.
5) Targets The U.S. Government Cyber Security Market
FireEye may increase revenue and performance by giving top priority to the U.S. Government market for cyber security. That market is anticipated to exhibit a CAGR of 4.4% from $18 billion this year to $22 billion by 2022. The annual spend of the U.S. Government is at least twice as large as any one country's entire national cyber security market, including both private and public segments. Decoy networks and moving target networks are particularly appropriate to this market.
Federal government's inconsistency in using both bolt-on and built-in security methods, and a combination of point approaches and centralized integration, provide the inefficiencies which fuel this market.
With headline hacks of government, political organizations, and companies with national security involvement (Office of Personnel Management, Democratic National Committee, U.S. semiconductor companies) occurring frequently, the enormity of the growing scale of the problem is clear. CNN reported in June 2015 of the OPM hack that "the personal data of an estimated 18 million current, former and prospective federal employees were affected by a cyber breach at the Office of Personnel Management".
6) Becomes A Takeover Target
Through having products like MVX technology and Helix, and a share price that has declined very significantly, FireEye must be considered a potential takeover target. With MVX revamped, it offers an established platform to develop upon.
In November 2016, the company rolled out Cloud MVX and MVX Smart Grid. FireEye claims that "Cloud MVX provides a FireEye public cloud deployment of the MVX engine, allowing organizations to shift threat detection to the cloud, making the most intelligent security available anywhere, at any time, on a subscription basis". FireEye also has AX (Malware Analysis), NX (Network Security), HX (Endpoint Security), FX (File Content Security), EX (Email Security) and Endpoint Forensics.
David DeWalt, the former CEO of FireEye, had steered the sale of McAfee to Intel Corporation (NASDAQ:INTC) for $7.68 billion in August 2010, and so the prospect of a takeover was evidently top of the mind for FireEye at the time of his hiring.
In the event of a bid, the company's share price may be expected to spike. Potential acquirers are other companies in the cyber security space, such as Palo Alto Networks, the market leader with a 17.1% share, or other technology companies looking to enter the burgeoning cyber security market.
7) Grows With Overall Cyber Security Market
In the opinion of MarketsandMarkets, a research company, the world cyber security market will increase to approximately $170.2 billion in the year 2020 from a 2015 base of $106.3 billion. The Radicati Group estimates the global market for advanced persistent threat protection will total $7.3 billion in 2020 from $2.6 billion in 2016. The company has concentrated on SaaS (software as a service), and that market is expected by Cisco Systems to grow at a CAGR of 30% to 2020.
If other factors covered here are addressed by the company to recoup some loss of market share, a rising tide will lift FireEye's boat.
Conclusion
In each or any of the seven ways described above, not yet priced in, FireEye may see an upturn in stock price commencing in 2017. A modest retracement of just 35% of the last share price cycle, a statistical probability, would see the stock more than double in price.
Elsewhere on Seeking Alpha:
Follow this author and receive immediate alerts upon publication of future articles by this author, please click on the "Follow" button at the top of this page next to the author's name and icon, and then select "Real Time Alerts".
Disclosure: I/we have no positions in any stocks mentioned, and no plans to initiate any positions within the next 72 hours.
I wrote this article myself, and it expresses my own opinions. I am not receiving compensation for it (other than from Seeking Alpha). I have no business relationship with any company whose stock is mentioned in this article.