Welcome. In this article we'll cover Cabot Corp (NYSE:CBT), a specialty chemical and materials producer.
Specialty Chemical Industry
In many ways specialty chemicals are commodities because others can produce identical products. When competition of this kind crops up, it becomes a contest of who can produce and distribute these products with the most industry and at a low cost. Because the hurdles to entry in the business are mostly capital and a few engineers who can read a book on how to formulate the chemical or material product, this industrial company will have difficulty growing their profit margins throughout its lifespan.
This is fairly evident in the company's history. During their 30 years of operations net profit margin has rarely exceeded 10% for a trailing twelve month period and has spent most of its time nearer to 5% than 10%.
Revenue growth at a company like this comes from inflationary pressure and increasing demand. I don't have an expert's read on the likely future demand of the company's products, but I do present the trailing ten year's sales revenue at the company in the chart below. The chart indicates minimal sales growth -- you'll notice the recent occasion of peak sales, from 2014-2016, has been followed by a sales trough nearly as deep as the one faced during the global financial crises of 07-08:

Overall the indication is that the company's business has grown moderately during the trailing ten years.
Stock Valuation
Industrial companies tend to be fragile because new materials displace their products, or a well-funded effort comes in and causes the company competitive pressures.
The FI DCF Model indicates the company is priced just right, at its Fair Value figure. Now this figure is based on annual recurring cash flows like we have at the company in the recent financial reports -- that is, $300 million free cash flow generation. The history of this industrial business is visible in the CBT Chart just below this paragraph. It shows clearly that the company doesn't generate the $300M free cash flow every year.
In our mental accounting for this company's price, the FI DCF Model Fair Value needs to be adjusted downward to account for the fact the firm is going to produce less cash throughout the next 10 years than the $300M recurring annual free cash flow figure from recent earnings reports implies.
Final Word
This company is trading at a small premium to Fair Value and has no evidence of sustainable sales (and profits) growth. Therefore, I rate CBT an Avoid for investors. There are few visible catalysts for price appreciation or decline, so why risk capital in this name's equity?
Appendix: Cabot Corp
Source: Faloh Investment, YCharts
CBT Chart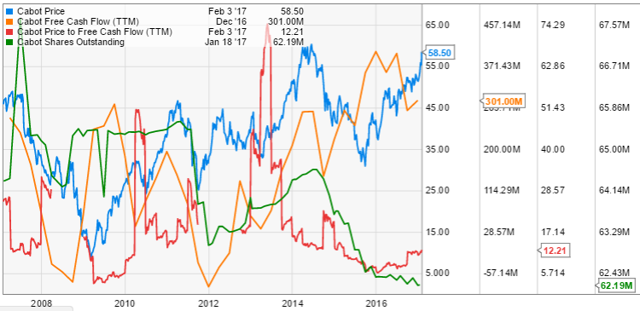 DCF Model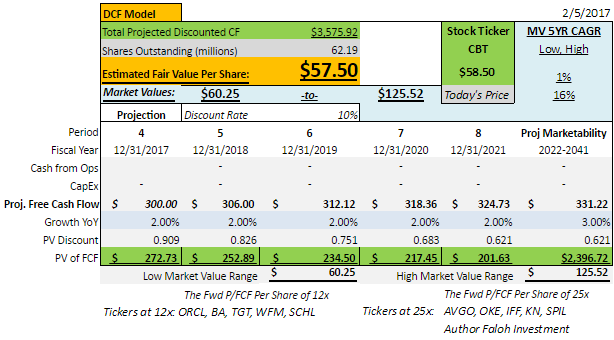 Trial YCharts and make charts like these.
Disclaimer: This article represents the opinion of the author as of the date of this article. This article is based upon information reasonably available to the author and obtained from public sources that the author believes are reliable. The author does not guarantee the accuracy or completeness of this article. This presentation is the author's interpretation of the information contained in the article. The author may close his investment position at any point in time without providing notice. The author encourages all readers to do their own due diligence. This is not a recommendation to buy or sell a security.
Please click the + icon next to my user name and follow me, Faloh Investment, as I work to keep you informed on further developments as the market continues to present major value opportunities.
Disclosure: I/we have no positions in any stocks mentioned, and no plans to initiate any positions within the next 72 hours.
I wrote this article myself, and it expresses my own opinions. I am not receiving compensation for it (other than from Seeking Alpha). I have no business relationship with any company whose stock is mentioned in this article.